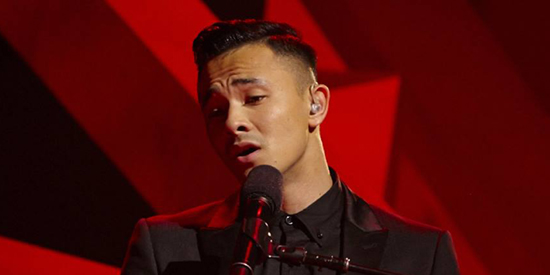 ---

Filipino-Australian singer Cyrus Villanueva drove his mentor Chris Isaak to tears during his final live performance on The X-Factor Australia.
Cyrus gave a powerful rendition of Labrinth's song "Jealous" while playing on the piano.
After the performance, Chris told Cyrus, "That's it for me mentoring you, I guess.
"It's sad for me in a way because I had so much fun working with you.
'I have learned so much from you. You know, I might ask back for that handkerchief I gave you early on when you started crying, because now I'm crying."
Judge Dannii Minogue was also teary-eyed as she addressed the 19-year-old contestant.
"There has been a level of perfection to your performances tonight that no one can deny," Dannii told the Fil-Aussie performer.
Cyrus also did a performance of the song "Earned It" by The Weekend, which earned the approval of judge Guy Sebastian.
Dannii commented on Cyrus' said performance while fanning herself, "I just want to say that was so sexy. Lucky, I do have a fan here."
Another judge James Blunt also commended Cyrus for being a "constant professional."
During this episode, Cyrus and the other finalists--Louis Adams and duo Jess & Matt--also performed their respective singles should they win the competition.
Cyrus performed a song titled "Stone," which received applause and cheers from the audience.
The performance once again impressed the judges, prompting his mentor Chris to predict that Cyrus will definitely go places after the contest.
The grand winner of The X Factor Australia Season 7 will be announced today, November 24.


ADVERTISEMENT - CONTINUE READING BELOW