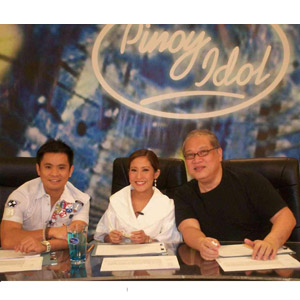 ---

With only nine remaining contestants in Pinoy Idol,judges Ogie Alcasid, Jolina Magdangal and Wyngard Tracy are calling on fans andsupporters to vote wisely every week and make sure that they would pick onlythe one deserving to be called the first-ever Pinoy Idol.
Time and again, Wyngard has been telling the public "not toget awed by the looks and style but to look beyond that." He advises viewers to"vote according to your conscience, please let us pick the one who could bestrepresent the Philippines globally."
Ogie says that although he respects the result every week,he also wishes that the really good ones stay longer in the competition. "Thereis nothing to be sad about being eliminated because it is not the end of theirdream to become a singing artist, after all, but I just wish that those who arereally into this competition-with their heart and soul-would get to the finals.I hope to see more of them," says the singer-songwriter.
ADVERTISEMENT - CONTINUE READING BELOW
"I feel sad every time I see a contestant say goodbye, lalopa kung magaling naman talaga siya. We are looking for a singing idol in thiscompetition, so I hope by voting those contestants with really great potentialin singing, we will be able to find one," adds Jolina.
During Gala Result Night every Sunday, one of thecontestants of Pinoy Idol gets eliminated through the text votes thatthey get from supporters. Even though the judges voice out their opinionregarding every performance, the final decision still lies on the votingpublic's choice.
So far, three finalists had already been eliminated from theoriginal Top 12-Jeni Rawolle of Iloilo City, Mae Flores of Marikina and RobbyNavarro of Pampanga. Nine more Pinoy Idol hopefuls are continuouslyedging it out with exciting performance each every week until the very firstPinoy Idol is declared come the finals night in August. The remaining ninefinalists are Daryl Celis of Rizal, Sue Ellen of Iloilo, Gretchen Espina ofBiliran, Warren Antig of Baguio, Ram Chaves of Cagayan de Oro, Kid Camaya ofPampanga, Penelope of Batangas, Toffer Rei of Iloilo and Jayann Bautista ofPampanga.
ADVERTISEMENT - CONTINUE READING BELOW
Meanwhile, due to the unprecedented rise of the number ofits supporters, Pinoy Idol is reaching more audience members by hittingthe radio airwaves. Pinoy Idol will now be heard on GMA's Radio arm,Super Radyo-AM and DWLS-FM. Starting this Saturday, July 12, the GalaPerformance and Result Nights on Saturdays and Sundays are simulcast on theseGMA Radio stations, getting people updated with the goings-on of their favoritePinoy Idol finalists wherever they may be. So even if you are out on thestreets, you can still catch the latest with Pinoy Idol by tuning in to affiliated GMA-7 radio stations on Saturday (7:00-8:00 PM) and Sunday (7:30-8:00 PM) evenings.