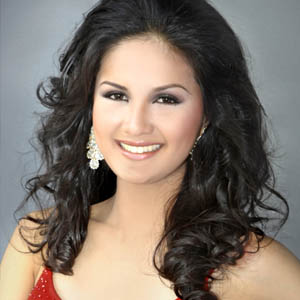 ---

Eighty countries all over the world have sent theirrepresentatives to a land known for being the battleground of a bloody war fromthe '60s to the mid-'70s. The Miss Universe 2008 pageant, held at Nha Trang,Khanh Hoa, Vietnam, is to be aired live via satellite on ABS-CBN this morningstarting 9:30 am.
The primetime telecast is scheduled on Tuesday (July 15),7:30 pm on Studio 23 while a replay of the event will air on cable channel Velvettonight at 7:30 pm.
The hosts for the 57th annual Miss Universe competition are JerrySpringer, host of his eponymous tabloid-format show, and Melanie Brown (also known as Scary Spice of the Spice Girls), aspecial events correspondent for "Access Hollywood." The candidatesare judged in three categories: the best in swimsuit competition, the best inevening gown and the question-and-answer portion.


Filipinos wait anxiously to see if the 22-year-old native ofSan Mateo, Rizal will be the one to succeed Japan's Riyo Mori as Miss Universe.Having a height of 5'8", Jennifer is more than just beauty and brains asshe is also active in her local church ministry as a youth leader. Formerlyworking in Macau as a Welcome Ambassador for the Star World Hotel, she nowdivides her time between being a model, attending her church duties, andtraining for the upcoming contest.


The woman crowned today will take home cash prizes, adiamond-studded tiara, a New York City luxury apartment, and a year's worth offree world travel.
The Miss Universe competition actually started out in alocal "bathing beauty" competition, spearheaded by Catalina Swimwear,in Long Beach, California. It became an international contest held annually starting 1952.
Through the years, this international pageant has evolved into apowerful organization that supports and advances opportunities for the rolemodels to take active roles in various advocacies. Some of them are engaged inpromoting HIV/AIDS awareness by focusing on women's health and reproductiveissues and by building relationships with organizations committed to educationand research. Miss Universe 2007 RiyoMori, a dancer from Japan, has traveled the globe as an advocate for HIV/AIDSeducation, research and legislation. Ms. Mori also appeared as one the castmembers of a reality show titled Pageant Place (which airs on Velvet everyFriday at 9 pm).

The Velvet cable channel offersreplays of Miss Universe 2008 on July 16, Wednesday at 8:30 pm and on July19, Saturday at 10 pm. The new reality show, Crowned: The Mother of AllPageants, where mothers and their daughters experience the drama of joininga beauty pageant, will be shown on July 21, Monday at 7:30 pm. Velvet isavailable on SkyCable Platinum, SkyCable Gold, SkyCable Silver and otherquality cable operators nationwide.
ADVERTISEMENT - CONTINUE READING BELOW
Last year's editionof Miss Universe held in Mexico City, Mexico was also broadcast by the Kapamilya Network.