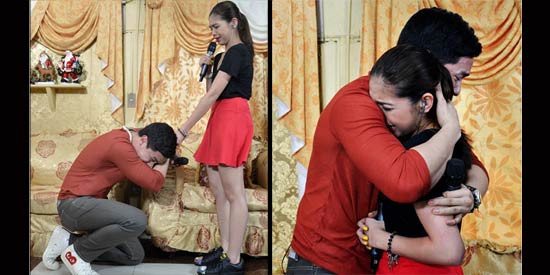 ---

Alden Richards and Maine Mendoza shed a lot of tears during the November 27 episode of Eat Bulaga, giving rise to the question: Is this the end of AlDub?

"Alden, ayoko na. Salamat na lang sa lahat ng ginawa mo, sa lahat ng sakripisyo mo. Salamat," said a tearful Yaya Dub (played by Maine) during the #ALDUBDontGiveUpOnUs episode of Kalyeserye.

Yaya Dub and Alden had a heart-to-heart talk a day before Alden's scheduled wedding to Cindy the model.

Yaya Dub was extremely sad and had tears in her eyes as she Dubsmashed: "Paalam na aking mahal."

Alden was too caught up in his emotions that he could barely lipsync the lyrics of the songs that he was supposed to Dubsmash.

He held Yaya Dub's hand but she pulled away. They were crying silently as they faced each other on a sofa.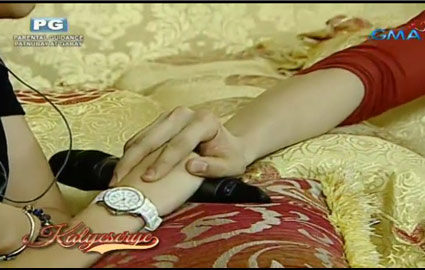 She broke the silence by saying that their separation is probably for the best.

Yaya Dub: "Mabuti na rin siguro 'tong nangyayari sa atin ngayon. Kasi hindi pa tayo, hindi gano'n kasakit."

Alden: "Di pa nga, naghahanda pa lang naman tayo papunta do'n, e. Nagsisimula pa lang sumusuko ka na."

Yaya Dub: "Para sa 'yo naman 'tong ginagawa ko, e. Sana maintindihan mo."

Alden held Yaya Dub's hand and asked her to look at him as he pleaded with her.

Alden: "Paano ako lalaban kung wala akong pinaglalaban? Naiintindihan ko yung mga pangarap mo. Alam ko gusto mo ring bumalik sa pag-aaral. Pero 'yon ba talaga ang dahilan? 'Yon ba talaga?"

Yaya Dub stood up and turned her back on Alden.

Alden then turned Yaya Dub around and embraced her tightly as tears streamed down his face.

Alden: "Sabihin mo sa akin. Tumingin ka sa akin. Alam mo no'ng sinabi mong di mo na ako mahal at may mahal ka ng iba. Do'n pa lang nadurog na ako."

Alden kept on asking her if they're through. He told the crying girl: "Sabihin mo sa akin na wala na, na tapos na. Titigil ako."

If Yaya Dub tells him that she no longer cares for him, he will stop pursuing her.

In response, Yaya Dub gave a tight hug to him.

Alden: "Sabihin mo sa akin kung wala na akong dapat hintayin."

Yaya Dub: "Alden, wala na. Ayoko na, ayoko na."

As soon as Yaya Dub said this, Alden knelt down in front of her as he held her hand.

She continued, "Salamat ha. Salamat na lang sa lahat ng ginawa mo. Sa lahat ng sakripisyo mo. Maraming salamat. Di ko makakalimutan lahat 'yon. Sana maging masaya ka."

Yaya Dub wiped away Alden's tears as he stood up before her.

After composing himself, Alden gave her a hug and replied, "Thank you."

Still crying, Alden finally left.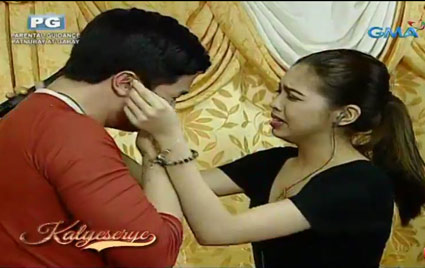 FRANKIE AND CINDY TO GET MARRIED? Earlier during the November 27 episode, Frankie offered to marry Cindy the Russian model.

This was after the two spent time together to eat balot and isaw.

Frankie admitted, "I am starting to like you."

Cindy said, "It's impossible. It can't be."

Lola Nidora asked Cindy if she likes Frankie.

Cindy: "You know what Lola, I'm getting married to Alden. But Frankie is so nice and so handsome than Alden. He looks better than Alden. He's kind and funny and I like spend time with him so much. But I'm getting married to this Alden."

Lola Nidora: "Did you talk to Lola Babah about it? If you don't love Alden, you should not get married. Love is not a game, you should be sure about it."

Cindy: "Yes, but we can always get divorce."

Lola Nidora: "No, no. That is not how it should be. We don't believe in divorce. Marriage is sacred. It's a promise to love each other."

However, Cindy does not want to cancel the wedding or else their business might go bankrupt.


ADVERTISEMENT - CONTINUE READING BELOW