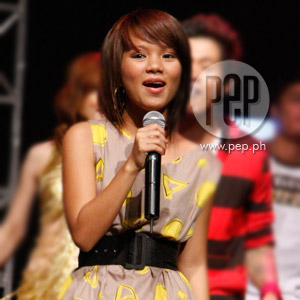 ---

The past week had been a challenging one for the PinoyIdol hopefuls as Regine Velasquez mentored the remaining nine finalists andsat at the judging panel alongside judges Ogie Alcasid, Jolina Magdangal, andWyngard Tracy. Last week, each of the Top 9 contestants had to perform a songpopularized by Asia's Songbird and interpret the pop songs using their ownstyle.
Guests during the Saturday performance night included theIdol hopefuls' personality development guru Olen Lim plus singers BuboyGarovillo, Wency Cornejo, and Gino Padilla.
First up on the Pinoy Idol stage was Jayann Bautistawho gave a soulful rendition of "Pangarap Ko Ay Ibigin Ka." Although it wasreceived well by the Songbird herself who commended Jayann for singing the songwithout a hint of the original version's style and influence, Wyngard disagreedwith Regine.
"Hindi ko naramdaman yung song," he frankly told the Idolhopeful. "Wala lang sakin. Parang di ka kasali."
Ogie, on the other hand, was very vocal about his approvalof Jayann's performance. "Sinulat ko 'yang kantang yan eh. The reason why I likedit is because I didn't hear Regine. I heard Jayann in that song," he explained."It was different...soulful...truly Jayann. Very good."
Next was Toffer Rei who did a rock-inspired take on "YouMade Me Stronger." After his edgy performance, Jolina admitted that she feltfrightened for the rocker as he was off-key at the beginning of the song. "Peronatutuwa talaga ako na napanindigan mo siya," she continued.
Regine also praised Toffer's performance and was surprisedby the novel twist Toffer gave to the song. "Since I've sung this so manytimes, hindi ko akalain na pwede siya gawing rock," observed the Songbird.
Ogie also lauded the performance and thought it was as if hewas "almost hearing a hit song. It was like something na naririnig ko saradyo," he explained. "Para kang nag-David Cook dun, e," he told Toffer,referring to American Idol David Cook's interpretation of Mariah Carey's"Always Be My Baby" in the seventh season of the reality singing competition.
ADVERTISEMENT - CONTINUE READING BELOW
Wyngard, however, begged to differ with the rest of thejudges. "Napaka-ordinaryo nung pagka-kanta mo nung song," he told Toffer. "Youwere trying to be different. Pero sa akin, walang effect."
Sixteen-year old Penelope sang "What Kind of Fool I Am," asong that was revealed to be very special to the Songbird herself. "Natutuwanaman ako na yung mga tips na binigay ko sa 'yo, sinunod mo. 'Di kanag-oversing," said Regine. "Medyo hindi lang malinis especially at the end,medyo nag-alanganin ka na ng konti. But still I thought you did a very goodperformance."
Ogie, however, disagreed with Regine. "That was a verydangerous thing you did. Di mo maabot, e," he told Penelope. "I think she's tooyoung to sing that song," he added.
But despite Ogie's disapproval, Jolina still liked theperformance. "Parang di ko nakikita na dapat [tignan] kung bata pa o hindi,"she said "Kasi sabi ni Ate Reg, 16 years old din siya nung kumakanta siya, okaynaman, e. Para sa akin, okay ka pa rin," she nicely told the Idol hopeful.
Daryl Celis gave his rendition of "Sa Piling Mo", a songthat was revealed to be a favourite of the Songbird and her theme song withreal-life sweetheart Ogie Alcasid. For his ballad performance, Daryl wasreceived with a seal of approval from all four judges.
"Maganda yung tone niya, yung boses niya," commended Regine."Hindi na niya kailangang artehan pa. Daryl, naramdaman ko yung song. Thank youfor singing it."
Jolina admitted her liking for the song, as well. "Kiniligako. Merong mga notes na alanganin pero mas maganda yung performance mo thanlast week." Wyngard agreed with Jolina and said, "Definitely mas magaling katoday than last week...Simple lang yung interpretation mo. I think nandun yungsikreto ng boses mo and style mo. Mas simple mas maganda."
As for Ogie, "I agree with them. Now you're coloring yourtones. Minsan sumosobra lang pero nawawala ka na sa tono [pero] nakakatuwa ka.Kahit anong gawin mo, tumitili pa rin yung fans," he laughed.
ADVERTISEMENT - CONTINUE READING BELOW
Unlike Daryl, Kid Camaya did not garner praises from thefour judges with his own version of "Narito Ako." Ogie observed: "Kid,bumabalik ka na naman sa dati mo, e. Hindi mo na naman ninanamnam yung sinasabimo. Sayang yung boses mo, Kid."
Jolina, though clearly appreciative of Kid's vocal style,admitted that the performance bored her. "Yung performance mo mismo, pipikit nalang ako, naririnig ko naman yung boses mo. [Pero] ang importante pag nasa TVka, pag performer ka, dapat makita talaga yung performance," she advised.
Regine added, "Medyo hindi ko pa masyadong naramdaman yungsong. If you feel the song more, and if you look at the audience...eye contactwith the audience...siguro mas mararamdaman namin yung kanta."
Gretchen Espina's acoustic take on "Kung Maibabalik Ko Lang"was received with both praise and criticism. "Nagustuhan ko kasi feeling ko,she wasn't really trying to do anything but sing it," admitted Ogie. "I canonly count one false note-just one," he praised. "It was probably one of yourcleanest performances," he told Gretchen. Regine agreed with Ogie and said, "Magandayung tone mo, maganda mo nakanta yung song."
Jolina, however, felt that a more relaxed version would bebetter than the groovy acoustic style that Gretchen performed. Wyngard, on theother hand, simply didn't like it. "Yung pag-interpret mo nung song, it was soobvious you don't know the story behind the song," he frankly told Gretchen."Simple yung kanta, pinahirap mo lang eh. It was so plain."
But unlike the others, Ram Chaves has always been one togarner the judges' approval. This time, he sang "Tuwing Umuulan," a song thathe practiced in front of the mirror, following the advice given to him by theSongbird during rehearsals.
Wyngard, who seemed particularly hard to please that night,praised Ram's version of the song. Henarrated that Basil Valdes popularized the original version, then RegineVelasquez also gave her own version of the song. "Ngayon narinig ko RamChaves," he brightened.
ADVERTISEMENT - CONTINUE READING BELOW
Like Wyngard, Regine was also impressed by Ram. "What I likeabout Ram is that he has a very distinct voice. Alam mong siya lang yung mayganong boses," she said. "Congratulations, Ram. I'm a fan."
Another Idol finalist belonging to the top contenders thatnight was Warren Antig, who gave a reggae-inspired version of "Urong-Sulong."Like Ram Chaves' rock version, Warren's interpretation was also well-receivedby the panel.
"Parang ang ganda ng performance mo," Regine told Warren."Nag-enjoy ako. Go Pards!" she exclaimed.
Sixteen-year-old Sue Ellen sang her version of "Dadalhin"but giving the song an R&B edge. "Yung interpretation mo, ibang-iba sapagkakanta ko, so natutuwa ako dun," commented Regine. "It's your own style,it's R&B, that's good. Hindi lang siya masyadong malinis, halatangkinakabahan ka. But just the same, for me, I like it."
Wyngard's comment about Sue was a particular standout. "Angcute mo. Para kang manika sa ibabaw ng cake," he lightly told Sue. Ogieencouraged her by saying, "Parang nahuli mo na, e [yung style]. I-refine monalang yang style mo na yan. Ituloy-tuloy mo na yan. Today okay ka."
But it looked like there won't be a next time for Sue Ellen,who was placed on the Bottom group during the results night, and wasconsequently eliminated from the competition.
The Top 8 contenders for next week's gala performance are:Warren Antig, Gretchen Espina, Ram Chaves, Penelope, Daryl Celis, Kid Camaya,Jayann Bautista, and Toffer Rei.
Don't miss the Pinoy Idol episodes next week as Queenof Soul Jaya serves as the guest mentor on the show. Catch the performances onSaturday and the results on Sunday on GMA-7.