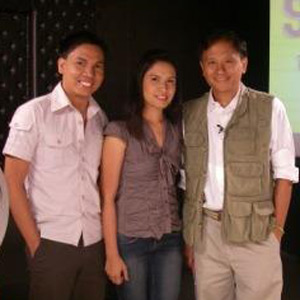 ---

Close family ties are at the very heart of Filipino culture,which is what makes Sine Totoo's offering for Saturday such aneye-opener. This late-night GMA-7 show brings together two unforgettable Imbestigadorstories, which shows how people are rescued from the abuse of their very ownfamilies.
Caught on hidden camera: a man whose wife and littledaughters leave him to starve for days. On certain occasions, they are seenbeating him with a broom and even a hammer. And in one of the most shocking sequences ever seen on Imbestigador,the man's youngest daughter pours boiling water over him! The father turns out to have suffered from astroke months before. Unable to care ofhimself, his impoverished family takes out their own hunger and frustrations onhim.
Next caught on camera: a man who keeps his daughter and wifechained so tightly, they can only sit and lie down. They are never releasedfrom their chains—not even to use the toilet. When asked why, the fatherexplains he must keep his mentally ill family members from wandering off.
Sine Totoo host Howie Severino interviews theproducers of these disturbing Imbestigador stories—Florence Ballesterosand Cliff Gingco. They explain how they tried to deal sensitively with thefamilies involved in both cases. Theyalso provide updates on the state of the victims today.
Sine Totoo airs Imbestigador's shockingstories of family abuse and rescue this Saturday late night over GMA-7.