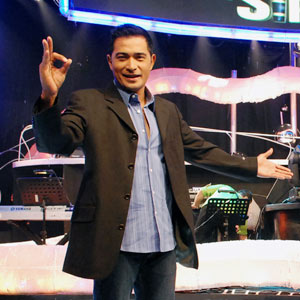 ---

ABS-CBN'smusic lyrics game show that tests contestants' knowledge of songs rather than theirsinging prowess has churned out three millionaires in one season alone since it waslaunched in April. The Singing Bee, hosted by Cesar Montano, wasrecently cited for being the second top-rating show in the primetime block forthe month of June. In the Nationwide Urban TV Audience Measurement report ofAGB Nielsen, Cesar's show received 32.9 percent, making it second only toGMA-7's fantaserye Dyesebel (which garnered 33.6 percent).
Sofar, Aiza Seguerra is the biggest winner of The Singing Bee. The childstar turned acoustic singer won a whopping P2.08 million cash prize in the gameshow's first ever back-to-back win.
Aizawas on her sixth song in the FinalCountdown when she hit the P1 million jackpot. Her winning streak continued inthe next game when she successfully defended her championship status and wonanother P1 million.
Shedecided to forfeit her chance to defend her title anew in order to give a chanceto others. "Promise ko rin sa sarili ko yun na kapag nakuha ko yung milyon,tama na. Hindi madali angTheSinging Bee.Good thing na mahilig ako kumanta kaya nataon lang na nanalo ako," said Aiza,who took home P2.08 million.
Aweek earlier, Rachel Alejandro, won P1.2 million on her sixth time as TheSinging Bee champion. Unlike Aiza, Rachelwas on a make or break situation when she correctly answered the last song inthe show's final round.
"Ijust feel so blessed. It's not just about the money din kasi. This has a personal impact to me.With all the things going wrong in my life, I now have a reason to believe nadi ako malas," said Rachel.
ADVERTISEMENT - CONTINUE READING BELOW
Amongthe regular players, it is only Steno Padilla who took home the million on hissecond day as defending champion. The 21-year old journalism fresh graduatesaid that singing on videoke bars and watching music channel MYX served as hisedge in winning the show.
"Dinaman talaga ako nagpractice. Suwertehan din po kasi talaga sa TheSinging Bee kaya wala po talaga makapagsasabikung ano ang dapat na paghahandang gawin mo," he said.
Hostedby Cesar Montano, The Singing Bee is a family-oriented game show whereinthe players must know the exact lyrics of the given songs. The show is part ofthe Kapamilya Network's "Panalo Bawat Pilipino" campaign celebratingthe success of Kapamilya game shows that continuously entertain the public,improve people's lives, and engage the audiences through the years.
Oneof the show's highlights is the Bandble Bee led by the respected musicaldirector Mel Villena. Singing the songs that the contestants must completeinclude Apple Chiu, Michael Cruz, Led Sobrepeña III, MC Castro,Hannah Pesy, Sheryl Kao,and Arms Cruz.
Michaeland Apple are both finalists of singing competitions on television. Apple Chiu,admitted that The Singing Bee has helped her career tremendously."Malaking tulong talaga sa 'kin ang Bee. In a way mas nakilala pa ako dito, siyemprekasi mas wide naman yung reach ng viewers di ba. What I like about Bee isnae-explore ko yung ibang genres ng music," she said.
"Malakingbagay na magkaroon ng daily show. I'm really happy na nagkaroon ako ngopportunity na makita uli not just here in the Philippines but around theworld," said Michael, who is currently working on releasing his band's ownalbum.
ADVERTISEMENT - CONTINUE READING BELOW
TheSinging Bee airsweekdays, after TV Patrol World. The current season has been extendeduntil August 5 on ABS-CBN.