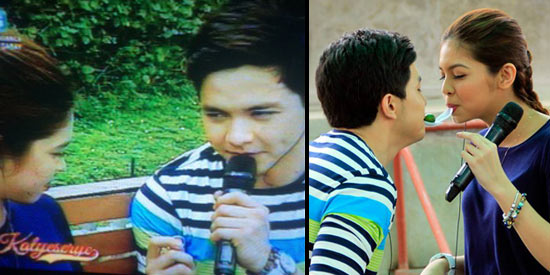 ---

Alden Richards gave the ring to Maine "Yaya Dub" Mendoza along with a promise that they will continue with their journey together no matter what happens.

"Kahit anong sabihin nila, ikaw at ako, sabay tayo sa paglalakbay," vowed Alden during their theme park date for the Kalyeserye dubbed #ALDUBRendezvous.

In the earlier part of the December 5 episode of Eat Bulaga, Alden and Yaya Dub participated in a party where there were parlor games.

The AlDub love team competed in a calamansi relay along with the Tres Lolas (Lola Nidora, Lola Tidora, and Lola Tinidora).

Lola Tinidora (played by Jose Manalo) taught Alden and Yaya Dub a more stable way of carrying the calamansi.

They made the spoon shorter and Alden and Yaya Dub enjoyed transferring the calamansi to each other.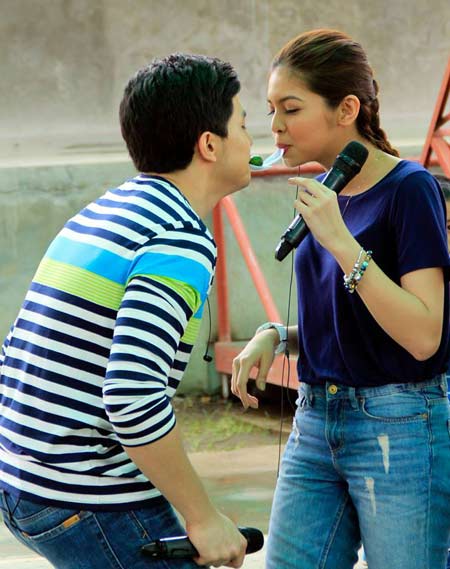 Later on, Alden and Yaya Dub left together to have a theme park date at Enchanted Kingdom.

They had a grand time enjoying the rides and running in the theme park while holding hands.

For their first stop, they rode the carousel and Yaya Dub had a request for Alden: "Bakit hindi na lang ako sa likod mo? Para meron akong kakapitan."

When their ride at the merry-go-round ended, Yaya Dub pretended to faint but she was just joking. Alden carried her and they moved on to the bump cars.

Alden suggested that Yaya Dub ride the yellow car since it is her favorite color.

They took on the challenge of riding the Ekstreme Tower, which carries riders all the way to the top and then suddenly drops them from a height of 40 meters.

While deciding where to go next, Alden wiped off perspiration from his face and did the same for Yaya Dub.

After the ride, Alden saw that Yaya Dub was crying and he hugged her to comfort her.

"Napuwing lang ako," claimed Yaya Dub when she was teased about crying.

To cool down, Alden and Yaya Dub sat down on bench to drink. The drink had two straws in it, and Alden drank from it.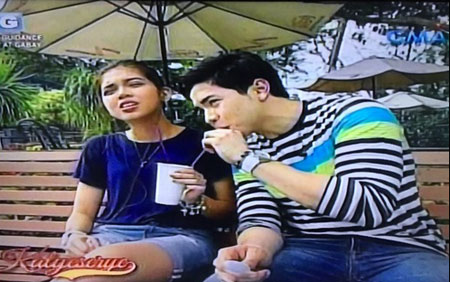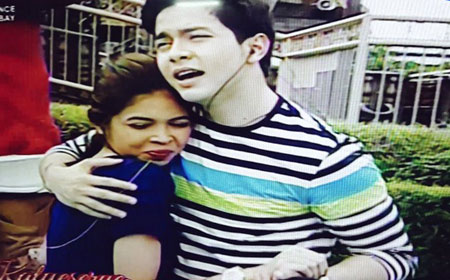 Alden turned serious when he brought the ring that was an heirloom of the De Explorer family.

"Gusto ko ikaw ang magtago nito. Mula pa ito sa mga lola mo.

"Alam mo naman ang laman ng puso ko. Handa akong maghintay sa panahong handa ka na."

Alden made a promise to the woman whom he said he wants to spend the rest of his life with.

"Sabi sa diary, kung sino man ang makakakuha muli nito, nararapat na ibigay mo ito sa taong nagpapatibok ng puso mo...

"...sa taong gusto mong makasama habang buhay."

"Yung taong gusto mong makasama habang buhay, yung taong gusto mong pag-alayan ng pag-ibig na wagas. At handang alayan ng walang katapusang pag-ibig."

He told her, "Iningatan ko ito para pareho nating hintayin ang takdang panahon."

He said that the ring represents their promise to be together "sa pagharap ng bagong kabanata ng ating buhay.

"Kahit anong sabihin nila, ikaw at ako, sabay tayo sa paglalakbay."

They sealed their vow by making a pinky swear.

Yaya Dub promised to him, "Iingatan ko ito bilang paalaala na pareho nating ihahanda ang sarili natin sa bagong kabanata."

Alden presents the ring to Yaya Dub but instead of putting on her ring finger, he placed it on her palm.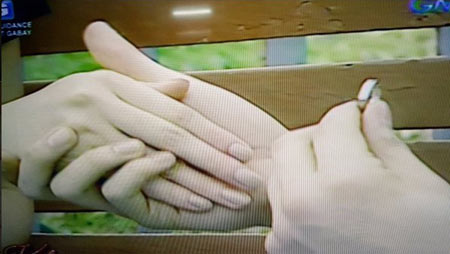 "Ihanda ang sarili natin sa bagong kabanata," reiterated Maine (aka Yaya Dub).

However, news suddenly came that something had happened to Lola Nidora.

At that point, the horn sounded, marking the end of this Kalyeserye.


ADVERTISEMENT - CONTINUE READING BELOW