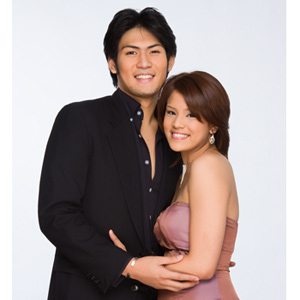 ---

The Bea Muñoz-Miguel Mendoza showdown during the 5th GalaNight of Pinoy Dream Academy Season 2was probably what the people behind the show hoped for. In fact, many viewers,during the earlier parts of the show, speculated the real-life couple wasincluded in the roster to add drama to the reality singing competition. Itdidn't seem possible at first: Miguel was touted as one of the show's earlyforerunners—due to his stint in ABC-'s PhilippineIdol two years ago—while Bea never managed to impress the jurors in thefour previous performance nights. But thanks to a duet challenge last week, Beaand Miguel fought head-to-head for survival last night, July 19, at the PDAConcert Hall in Quezon City.
But in the end, it was the vocally inferior Bea who was senthome. She got a percentage of 25.15 of the total text votes, while herboyfriend Miguel got 74.85 percent. While Miguel's lead over Bea wasoverwhelming, the same can't be said about the couple's performances.


PDA resident judge Louie Ocampo said he wanted to see Miguel perform better butfelt his performance of Westlife's "You've Lost That Loving Feeling" wasmusically off. The other judges agreed—Miguel received the second lowest gradethis week, although he was saved from possible expulsion by the academy'sfaculty. Gerard Salonga, on the other hand, said he saw Bea worked very hard todeliver "Yakap sa Dilim" but added the effort was not enough. "I'm not sure ifit's there," Gerard said on Bea's singing ability, or lack thereof.
Although this week's sensuality theme was supposed to givethe scholars the opportunity to let loose, the other performances left thejurors feeling cold. Bunny Malunda's "Emotions" and Cris Pastor's "BleedingLove" didn't turn Louie on. He noted that Bunny looked nervous when she firststepped on stage and added it felt as if she was not in good shape. Louie saidhe felt a bit of sensuality during Cris' performance, he criticized its overallmusicality and her diction.


Guest judge Vina Morales said Iñaki Ting's rendition of Prince's "Kiss" was not"swabe" while Louie noted Christian Alvear was out of tune when he sang 'TheWay You Make Me Feel." Vina said Hansen Nichols ("My Cherie Amour") and VanPojas ("Bed of Roses") were sexy enough with their pieces, although Van coulduse some more work on using his eyes and face to express emotions whilesinging.
ADVERTISEMENT - CONTINUE READING BELOW
In the end, it was Bunny (6.03 points out of a possible 10),Iñaki, and Christian (both scored 6.33 points) who ended up in the bottomgroup. It is Bunny's first time to be included in the possible set ofprobationary scholars, while the two have been in the bottom four once. This isalso the first time Cris was not included in the bottom group after threeconsecutive appearances in the bottom four. With Bea's exit, Cris now has thelowest grade point average among the scholars.
Only a handful managed to earn the nod from the jurors.Liezel Garcia ("Sa Aking Pag-iisa") and Bugoy Bogoyan ("I'll Make Love To You")remain unstoppable, although two other scholars also have a shot of getting thetop grade this week. Gerard thought "Fever" was the wrong song choice for AppleAbarquez, saying she was "overqualified for the song." Besides a minor mistakeduring the chorus, Laarni Losala managed to wow Gerard with her piece "(YouMake Me Feel Like A) Natural Woman."
Who among Bunny, Christian, and Iñaki will be expelled nextweek? Can the other scholars steal the top spot from the still undefeated StarScholar Liezel? Catch Pinoy DreamAcademy Season 2 Uberture, Mondays to Fridays, 5:30 PM,and Pinoy Dream AcademySeason 2 Primetime, after My Girl, onABS-CBN. Viewers can also watch the PDA scholars everyday on Studio 23,12:00-2:00 PM.