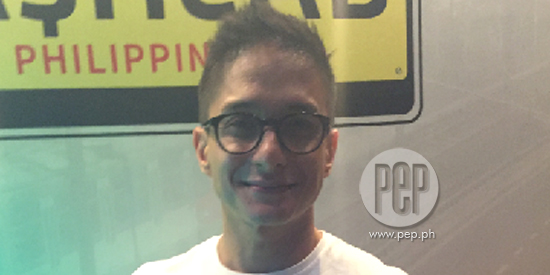 ---
For Ryan Agoncillo, becoming the host/driver of the mobile game show Cash Cab Philippines, is a really dream come true.

The said program, which has more than 40 editions across the globe, features comedian Ben Bailey as the host in the U.S. edition.
In an exclusive interview during the recent press launch of Cash Cab Philippines at the Aracama Restaurant in Taguig, he told PEP.ph (Philippine Entertainment Portal), "Alam mo, ang pangarap ko talaga noon maging driver ng Cash Cab.
"I saw this program a long time ago. When I saw it was done in Asia, I am so excited!
"The original is in New York, then they brought it in Singapore, and then they did the Asian thing.
"It is something that I've really wanted to.
"Nung tinawagan ako to be part of Cash Cab Philippines, that is really a dream come true.
"Siguro like in high school, you had a crush and all of a sudden you had all grown up, you take it very prepared for it, that's like Cash Cab for me now.
ADVERTISEMENT - CONTINUE READING BELOW
"I'm very prepared to do it."
During the show, a regular taxi will navigate around some areas in Metro Manila to pick up random passengers.
Upon entering, the car passengers will find themselves as regular contestants on the said mobile game show.
According to Ryan, what really prepared him for this role was his love for race car driving, motorcycle driving, and talking to his kids while in traffic.
He said, "When I do the job [Cash Cab host/driver], I start driving at 4 pm, I usually 1 or 2 in the morning.
"It is very intense, hindi mo nararamdaman yung physical na pagod, but the mental aspects coz you are driving.
"You are operating the lights, you are asking questions, you making sure you're passengers are okay, and then getting them safely [in their destinations].
"I am happy to report that there is no incident of sabit happened.
"It is very intense na iba. Masarap yung feeling niya pero nakakakaba."
ADVERTISEMENT - CONTINUE READING BELOW
THE MECHANICS. In the 13-episode series to be aired on AXN, Ryan preferred to be called as "Manong Driver" since he will assume the role of cab driver and show host, driving passengers to their destination while quizzing them about general knowledge.
Questions asked during the ride will start easy and become trickier with contestants winning cash prizes for each correct answer.
The more correct answers of passengers, the more cash prizes they will receive.
However, incorrect answer means a strike, and contestants have up to three strikes before they are booted out of the cab and onto the street, no matter where they are.
The maximum number of questions depends on the contestants' choice if they already like to get their cash prizes or answer more questions until they get to their destination.
Contestants will have two "shout outs" for help if they are stumped on a question: they can either call a friend or ask a random stranger for the answer.
ADVERTISEMENT - CONTINUE READING BELOW
What if they become stuck in traffic?
Ryan answered, "Traffic becomes another factor in the game.
"Halimbawa may passenger, I'm gonna give you tips, I'm gonna tell you the longer you stay in Cash Cab, the more chances of winning cash.
"But actually it is also the reverse work against you, where you can get more strikes before you get to your destinations and that's when the game is over.
"Once you give me your destination, that's your end destination.
"We end the game with your cash in hand by the time you get there or by the time you get strikes.
"You can't just suddenly have so much money and tell me 'Hey can you just pull me over the side and I'll get off here.' No, it's not like that."
Cash Cab will premiere on AXN with a double episode on December 22, at 8:50 pm with an encore on Thursday, December 24, at 9:15pm.
ADVERTISEMENT - CONTINUE READING BELOW