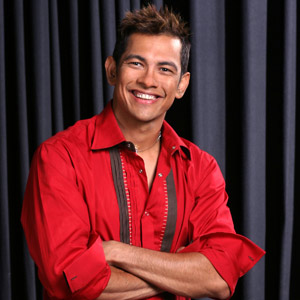 ---

Last Monday, July 12,Gary Valenciano visited the eleven remaining scholars inside the Academy wherehe gave them words of wisdom and gamely jammed with them in singing some of hishits. With his 25 years of experience in the music industry, Mr. Pure Energycertainly had a lot of lessons to share with the scholars.
The PinoyDream Academy Season 2 scholars were pleasantly surprised by theunannounced visit of Mr. Gary V. who sat with them for an inspirational talkregarding the music industry and his own colorful career.

Gary asked each of them to tell him abouthow their love for music started. One by one, Hansen Nichols, Bugoy Bogoyan,Liezel Garcia, Apple Abarquez, Christian Alvear, Bunny Malunda, Iñaki Ting, VanPojas, Miguel Mendoza, Cris Pastor, and Laarni Losala described theirbackground and how they came to love singing.
Gary then advised the scholars to never give up on music,to sing not to impress but to express, to give their 100 percent in everythingthat they do, and to make sure that they touch hearts whenever they perform. Healso reminded the scholars that there is a big difference between excellenceand perfection.


As his talk with the scholars came to a close, he askedBugoy to demonstrate expressive singing to stress its difference fromimpressive singing. While Bugoy was in the middle of his performance, Uberturehost Billy Crawford entered the Academy and talked Gary V. into jammingwith them.


Gary V. gamely gave in toBilly's request and sang "Shake It Off"and the remix of"Shout For Joy" while Billy and the scholars danced along with him.What will happen next inside the Academy?

Stay tuned from Monday to Friday to Pinoy Dream Academy Season 2 Uberture,5:30 PM, and Pinoy Dream Academy Season 2 Primetime, after My Girlon ABS-CBN. Viewers can also watch the PDA Season 2 scholarseveryday on Studio 23, 12:00-2:00 PM.