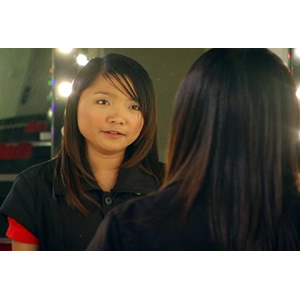 ---

The public is aware of the struggles of this youngsinger who made waves abroad because of a YouTube video. This Saturday, July26, viewers will be able to learn about the background of Charice and thereason why she no longer uses the last name Pempengco.
After tapping Gretchen Barretto in Maalala Mo Kaya,Filipina singing sensation Charice will be tapped to play herself in ABS-CBN'sdrama anthology show. Singer-actress Zsa Zsa Padilla has been chosen to portrayRaquel, the mother of Charice who also struggled to be a single parent to herchildren.

Maalala Mo Kaya (July 26, 2008)
Director: JeffreyJeturian
Writers: JoanHabana and Dado Lumibao
Cast:
Charice: Charice Pempengco
Young Charice: Sharlene San Pedro
Raquel (Charice's Mom): Zsa Zsa Padilla
Kokoy (Charice's Brother) Rhap Salazar
Charice's Dad: Neil Ryan Sese
Tess (Charice's Grand Mother): Madeleine Nicolas
SYNOPSIS. This is the story of Charice, a 16-year oldgirl who has always dreamed of seeing herself on TV. Growing up in a brokenfamily, she has never seen her father since she was three. Charice and herbrother Kokoy were raised alone by their mother Racquel, who also taught herdaughter how to sing and conquer her fears.
Charice, equipped with the talent and the passion, as wellas a very supportive and heroic mother, joined numerous singing competitions.She won sometimes but it reached a point when she started losing hope,especially when she did not make it as the grand winner in Little Big Star.A lot of people continued to put their faith in Charice but more than anyoneelse, it was her Mommy Raquel who never stopped in believing that she can reachher dream through her music.
In 2007, an anonymous fan and YouTube blogger FalseVoice postedher videos on the web. Today, Charice is not only popular here in thePhilippines but also among foreigners who continue to recognize her gift ofmusic.

With hard work, faith, and through the help of the video sharing site, Chariceis now famous all over the world, proudly showcasing the immense talent thatFilipinos have to offer.
ADVERTISEMENT - CONTINUE READING BELOW
Maalala Mo Kaya,hosted by Charo Santos-Concio, airs Saturday nights on ABS-CBN.