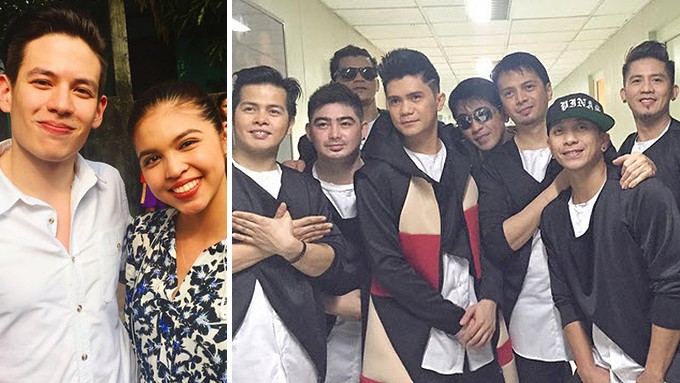 ---
It's Showtime celebrated a special day for host Vhong Navarro while Eat Bulaga revealed a new character during its Kalyeserye segment last Saturday, January 9.


#ALDUBToSeeYouAgain. For the past few days, Kalyeserye fans and AlDub Nation have been wanting to meet Yaya Dub's (played by Maine Mendoza) mystery classmate named Jake. Alden Richards, the other half of the Aldub love team, was not present during the noontime show since he was still en route after his concert at the Dubai Tennis Stadium last Thursday, January 7.
The episode opened with Yaya Dub coming home from school in a bad mood since Alden hasn't called her back yet. Yaya Dub told Lola Nidora (played by Wally Bayola) about this issue and in the middle of their talk, she received a call from her mystery classmate whom would like to visit their home to personally give her their school projects.
Lola Nidora--along with her sisters Lola Tidora (Paolo Ballesteros) and Lola Tinidora (Jose Manalo)--quickly prepared and changed their clothes for Jake's arrival.

However, The De Explorer Sisters were surprised to meet Yaya Dub's classmate and BFF Jake #1 because he was a little different from how Yaya Dub described him, mainly that he looks like an artista. Yaya Dub explained that she has two classmates named Jake.
Lola Nidora and her sisters' jaws dropped after meeting Jake #2. Jake Ejercito, who gave his real name Juan Emilio Ejercito, took part on the episode of Kalyeserye and was revealed to be the classmate who has been the cause of Alden Richards' jealousy.
Jake said that he wanted to personally turn over their business proposals and school project to Yaya Dub before his flight to Singapore for his Master's Degree.
Lola Nidora grilled him about his intentions and asked him if he was courting Yaya Dub. The son of Manila Mayor Erap Estrada with former movie actress Laarni Enriquez explained, "Hindi naman po. Kaklase ko po si Divina sa Marketing class namin."
ADVERTISEMENT - CONTINUE READING BELOW
Yaya Dub butted in and said that Jake already has a girlfriend in London. By the end of the segment, Yaya Dub found a photo of Jake and his girlfriend within the the documents that he brought and showed it to her lolas.
Meanwhile, Mavi Lozano was hailed as the Grand Winner of Eat Bulaga's Spogify segment. The aspiring singer bested four other finalists namely Yasser Marta, Justin Smaby, Kyle Manalo, and Anthony Rosaldo with his performance of Stephen Speaks' "Out of My League."

(To view photos from the Kalyeserye segment, CLICK HERE)
[gallery id="9173"]



#HappyBirthdayVhong. On It's Showtime, Kapamilya host-comedian Vhong Navarro celebrated his 39th birthday last Saturday. Vhong reunited with members his former dance group Streetboys and performed for the opening of the show.
Aside from Showtime co-host Jhong Hilario, the other members who came for the show were Spencer Reyes, Michael Sesmundo, Nicko Manalo, Christopher Cruz, Joey Andres, Danillo Barrios, and Joseph de Leon.
The Streetboys proved that they still have the dance skills they were known for as they grove through a mush-up of Ace of Base's "I Saw The Sign," Justin Bieber's "Love Yourself," iHeart Memphis' "Hit the Quan," and David Guetta's "Hey Mama."

Members of It's Showtime's all-male dance group called Hashtags serenaded the audience members with their performance of N'SYNC's "I Drive Myself Crazy."
The whole cast and crew of Kapamilya's daytime drama-comedy series Ningning led by child star Jana Agoncillo dropped by the show and invited the viewers to continue watching the last week of their show.
Joey Marquez was the featured celebrity player for the show's "Trabahula" segment where he must guess which of the four "madlang workers" is the true worker of the job identified by the show to win P50,000. The FPJ's Ang Probinsyano star, however, failed to correctly identify the real worker.


AGB MEGA MANILA. How did Eat Bulaga and It's Showtime fare in Mega Manila based on data from TV ratings data supplier AGB Nielsen TV Audience Measurement?

Last Saturday, Eat Bulaga got a Mega Manila TV rating of 27.4%, which tied with Magpakailanman at the No. 1 of most-watched program (daytime and primetime).

Meanwhile, It's Showtime managed to record 9.1% in Mega Manila.
ADVERTISEMENT - CONTINUE READING BELOW

KANTAR NATIONWIDE. The previous weekend, January 2, It's Showtime scored 13.7% in terms of national TV ratings while Eat Bulaga garnered 20.3%.

Last Saturday, the Kapamilya noontime show narrowed the gap by two points compared to the previous weekend ratings.

On January 9, It's Showtime scored a national TV rating of 16.3% against Eat Bulaga's 18.4%.