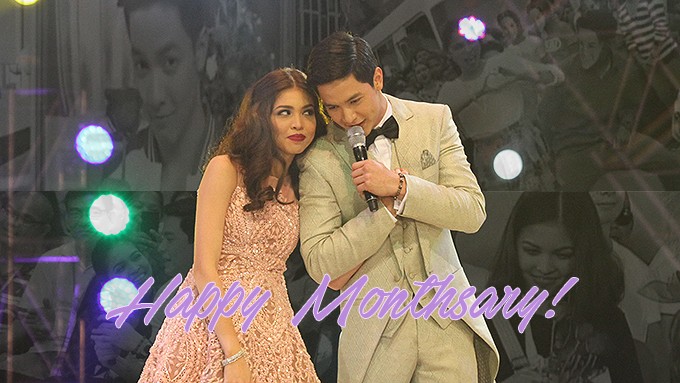 ---

For the past five months, viewers have avidly followed the love story of Alden Richards and Yaya Dub (played by Maine Mendoza) on Eat Bulaga's "Kalyeserye" segment.
The phenomenal onscreen tandem had their ups and downs in those months, from the couple's first kilig-filled gaze up to the much-anticipated Tamang Panahon concert.
This Saturday, January 16, Eat Bulaga's prime love team marks another milestone by reaching their sixth monthsary.


(Photo: mainefaulkersons on Tumblr.com)
ADVERTISEMENT - CONTINUE READING BELOW

Before celebrating the 6th month of the AlDub love team, here's a look back on how the onscreen couple celebrated the previous monthsaries:


1ST MONTHSARY. Alden Richards and Yaya Dub celebrated their first monthsary during the #ALDUBForYouIWill episode of Eat Bulaga's "Kalyeserye" segment last August 15, 2015.

The split-screen romance started on July 16 when Maine was visibly affected when she saw Alden watching her through a monitor.

Since then, every 16th of the month is considered as the monthsary of AlDub.

Their first official monthsary fell on a Sunday (on a day when Eat Bulaga does not air).

On August 15, Alden gave Yaya Dub a few roses while her Lola Nidora (played by Wally Bayola) received a bouquet of flowers.
However, the flowers didn't please Lola Nidora. Instead, she gave her first challenge to Alden: bring blocks of wood to EDSA in a span of 20 minutes. In the end, Alden successfully finished Lola Nidora's first challenge within 17 minutes.


ADVERTISEMENT - CONTINUE READING BELOW
#ALDUB2ndMonthsary. For their second monthsary, Alden returned to the same spot where he was sitting when their split screen kilig moment started. Alden wrote a letter for Maine that he read aloud.
Aside from the letter, Alden gave Maine a heart-shaped locket and lots and lots of flowers. The Kapuso heartthrob also sang a few lines of Ed Sheeran's "Thinking Out Loud" and his own hit single "Wish I May," which he dedicated to his onscreen partner.



#ALDUBThirdMonthsary. Yaya Dub wasn't around when Eat Bulaga celebrated her third monthsary with Alden last October 16.

Lola Nidora (Wally Bayola) said Yaya Dub was with her Tiya Bebeng at the time.
However, Alden continued with the celebration and gave roses to their loyal faans, the ALDUB Nation. In this episode, Lola Nidora gave her suprise for the onscreen couple and hinted about "Tamang Panahon."
Yaya Dub, then, called Alden on the phone and greeted him for their monthsary. She also requested for Alden to do the Dubsmash she was doing last July 16, which sparked their love team. Alden also made a request for Yaya Dub to sing his single "Wish I May" with him.


ADVERTISEMENT - CONTINUE READING BELOW

#ALDUB4thMonthsary. ALDUB celebrated their 4th monthsary last November 16. It also happened to be Lola Tinidora's (Paolo Ballesteros) birthday. Alden lip synced a few lines from Ogie Alcasid's "Nandito Ako" that he dedicated to Lola Tinidora.
This time, it was Yaya Dub who gave a letter to Alden and told him that it was "for his eyes only." Yaya Dub also prepared a short dance number for Alden. The couple ended the segment by exchanging witty jokes.



#ALDUB5thMonthsary. ALDUB celebrated their fifth monthsary together last December 16. This is the first time they celebrated their monthsary in person and not via split screen. To start off the celebration, Alden treated Yaya Dub's lolas to a spa treatment.

The celebration continues with both Alden and Yaya Dub doing Dubsmashes together.
At one point, ALDUB reminisced about their most memorable moments. Maine told Alden, "Thankful talaga ako na dumating ka sa life ko. Kahit kailan, hindi ko makakalimutan yun, sinabi ko naman na sa iyo."
ADVERTISEMENT - CONTINUE READING BELOW
Alden, for his part, also thanked his onscreen partner and said, "Ako rin, sobrang thankful din ako na dumating ka sa buhay ko, na nakilala kita. Kasi, sobrang laking blessing. Alam mo, naging blessing ka sa akin at sa maraming tao. And for that, nagpapasalamat kaming lahat sa iyo, Meng. Thank you."