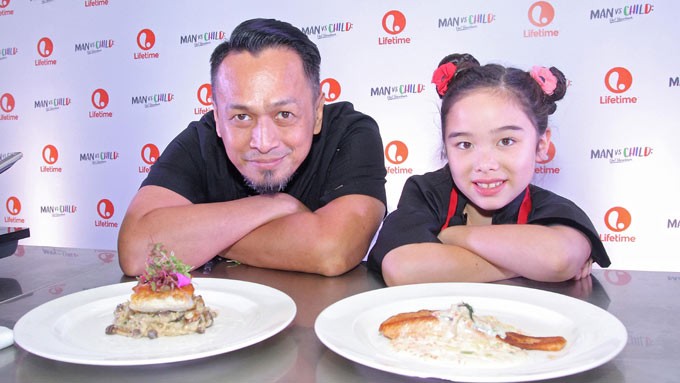 ---
Can an eight-year-old girl beat a professional chef?

This is the challenge posed in Man Vs Child: Chef Showdown, which is airing on A+E Networks' Lifetime Asia.

This new cooking competition series pits child prodigies versus professional chefs in a kitchen showdown.

In support of the series' premiere in Asia, eight-year-old Estie Kung (considered the youngest chef on the show) visited the Philippines last January 13.

The Chinese-American girl had a friendly cook-off with world-renowned Kapampangan chef and restaurateur Chef Sau Del Rosario at the Diplomatic Hall in Marriott Grand Ballroom.

Estie's mother, Laura Taylor, sat down with PEP.ph (Philippine Entertainment Portal) and revealed Estie was born with a passion for the kitchen, already heating the pan at age three.

The mother pointed out, "It's really important to let them experiment."

The talented little chef, who dreams of publishing her own cookbook, prefers to cook French cuisine, but also likes working on sushi and raw meat.

Estie's inspirations in cooking include her mother and idol-turned-friend French chef Ludo Lefebvre.

Man Vs Child: Chef Showdown had a successful debut in the U.S. and multiple world markets.

The mechanics of the show are simple: each episode consists of three rounds will challenge competitors' capacity and mastery in the kitchen.
ADVERTISEMENT - CONTINUE READING BELOW
The kids nominate a teammate to go against the experts. The first two rounds will be judged by resident judges and commentators, determining who will advance to the third and final rounds.

The winner/s from previous rounds will gain advantages like a) preventing their opponent from tasting the food as they prepare it and; b) forcing them to take a ten-minute break during their allotted cooking time.

For the last round, master chefs Hubert Keller, Ludo Lefebvre, among others, will take part in a blind taste test that will ultimately dictate the winner—professionals or young prodigies—for warranted bragging rights.

"Man Vs Child: Chef Showdown is an A+E Networks original format and we think it will really resonate with the audiences in Asia," said A+E Networks Asia Senior Vice President for Programming & Production Michele Schofield.

"It's wholesome entertainment for the entire family in a region where people are passionate about their food. We're launching our 'more than #JustAKid' campaign in celebration of children on Lifetime.
ADVERTISEMENT - CONTINUE READING BELOW
"Our aim is to showcase exceptional kids who prove that what young ones lack in experience, they make up for with creativity and enthusiasm."

Rising chef star Estie Kung will dominate the pilot episode titled "Don't Under-ESTIE-mate Her."

After Hong Kong, the Philippines is the second stop of her Asian tour,followed by Malaysia, then Singapore.

Watch Chef Estie and other child prodigies battle it out in the kitchen with famous and professional chefs in Man Vs Child: Chef Showdown, hosted by Adam Gertler.

The pilot episode airs on January 26, at 7 PM with a primetime telecast at 10 PM.
Tune in every Tuesday for fresh, new episodes.

Lifetime is available on Sky Cable channel 65, Sky Cable HD channel 199, Destiny Cable channels 44 (analogue) and 65 (digital), and other select provincial channels.