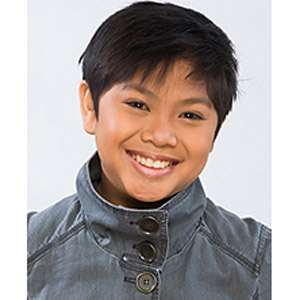 ---
Christian Alvear, Pinoy Dream Academy Season 2's "Small Boy Wonder," is not your typical reality singing show contestant. The 25-year-old boy, who stands less than five feet, looks more like a novelty singer than a serious artist. However, Christian surprised everyone after he received high scores for two of his performances and impressed the show's harshest judge. But in the end, Christian's novelty appeal failed to get the sympathy of the text voters as he was sent home during the show's 6th Gala Night at the PDA Concert Hall in Quezon City.

Although resident juror Gerard Salanga "didn't see anything" during Iñaki Ting's performance of Josh Groban's "To Where You Are," he still managed to garner 56 percent of the total text votes. Louie Ocampo was less critical of the expelled scholar. Christian's "Shout for Joy" "moved" the resident juror who merely noted Christian was a few notes ahead of the song. Iñaki and Christian's duet of the APO Hiking Society's "Panalangin," however, got a more positive response. "Ang feeling ko nga kayo 'yung original," guest judge Verni Varga said of the duo's performance.

The rest of the scholars also got praises from the jurors last night, July 26, in what could be the show's best performance night yet. The remaining scholars performed two songs in trios—one in acapella, and the other an upbeat number. Of the three trios, the weakest link was Miguel Mendoza, Laarni Losala, and Apple Abarquez's group. While Verni gave their performance of "Let's Groove" a score of nine and commented their acapella version of "Too Much Heaven" was better than their song-and-dance number, the trio paled in comparison to the performances of the Liezel Garcia, Bunny Malunda, and Cris Pastor as well as the group of Bugoy Bogoyan, Hansen Nichols, and Van Pojas.

The all-girl trio sang the Spice Girls' "Stop" and the Atomic Kitten's "Tide is High." Of the two performances, it was the Spice Girls number that impressed Louie. The stars of the night, though, were Bugoy, Hansen, and Van. Their acapella version of The Beatles' "Yesterday" and 'N Sync's "Tearing Up My Heart" earned nothing but raves from Gerard. He said he gave their acapella performance a perfect score of 10, while he said their upbeat number was "the real thing." The other judges agreed: the all-boy trio got a score of 9.82, making them the night's top scholars. Their score is also the highest so far this season, beating Liezel and Bugoy's 9.03 grade for their duet performance of "If I Ain't Got You."


This is also the first time this season that the top score was given to scholars besides Liezel and Bugoy; Van has merely landed in the top three during the first and the third Gala Nights, while Sen's previous highest score was 7.63 for his fifth Gala Night performance.
ADVERTISEMENT - CONTINUE READING BELOW

Hosts Toni Gonzaga and Billy Crawford also announced that there will be no probationary scholars for this week. Last night, they introduced Catherine "Poy" Palma of Zamboanga who will join the Academy as an honorary scholar. As an honorary scholar, she will receive a prize of P50,000 every time she becomes Star Scholar. In addition, Poy will get the chance to become an official scholar if she manages to become Star Scholar thrice.

How will Poy affect the competition inside the Academy? And can Bugoy completely steal Liezel's momentum? Catch Pinoy Dream Academy Season 2 Uberture, Mondays to Fridays, 5:30 PM, and Pinoy Dream Academy Season 2 Primetime, after My Girl, on ABS-CBN. Viewers can also watch the PDA scholars everyday on Studio 23, 12:00-2:00 PM.