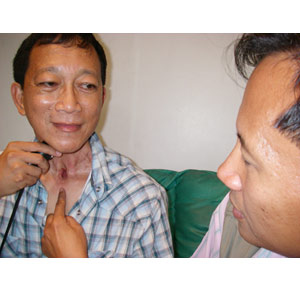 ---
Howie Severino and his I-Witness team immerse themselves in the world of people who talk like robots and have holes in their throats.


One of them is Emer Rojas, a former radio announcer who suffered his worst nightmare: he lost his voice when he contracted cancer of the vocal chords which had to be surgically removed. He and others like him now have to breathe through a hole in their throats.
But with the help of a small device, he regained his voice but now sounds like a robot. Like other cancer survivors, he lives on borrowed time. But Emer also becomes a man on a mission. He has organized those like him, former chain smokers who lost their vocal chords and talk like robots. Others have learned to use esophageal speech or talking by burping and ended up sounding like frogs.
Emer uses his voice to draw attention to his cause: anti-smoking. He speaks on campuses and even goes to various radio stations to champion his cause. He and his allies are advocating putting pictures of people with cancer on cigarette packs, which is done in other countries. But the opposition is as powerful as the tobacco industry.


In the July 28 episode of I-Witness, Howie and his team visit the biggest cigarette factory in the Philippines, which is now considered one of the most smoking-addicted nations in the world. The "Boses Upos" documentary of Howie Severino airs Monday midnight July 28, after Saksi on GMA-7.