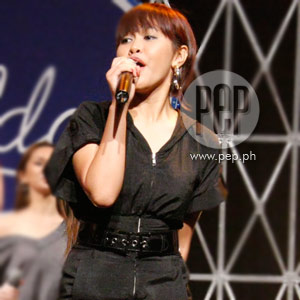 ---

Certified chart-toppers dominated the Pinoy Idolscene last week as the remaining seven contestants rendered their owninterpretations of hit songs from the country's biggest OPM bands. The Idolstage was transformed into a concert arena last week as South Border,Freestyle, 6Cyclemind, Brownman Revival, Itchyworms, Cueshé, and Pupil mentoredPinoy Idol's Top 7.
Unlike past gala performances, last week's mentors did notsit alongside judges Ogie Alcasid, Jolina Magdangal, and Wyngard Tracy, butinstead stood on the stage's side to witness the performance of their Idolpartner.
First up on stage was resident rocker Ram Chaves. Ram wasmentored by 6Cyclemind and sang the band's hit song, "Sandalan."
Before kicking off the gala night, 6Cyclemind gave theirshare of advice to the 25-year-old rocker. "Gawin mo na," they encouraged Ram."Parang last show na ng buhay mo 'yun. Bigay mo lahat."
It seemed that the rocker from Cagayan de Oro took theiradvice to heart, but judge Ogie Alcasid wasn't convinced. "I like the selfcontained energy that you're doing here," he started. "Parang pinipigil mo nahindi ko maintindihan [pero] honestly, nabitin ako," he continued. "I wantedyou to really perform there tonight. But the Ram Chaves tatak nandoon pa rin,"he told Ram.
ADVERTISEMENT - CONTINUE READING BELOW
Jolina agreed with Ogie, saying Ram's performance lacked theusual energy that the rocker used to exude. Wyngard, however, likedit. "Tinitignan ko si Chuck Isidro ng 6Cyclemind," he said. "Mukhang bilib nabilib sa'yo at gusto kang i-recommend sa banda. Very good."
Next was Jayann Baustista, who interpreted Itchyworms' "AkinKa Na Lang." Jayann admitted that the song is one of her favorites from theband, so she chose to interpret it by giving the song a reggae twist.Itchyworms was very impressed with Jayann and only had good words for the21-year old. "Natuwa kami sa bago mong approach sa kanta namin," they told herprior to the performance.
After her lively take on the rock song, all three judgesalso showed their approval. "That was very entertaining," said Wyngard. "Ibangversion naman ng kanta ng Itchyworms."
Jolina couldn't agree more and added, "Napakita mo diyan naversatile ka, kasi last week soul, tapos ngayon reggae. Very good performance.I like it."
ADVERTISEMENT - CONTINUE READING BELOW
Ogie was also impressed with Jayann's reggae-inspiredversion. "Iba ka tonight," he observed. "Gusto ko yung nuances nung rasta, nungreggae...na may pagka-jazz. Alam mo, it was very classy," he told Jayann.
Daryl Celis gave a slow ballad interpretation to Pupil'srock song "Nasan Ka." "You really have a great potential to become a singingstar," the band told Daryl. The judges apparently had the same opinion as allthree of them praised Daryl's performance.
"Pinabilib mo ako ngayong gabi," Jolina happily told the21-year-old finalist. "Dalang-dala mo yung kanta. Talagang kinilig na namanako. Umpisa palang ng kanta mo, nakakikilig na," admitted Jolina, referring toDaryl's mellow attack to the song.
"Pupusta ako, 'pag nirecord mo yan, hit yan," predictedOgie. Wyngard also showed his approval by saying, "Ang maganda kasi, hindi kanag-ilusyon na maging si Ely Buendia," he commended. "So, tuloy mo lang 'yan,sarili mong version. Huwag kang mangongopya para hindi ka maging pirata," headvised. At this point, Ogie interjected, "Daryl, hindi ka na pumipikit.Nakikita na naming yung mata mong napaka-cute."
ADVERTISEMENT - CONTINUE READING BELOW
Twenty-year old Gretchen Espina followed, singing her owninterpretation of Brownman Revival's "Ikaw Lang Ang Aking Mahal."
During rehearsals, the band advised Gretchen,"Maniwala ka lang doon sa ginagawa mo. Hanapin mo ung estilomo."
Although Gretchen gave her all during the performance, thejudges appeared to have been dissatisfied. "I will give you an A for effort,"Wyngard remarked. "You exerted so much effort sa pag-perform mo, nakakalimutanmo yung pag-kanta mo," he continued. "Masyado kang very conscious about it, soyung kanta mo medyo nag-suffer. [But] it wasn't bad."
Ogie, however, pointed out some good qualities in herperformance. "I haven't seen you this comfortable on stage. You were really,really comfortable," he observed. "That was good. You were very sensual, youwere relaxed, you were relating to the audience," he commended.
Nevertheless, Ogie admitted his disappointment. "Yung vocalsmo nakalimutan mo. Medyo sumasablay ka na kung saan-saan."
Jolina, however, decided to stay on the middle ground. "Okaylang [yung performance]. Hindi masyadong bongga, pero hindi rin masyadongpangit," she said.
ADVERTISEMENT - CONTINUE READING BELOW
Kid Camaya went next with his version of Cueshe's hit song"Stay." The band also had good words to say about Kid. "Mayroon pala siyangtinatago na kaya niya. Kaso siguro naiilang siya, So go beyond your limits.Huwag ka lang pumiyok," they advised.
After being severely criticized for several weeks,24-year-old Kid was finally able to clinch the three judges' seal of approval."That was okay. Hindi mo kinopya ang Cueshé," noticed Wyngard. "You did yourown version. Although nawawala ka lang ng konti sa pagka-rock, but it wasall right."
"Kung kay Wyngard, it was okay, para sa akin, I think it wasreally, really great," countered Ogie. "Ilang linggo na kitang pinagsasabigan[pero] nakabalik ka na, Kid! I really like those syrupy R&B vocals. It'sback, it's really back. And the version was really, really fantastic. Greatjob!"
Jolina also liked Kid's R&B version. "Tuloy-tuloy lang.Medyo nawawala lang sa tono, pero at least version mo yan. Very good."
ADVERTISEMENT - CONTINUE READING BELOW
25-year-old Warren Antig interpreted South Border'schart-topper "Kahit Kailan," for which the band advised Warren, "Huwagmag-alangan kasi nandoon yung potential, e."
The judges, however, were unconvinced. "I congratulate youfor your attempt," Ogie told Warren. "However, I think the attempt was afailure. You were really out of tune," he criticized. "Tama ako sa suspetsa ko,e, mukhang hindi magiging bagay sa'yo yung kanta. I could not hear Warren inthat song, I am sorry."
Unlike Ogie, Wyngard was more brutal in pointing out hisdislike for the performance. "Parang sinira mo yung song," he frankly toldWarren.
"Nung makita kita na ang magiging partner mo ang South Border,na-excite ako kasi naisip ko magkakaroon ng ibang version yung [song]," Jolinapointed out. "Pero hindi ko narinig yung Warren na in-idolize ko nung kumakantasiya ng reggae," she continued, clearly referring to Warren's version of RegineVelasquez's "Urong-Sulong" during the gala performance two weeks ago.
"Medyo hindi maganda yung performance mo ngayong gabi," sheremarked.
ADVERTISEMENT - CONTINUE READING BELOW
"Kung baga sa pelikula, ang tawag diyan ay flop," blurtedWyngard.
Last to take the Idol stage was Penelope, singingFreestyle's hit cover song "Weak."
The band was clearly impressed with Penelope and said of hervocal talent, "Asintado sa nota, at magaling yung mga kulot niya. Malinaw.Siguro mas konting puso pa. Mas patagusin pa niya sa tao," they observed.
During the performance, Penelope flavored the song with herimpressive vocal stylings—belting out one high note after another. Ogie wasamazed with it. "Sabi mo sa interview mo, hindi ka pa nakakaranas ng pain oanuman sa relationship," he told Penelope. "[But] it didn't matter. You reallysang that song really well. Napaka-versatile mo talaga. Dito sa R&B swak naswak ka pa rin. Kahit ballad...mag-belt. Nakakatuwa," he admitted.
Jolina, however, felt that Penelope could have shownsomething more. "Hindi ako na-surprise kasi alam mo kaya mo yung mga ganyangkanta, e. Maganda yung pagkagawa mo. I think it's very good also. Pero hindiako masyadong ne-excite kasi linya mo yan eh," she told the youngestcontestant. "Nag-expect ako ng something na mas iba."
ADVERTISEMENT - CONTINUE READING BELOW
Wyngard agreed with Jolina by saying, "Maganda mong kinanta,pero nakukulangan ako sa soul sa pagkanta. Because probably you're only 16 kayaganun. We're not taking it against you. Talang ganun. Siguro in a couple ofyears, mas makakanta mo yan ng saksakan ng ganda."
By the end of the night, only Jayann and Daryl were able tofully impress the judges "kasi silang dalawa inangkin nila yung kanta," Ogiereasoned. "Yung iba, it's almost as if they were aping the original."
The results night put Kid Camaya, Warren Antig, and Penelopeat the Bottom 3, with Penelope saying goodbye to the Idol hopefuls in the end.
Next week, Pinoy Idol takes on a big turn as theyhave their biggest elimination round yet. Pinoy music legend Basil Valdes willmentor the remaining six finalists—Ram Chaves, Warren Antig, Gretchen Espina,Kid Camaya, Daryl Celis, and Jayann Bautista.
Watch another exhilarating performance nextweek—Saturday for the performances and on Sunday for the results—as PinoyIdol continues on GMA-7.
ADVERTISEMENT - CONTINUE READING BELOW