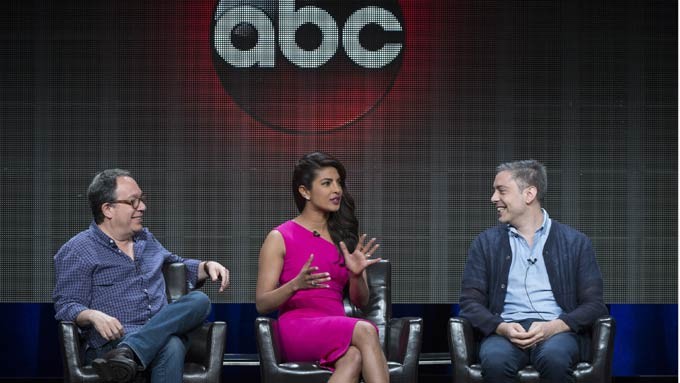 ---
There is a certain level of challenge in creating a law enforcement show that still holds the attention of the present audience's varied interests. This challenge didn't escape the artistic mind of Josh Safran, executive producer of Quantico, the new thriller TV series that revolves around the lives of recruits in the unchartered topic of the FBI (Federal Bureau of Investigation) Academy in Quantico, a town in Virginia, U.S.A.

Alex Parrish (played by lead actress Priyanka Chopra), is suspected of engineering a massive terrorist attack.
Josh, who was also the executive producer of the drama series Gossip Girl and Smash, blends his flair for drama and this new territory to create what other members of the media call, according to Josh, "Greys Academy" ("Greys" is a reference to the medical drama Grey's Anatomy.)

PEP.ph (Philippine Entertainment Portal) and another member of the press, talked to Josh through a phone interview to talk about this American thriller series.



ADVERTISEMENT - CONTINUE READING BELOW
CREATING QUANTICO. Executive producer Josh revealed that the idea behind Quantico started with a dream to create a show about law enforcement.

He explained, "I was wanting to do a show that sort of dealt with law enforcement. I had done a show about school. I had done a show about work…and I looked around and I saw that there were a lot of shows about CIA [Central Intelligence Agency], there were a lot of shows about cops. But there was no show about the FBI. And in my research, I realized that actually I've never seen a show about the FBI Academy.
"In fact, the first thing I thought of, like police academy. Like imagine NYPD Blue [a police procedural drama, which received critical acclaim], but before they became cops. And then from that, I was like, 'Wait a minute. I've seen cops before. I should do the FBI.' And then from that idea, I always knew I wanted to deal with the terrorist events in New York, 'cause I grew up in New York, and I was here in New York on 9/11 ["The September 11 attacks"], and it affected me greatly, and I wanted to delve into that. So putting those two things together, sort of the FBI academy, and the terrorist event, sort of the idea coalesced from there."  
ADVERTISEMENT - CONTINUE READING BELOW
In creating his new project, Josh went through the process of going deep into research, talking to former FBI agents, and going to Quantico himself to give truthfulness to the show. "It wasn't like an open-door policy, where anyone could walk in," he said of Quantico. "And it turns out, that there's actually a woman whose job at the FBI is to be a cultural liaison to Hollywood. And so I got in touch with her. And through that, she got me to be able to take a visit to Quantico, where I spent a day."
He also interviewed instructors, "I couldn't talk to any of the trainees because they weren't allowed to speak to me. But I watched them from a distance."
Since the protagonist of the show is a woman, Josh also had to talk to a female agent named Veronica, who is now the "day-to-day consultant on the show." He described Veronica as "an incredibly inspiring human being, and you could see a lot of her in Alex."

He added, "I think all of that sort of really helps me. I have soap in me, from Gossip Girl and Smash. Soap comes easy. But for the realistic, sort of FBI stuff, talking with these consultants and soaking up their world [is necessary]."



ADVERTISEMENT - CONTINUE READING BELOW
FINDING THE AGENTS. Some things are meant to be, such as Priyanka being cast as Alex, as Josh implied.
"There was actually no choice in choosing Priyanka because she walked in the door and that was it," Josh said, clearly in awe of the lead actress. "It was kismet or fate. There was no one else. But, you know, I did not know who she was, and I've actually seen two of her movies. But I did not, you know, put two and two together 'cause I've seen them a while ago. And she walked in, and I was certain that this was a movie star. She just had that air—and, of course, she is a movie star. So it's that thing of like, she walked in, all the molecules in the room changed. She gave this incredible reading of this character, and suddenly, she was Alex. That was it. She walked in and she was done."
ADVERTISEMENT - CONTINUE READING BELOW
Priyanka starred in the drama film Fashion (2008) and thriller Kaminey (2009), both of which won her awards. Her most recent films are the biographical film Mary Kom (2014) and the comedy drama Dil Dhadakne Do (2015).

She is also set to star as the antagonist in the drama comedy film Baywatch, based on the popular '90s TV series of the same name. It is also worth mentioning that the stunner also won the Miss World beauty pageant in 2000.
Fortunately for Josh, he said choosing the actors and actresses for the rest of the cast members turned out to be a breeze: "Strangely enough, though, a lot of the other actors had a similar quality to them [when compared to their characters].

"For instance, Jake McLaughlin, who plays Ryan [an undercover agent who was tasked to investigate Alex], is a veteran, who has seen, you know, has gone to wars.

"And much like Ryan is an ex-marine. So he had that quality he brought with him.

"Johanna Braddy, who plays Shelby [a sharpshooter and Alex's best friend], grew up in Georgia, like Shelby did. Shooting with her dad, she [Johanna] had a big knowledge of guns, just like Shelby did. It was on and on. It was shocking how many of them had pieces of themselves [in their characters]."



DRAMA IN THE ACADEMY. Josh would be the first to say that creating a thriller wasn't exactly a 180-degree turn for him. In fact, he says he sees elements of Gossip Girl and Smash in Quantico.
ADVERTISEMENT - CONTINUE READING BELOW
"It was actually very fun. I really do like approaching all different genres with the same character and heart underneath them," he said. "I was excited about doing a cop show, which was what my initial idea was. But bringing in that romance and that drama, so I was really excited.

"But actually, in my ways, I find the show very similar to both Gossip Girl and Smash, in that in Gossip Girl, there was an unknown person, who was causing drama in all of these characters' lives and forcing them to interact and trying to figure out who it was. So there was an element of whodunit in Gossip Girl, which also exists in Quantico. And then in Smash, Smash is about a bunch of incredibly talented, opinionated people, working together for one goal, but clashing all the time in their approach, because that's the nature of the creative process as a team. Of course not everyone thinks exactly alike, and that's how you get something that's really magnificent, because everybody brings what they do best on the table. And that sort of camaraderie and working together, and figuring each other out, really is what the academy is like at Quantico."
ADVERTISEMENT - CONTINUE READING BELOW
And it gets grittier in the next few episodes of Quantico. As Josh pointed out, "the Quantico side of the story remains. Every episode is another week of training. But in the New York setting, the story would actually jump forward in time. So we're actually going to see what happens after the world believes that the villain has been caught. But Alex knows that that isn't true."
He gave further details: "It's a very fantastic story for her [Alex] and for her character, where no one will believe her."
Quantico Season one airs every Monday at 9:45 p.m. on AXN.
AXN is seen on SkyCableCh 49, Cable Link C 38, Cignal TV Ch 61, Destiny Cable Ch 61, Dream Ch 20, and GSAT Ch 51.