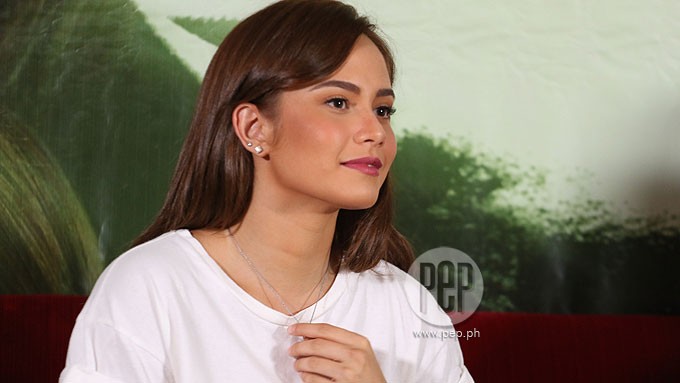 ---
Jessy Mendiola is very grateful to be included in ABS-CBN primetime series You're My Home.

The Kapamilya actress said the TV series was very helpful to her during a difficult time last year.

"Malaking tulong po ang soap na ito kasi after po ng lahat ng nangyari late last year, binuhos ko lahat ng emosyon ko at isip ko sa trabaho," she told entertainment reporters during the press conference for the show's finale.

Jessy, who plays Grace Fontanilla on the show, was pertaining to the plane controversy she got involved in last year and her second breakup with boyfriend JM de Guzman.

According to her, these instances might also helped motivate her to do her drama scenes better.

"I guess kaya siguro 'yong mga tao, kapag pinapanood nila ang mga eksena ko with Ms. Dawn [Zulueta] or JC [de Vera], nararamdaman nila na talagang tagos.

"Talagang kapag malulungkot na eksena, talagang siyempre may hugot."

Aside from this, the show has also become a distraction for the young actress, especially the positive feedback she often receives from viewers.

"Mas ginaganahan po ako magtrabaho o mag-post kasi nakakatuwang makita ang mga tao na nag-e-enjoy sila sa pinaghihirapan mo, na 'yong emotions mo rin ay nandoon din sa mga eksenang 'yon.

"Parang it's like you're sharing a part of yourself through the scenes.

"I think that's why it transcends sa TV kasi hindi naman po nagsisinungaling ang TV."

Nevertheless, Jessy said that she's doing better now in her life.

"Masaya po ako ngayon in totality of my life. I am happy right now in terms of my life, myself, and career," she ended.

Find out what will happen to Grace's relationship with Christian Vergara (played by JC de Vera) in the finale episode of You're My Home this Wednesday, March 23.


SHARE THIS STORY You're My Home" data-url="https://www.pep.ph/guide/tv/23316/jessy-mendiola-shows-personal-hugot-in-emyoure-my-homeem" data-desc="Jessy Mendiola says You're My Home allowed her to release her emotions from past controversies: "It's like you're sharing a part of yourself through" data-image="https://contents.pep.ph/images2/guide/2016-03-22_14:24:13_Jessy-Mendiola-You're-My-Home.jpg"> You're My Home" data-url="https://www.pep.ph/guide/tv/23316/jessy-mendiola-shows-personal-hugot-in-emyoure-my-homeem" data-desc="Jessy Mendiola says You're My Home allowed her to release her emotions from past controversies: "It's like you're sharing a part of yourself through" data-image="https://contents.pep.ph/images2/guide/2016-03-22_14:24:13_Jessy-Mendiola-You're-My-Home.jpg"> You're My Home" data-url="https://www.pep.ph/guide/tv/23316/jessy-mendiola-shows-personal-hugot-in-emyoure-my-homeem" data-desc="Jessy Mendiola says You're My Home allowed her to release her emotions from past controversies: "It's like you're sharing a part of yourself through" data-image="https://contents.pep.ph/images2/guide/2016-03-22_14:24:13_Jessy-Mendiola-You're-My-Home.jpg">
SHARE THIS STORY
You're My Home" data-url="https://www.pep.ph/guide/tv/23316/jessy-mendiola-shows-personal-hugot-in-emyoure-my-homeem" data-desc="Jessy Mendiola says You're My Home allowed her to release her emotions from past controversies: "It's like you're sharing a part of yourself through" data-image="https://contents.pep.ph/images2/guide/2016-03-22_14:24:13_Jessy-Mendiola-You're-My-Home.jpg"> You're My Home" data-url="https://www.pep.ph/guide/tv/23316/jessy-mendiola-shows-personal-hugot-in-emyoure-my-homeem" data-desc="Jessy Mendiola says You're My Home allowed her to release her emotions from past controversies: "It's like you're sharing a part of yourself through" data-image="https://contents.pep.ph/images2/guide/2016-03-22_14:24:13_Jessy-Mendiola-You're-My-Home.jpg"> You're My Home" data-url="https://www.pep.ph/guide/tv/23316/jessy-mendiola-shows-personal-hugot-in-emyoure-my-homeem" data-desc="Jessy Mendiola says You're My Home allowed her to release her emotions from past controversies: "It's like you're sharing a part of yourself through" data-image="https://contents.pep.ph/images2/guide/2016-03-22_14:24:13_Jessy-Mendiola-You're-My-Home.jpg"> You're My Home" data-url="https://www.pep.ph/guide/tv/23316/jessy-mendiola-shows-personal-hugot-in-emyoure-my-homeem" data-desc="Jessy Mendiola says You're My Home allowed her to release her emotions from past controversies: "It's like you're sharing a part of yourself through" data-image="https://contents.pep.ph/images2/guide/2016-03-22_14:24:13_Jessy-Mendiola-You're-My-Home.jpg">