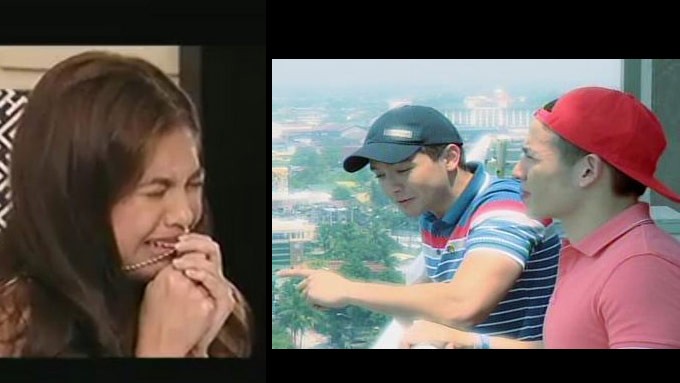 ---
It doesn't take much to elicit positive reactions from AlDub fans when they see their favorite loveteam together onscreen.
Just a bedimpled smile from Alden Richards or a shy look away by Maine Mendoza results in increased decibels.
So it is no surprise that there are many of those sweet and romantic moments between the two main leads in Eat Bulaga's Holy Week special titled God Gave Me You.
The story is nothing different from what we have seen many times before.
A girl is in love with a guy, the guy tragically passes away, his best friend steps in to console the girlfriend, until their feelings blossom to romance.
In this case, Maine Mendoza plays Dani, a flight attendant, who is in a relationship with Matthew (Jake Ejercito), a flight captain. Matthew's best friend is the carefree James (Alden Richards), who is also a pilot.
The couple are so busy, working different flights, that they only see each other during short breaks when they are both in Manila. Dani and James have yet to meet, because of the same busy work schedule.
ADVERTISEMENT - CONTINUE READING BELOW
Matthew passes away in a fatal accident, on his way home from covering for James' flight and to propose marriage to Dani.
Then, the girlfriend and best friend meet and console each other. But their closeness grows to attraction, especially since they start spending more time with each other in order to fulfill a list of tasks that Matthew had left undone with Dani.
Director Joyce Bernal escapes the trap of making this the usual run-of-the-mill linear story by employing flashbacks to link those left behind with the binding character, Matthew. She also milks the kilig factor with long montages of Maine and Alden in various stages of friendship to attraction.
Maine is at ease now acting in front of the camera. Among the younger actors here, she has the most natural reactions, as if she is not acting herself—or perhaps acting as herself. She may be known as a comedienne but when she cries, one can see her potential in drama.
ADVERTISEMENT - CONTINUE READING BELOW
Alden's acting is a bit uneven, with some parts eliciting little reaction on his face, yet he is able to cry and show anguish in later scenes.
Jake displays the same "pretty boy" expression throughout practically his entire appearance.
Michael de Mesa, as Matthew's father, is the most talented actor and without meaning to, draws our attention to him whenever he is onscreen.
Jose Manalo draws empathy for his character and he and Wally Bayola convince us that they can pull of serious roles too.
Ciara Sotto is competent as Dani's cousin and colleague, Gerri, though a line she states may have hit a little close to home and real life: "Walang forever!"
Again, the basic story and characters have been used and reused in many stories that we are quite familiar with them and can see where the story is going.
But the really fun part lie in the details—more specifically, in all the little moments between Dani and James that build one on top of each other, that grows their relationship from friendship to something more.
ADVERTISEMENT - CONTINUE READING BELOW
Even when a conflict is introduced, it is minor and is resolved quickly because, well, the audience want the leads to eventually get together anyway.
The road there does not involve a dramatic running scene through the airport into the plane, however. It comes through a quiet moment of realization and meaningful meeting of the eyes.
One part of the script that seemed to come in at the last minute and with very little reason, is a revelation about the character of Wally and his wife who lives far away.
There simply was no prior hint as to the direction that would go and in the end, when the full story was revealed, the audience simply did not have much invested in it to care enough.
In the end, Dani references the Kalyeserye's main message with a voice-over reassuring that someone God meant for you will come "sa tamang panahon."


ADVERTISEMENT - CONTINUE READING BELOW
Ed's Note: The 'PEP Review' section carries the views of individual reviewers, and does not necessarily reflect the views of the PEP editorial team.