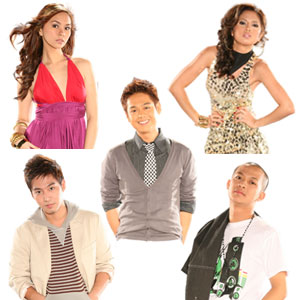 ---

After survivinga series of elimination nights and showcasing an amazing amount of talent, thefive remaining Idol hopefuls are about to be trimmed down to the Final Three.


Pinoy Idol is now down to the wire of choosing who among Daryl Celis, Gretchen Espina, Kid Camaya,Jayann Bautista and Ram Chaves will move on to the last leg of thecompetition. The stakes are high at this point and those left in thecompetition will definitely raise their chances of gaining foothold in themusic industry.
This Saturday,August 9, the five Idol hopefuls will have to take their courage in both handsas Pinoy Idol holds its last elimination night. Two more contenders areabout to end their journey into the Idol arena. The performance of their lifeis about to happen and only three spots remain in the finals.
The remainingfive hopefuls should double their efforts of choosing the perfect song,connecting with the audience, and garner enough votes to surpass theelimination. It will be a tense Sunday night, as the viewers wait to see whowill emerge as the final three.
The race is getting nearer to the finishline and each contender is poised to give their best piece before the judgesand the voting public.
Who will land in as the top three finalists ofthe very first
Pinoy Idol
? Catch the performance night on Saturday after
Pinoy Records
and the last elimination night on Sunday after
Kap'sAmazing Stories
on GMA-7.