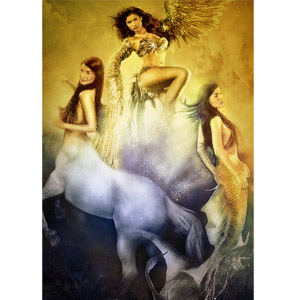 ---

Fishes of all sizes, stingrays, and an occasional shark swamleisurely in a 25-meter long aquarium in the function hall of the Manila OceanPark. This huge glass display served as the backdrop of the presidential tableof the Dyosa press conference that took place last Monday, August 4, atthe marine themed educational facility at Luneta Park in Manila.
Even the stars of this ABS-CBN fantaserye could not help butlook behind them to observe the colorful sea creatures and to watch a diverthat went into the tank to clean up the aquarium. For most of them, it wastheir first time to visit the Manila Ocean Park.
According to Dyosa director Wenn Deramas, they chosethe marine themed park as their press con venue to promote ecological awarenessamong people. It also fit the theme of the new TV show, which will feature leadstar Anne Curtis as a mermaid when she transforms into Dyosa Agua. Her twoother personas, Dyosa Tierra and Dyosa Cielo, will transform her into a centaurand a bird, respectively. As a goddess, Anne's character can control theelements and the animals in the earth, sea, and sky.
Direk Wenn is aware that some people might compare Dyosa withhis previous TV project Marina starring Claudine Barretto. "Ibang-ibaang istorya nito sa Marina. Isa lang ang pagiging mermaid sa katauhanniya. That was five years ago pa, sa buntot pa lang, ibang-iba na ang Dyosa."
How would he react to those who would compare Dyosa withDyesebel of GMA-7? "Ang importante pareho nating ginagawa ang atingtrabaho. Yung kumpetisyon ayokong mawala dahil yun ang challenge sa aminpareho, para pagandahin ang trabaho namin.
"Kung ikukumpara nila sa Dyesebel, e, di ikumpara,"says Direk Wenn with a laugh.
When Anne transforms into Dyosa Cielo (goddess of the sky,wherein Cielo is the Spanish term for sky), there are ten people who are taskedto move her wings. "May limang tao [sa bawat side] na gumagalaw sa pakpak niAnne. Napapagalitan ko pa sila pag hindi synchronized yung paggalaw nila,"reveals Direk Wenn.
ADVERTISEMENT - CONTINUE READING BELOW

The director then described how they created the tail of Dyosa. "Yung pinakabalat niya, manipis na manipis para hindi magmukhang goma then dun dinikit yungkaliskis na gawa sa silicon. Kung nagmahal na po ang magpagawa ng boobs, dahilpo sa amin dahil kinuha namin lahat ng silicon para sa buntot ni Anne Curtis."

Will Anne have breast exposure for this fantaserye? Direk Wenn answers bysaying, "Yes, yun ang una kong requirement. Pumayag si Anne na may takip nakonting-konti. Aanguluhan namin para hindi gaanong nakalabas. May latex natakip. Pag kabayo rin siya, wala ring takip."
As a merman, Luis Manzano will also be showing some skin forthis fantaserye. "Body paint lang siya halos dahil merman ako. Pinasuot niya kong nipple tape at hindi na niya ako pinasuot ng pambaba. Yung baba, Direk Wennleft it hanging na lang para may makain ang isda," joked Luis.

Sam Milby will also have a scene wherein he is shirtless and will be wearingshorts. He exclaimed: "Nakahubo rin ako!" Direk Wenn described Sam's scene assimilar to the one shot in Terminator wherein a nude ArnoldSchwarzenegger emerges on earth after traveling from the future.

It takes around two to four hours to put on the prosthetics of Anne, Sam, andLuis. The bird character of Anne takes longest to create since they have to putextensions in her hair and she has to put on the heavy wings.

In Dyosa, Anne plays the role of Josephine, the daughter of BernardoCarpio (Matthew Mendoza) and Sinukuan (Mickey Ferriols). Her simple lifebecomes altered when she turns 18 years old. She learns that midgets Huling angMiong (played by Rubirubi and Jojit Lorenzo, respectively) are her adoptiveparents who are loyal followers of Sinukuan.

As the takda (or destined one), Dyosa is supposed to be the next queenwho will bring balance to the opposing worlds of good (Kabanwa) and evil(Kasamyan). However, the young girl is reluctant to become the next queen ofthe immortal gods especially since she is infatuated with a mortal comicsillustrator named Mars (Zanjoe Marudo).
ADVERTISEMENT - CONTINUE READING BELOW
Josephine also has a childhood friend named Kulas (LuisManzano) who is secretly in love with her. Adonis (Sam Milby) is a beast taskedto kill Dyosa but when he lays eyes on her, he becomes mesmerized by herbeauty.

Adding conflict to the story is Magayon (Jaclyn Jose), who is very jealous ofher sister Sinukuan. Magayon wants her daughter Diana (Nikki Bacolod) to be thedestined one instead of Dyosa.


Amang Suga (Lloyd Samartino) is the father of Sinukuan andMagayon. He is the most powerful god in Kabanwa while Tadaklan (Carlos Morales)is the king of Kasamyan, the land of the engkantos.

Other interesting characters to look forward to include the talking mirrorSalaminsim (Vice Ganda), the half-man, half-goat Bakos (Epi Quizon), and Venus(Joseph Andre Garcia), the younger brother of Josephine.
Hardbound coffee-table books containing artwork and photographyby Jojit Lorenzo were given away for members of the media who attended thepress con at the Manila Ocean Park.
Dyosa will air on ABS-CBN starting August 11(Monday).



Click HERE to view photos of Dyosa cast members.