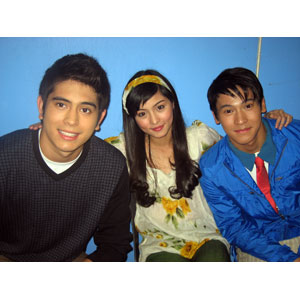 ---
Julian (Gerald Anderson) continues his search for Jasmine(Kim Chiu) in the continuing saga of My Girl. Although she finds itdifficult, Jasmine throws away her old sim card so that Julian won't be able tocontact her. The young leading man is facing a great challenge now that hislady love no longer wants to be involved with the Abueva family.

Jasmine goes to Baguio with her father to ponder about things and find herself.Her father (played by Lito Pimentel) still has a big question on his mind-whatreally happened between his daughter and her boyfriend?
While Lolo Greg (Ronaldo Valdez) on the other hand, thoughhe got angry with the young girl who pretended to be his granddaughter, still looksfor the familiar face and company of Jasmine.
Will they all be able to find what they are looking for? Canthey still restore their broken relationships?
Find out more shocking revelations in My Girl,weeknights after Iisa Pa Lamang on ABS-CBN Primetime Bida.



MALL TOUR. After invading the hometown of Ilonggos, the cast members of My Girl will visit RobinsonsNovaliches this Sunday, August 10, at 4 o'clock in the afternoon.
In the past week, the My Girl love triangle Kim Chiu,Gerald Anderson and Enchong Dee had a mall show at SM Iloilo, along with theother cast members.
The audience definitely enjoyed the show especially whenGerald decided to carry Kim onstage. His sweet gesture made the fans scream andshout even louder. Kim, Gerald andEnchong were pleasantly surprised of the warm welcome and support that they have received from their fans.