As the nation's politicos battled their ways to the winning slots of the national and local elections last May 9, so did the nation's TV networks continue their battle for audience share via their respective election coverage programs. They chose to forego their regular programming to report the happenings during the voting period and the canvassing that followed.
ABS-CBN had their coverage called The ABS-CBN Coverage Halalan 2016, GMA Eleksyon 2016 The GMA News Special Coverage, and TV5 Bilang Pilipino.
Here's how they won the Metro Manila audience on election day, based on AGB Nielsen ratings:
AGB Mega Manila ratings Morning & Afternoon Block, in terms of ratings percentage: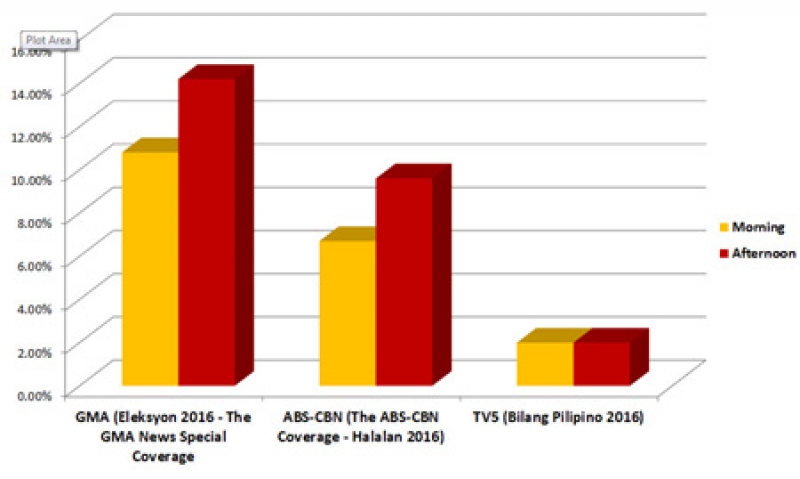 At around 5 AM to 12 noon, the big players GMA & ABS-CBN got a rating of 10.8 and 6.7, respectively. In their afternoon coverage (4:15 to 6:31 for GMA and 2:42 to 6:32 for ABS-CBN), they registered a rating of 14.2 and 9.6, respectively.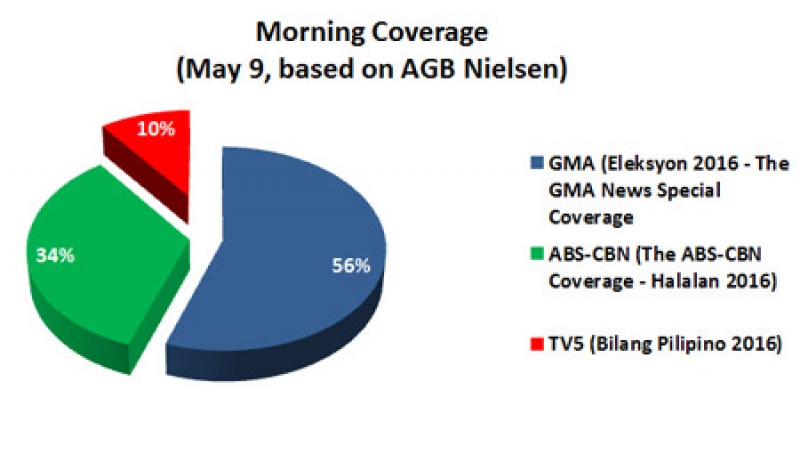 Here's a representation of how they captured the audience specifically tuned in to the election coverage that time: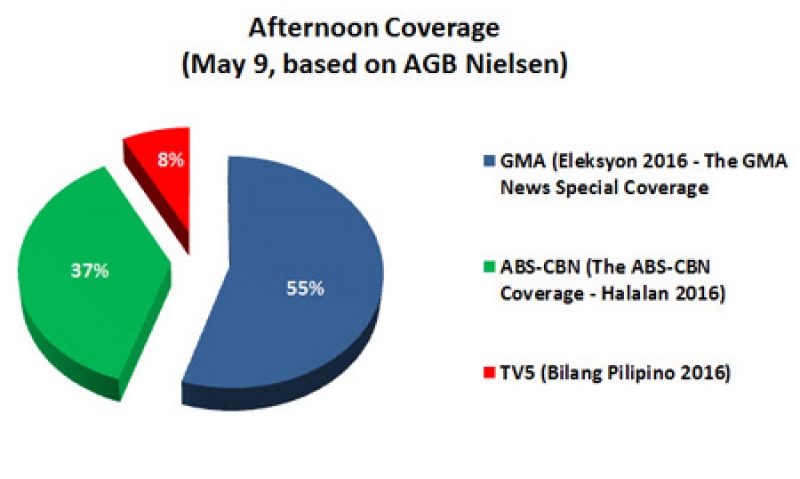 The chart above shows that 56% of the people watching the election coverage were tuned in to GMA, 34% to ABS-CBN and 10% to TV5.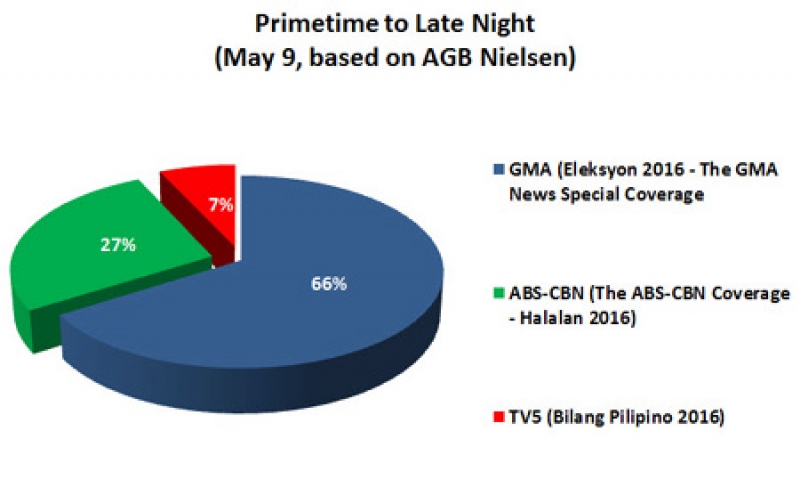 Only little change was effected in the afternoon viewership. Of the viewers watching the election coverage, 55% were tuned in to GMA-7, 37% to ABS-CBN, and 8% to TV5.
The big chunk of election coverage audience share during primetime went to GMA-7 with 66%, ABS-CBN with 27%, and TV5 with 7%. It should be noted that GMA-7's primetime coverage was from 8:17 pm to 11:01 pm, while ABS-CBN's broadcast was straight from 8:14 PM to 2:00 AM. TV5's coverage was also straight from 8:30 pm to 2:00 am. When GMA-7 resumed its broadcast at 12:11 am until 2:00 am, it only had a rating of 5.3%, which means that during the late night hours, only 32% of the viewers watching the election coverage are tuned in to them.
The average ratings on May 9 for the entire election coverage are as follows: