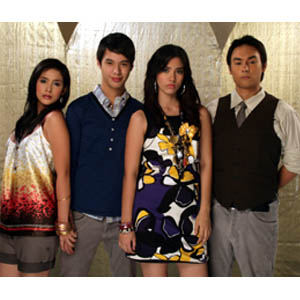 ---

Your Song Presents:Imposible tells the love story of two couples portrayed by Lauren Young,Empress Schuck, AJ Perez, and Dino Imperial. The mini-series using KCConcepcion's rendition of "Imposible" airs this Sunday, August 10, onABS-CBN.
Melay (played by Empress Shuck) has a longtime crush ondown-to-earth campus heartthrob Vince (played by AJ Perez). However, Vince already has a snooty and possessive girlfriend (played by LaurenYoung). Melay's only source of comfort and support is her kind-hearted bestfriend Dino (played by Dino Imperial).
Though Lauren seems to be nice and demure off cam, she is avery talented actress as she has effectively portrayed her role as thebackstabbing girl, Paige. Even Empress whose role is very sweet and nice won'tlet Lauren take all the credit.
This Sunday, Paige finds out that her boyfriend Vince (AJ)and Melay (Empress) are living under the same roof but because she is thereigning "Ideal Theresian Girl," she has no choice but to help thefire victims, including Melay, through a fund-raising drive.
ADVERTISEMENT - CONTINUE READING BELOW
Paige then discovers Melay and Vince in an awkward situationwhich causes her to break up with Vince. Melay's friends will convince her tojoin the IT Girl Contest to which she'll agree just so she can have her revengeover Paige.
Will Melay succeed with her secret and conniving plan todestroy Paige? Will Vince see her differently once she does so? And how aboutMelay's kind-hearted and supportive best friend Dino (Dino)?
Don't miss the start of the "hair-tugging"confrontations in Your Song Presents:Imposible on the Sunday afternoon drama series this Sunday, August 10,after ASAP '08 on ABS-CBN.