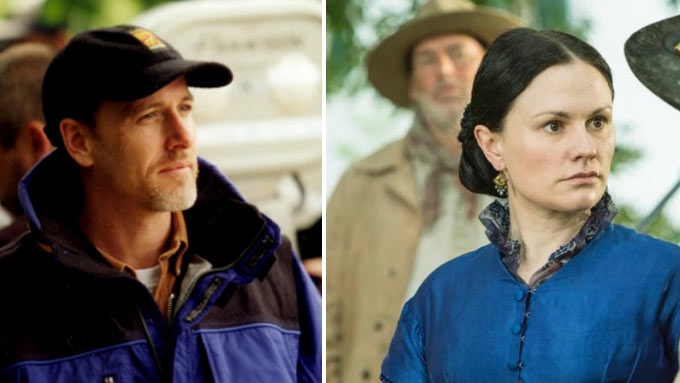 ---

Oscar winner Anna Paquin and Laurence Fishburne help depict the life and legacy of Kunta Kinte, an African man who is abducted and sold into slavery in the United States.

They are some of the stars of Roots, a remake of the 1977 TV series of the same name, which is based on Alex Haley's 1976 novel, Roots: The Saga of an American Family.

The History Channel's four-night, eight-hour event series tackles the issues of American slavery through the talents of equally acclaimed actors Malachi Kirby, Forest Whitaker, Jonathan Rhys Meyers, T.I., and actress Anika Noni Rose to name a few.

Laurence Fishburne provides the voice of author Alex Haley who researched on Kunta Kinte and Mandinka history and culture.

Captured by slave traders while collecting firewood for his family's dinner, Kinte was ripped from his native Africa and brought to America where he was sold to a plantation owner in northern Virginia. Viewers get to witness each stage of Kunta Kinte's life, from teen to man to father to grandfather, following his legacy through the Civil War.

The original Roots can be considered one of the highest rated and most watched TV series in American television's history.

The 2016 epic television miniseries about the slave trade was shot in 28 different locations in South Africa.  

It presents a historical portrait of American slavery, recounting the journey of one family and their will to survive and ultimately carry on their legacy despite hardship.
THE ROOT OF IT ALL. At the helm of the new series is executive producer Mark Wolper, who—and aptly so—anchors on his roots to continue a memorable saga: Mark's father, David Wolper was the executive producer of the original 1977 series.
ADVERTISEMENT - CONTINUE READING BELOW

Mark tells PEP.ph (Philippine Entertainment Portal) that he had watched the series, "more times than I can even keep count of."

He continues, "I was always very connected with the original Roots because my father produced it. It had such a huge impact on me as a child. It was very influential in my life. Every two or three years I would watch it. And then, when I got ready to think about doing it again, I watch it four or five times in a row—and read the book as well."

As family is the core of the Roots, it was also family that got Mark thinking about doing a remake. He says of the series' birth, "I have to give most of the credit to my 15-year old son. I wanted him to watch the original Roots because it was so important to me, and I thought he should watch it. And when I sat him down to watch it, he was anxious. He wanted to get up; he wanted to play on his computer.

"Finally, when I forced him to watch the entire series, he said, 'I understand why it was important for me to see this. But it's like your music. It doesn't speak to me.' That's when I realized that my love for the original Roots was not my child's love for the original Roots. The times have changed…I need to translate the power of the original Roots to the new language of the youth, to the new language of television.  The world is very different today. It has to feel different, look different, sound different."
ADVERTISEMENT - CONTINUE READING BELOW

Mark says the team remained loyal to a number of things that were present in the original series, and most especially in the book. "The story of the family, the history and legacy of the family is absolutely the same [as in the original series," Mark reveals. "The character traits of the central characters are all exactly the same. In fact, this Roots is closer to the book written by Alex Haley than the original Roots was."

However, to be more truthful and closer to the modern viewers, changes had to be made. Mark explains, "The pacing is much faster. Music is more contemporary."

In the original series, the story revolved around a character name Kunta Kinte, who took the viewers through the relevant themes: slavery, freedom, love, war, and family.

In the new series, Mark says, "The point of view of the series is only from the Kunta Kinte family line. We don't go into the dining room of the rich plantation slave owners and see them talking. We only stay in the point of view of the family, which is very different from the original miniseries. We also have the history better. Forty years have passed since the original Roots. We have much more academic scholarship, archaeology, sociology, than Alex Haley had available to him. So we are able to be more honest to the history of the slave trade in America."

The role of Kunta Kinte was so crucial, that they had to spend months looking for the perfect actor to play the character.

Mark narrates: "Kunta Kinte played by LeVar Burton in the first Roots was one of the most powerful and iconic performances or characters ever in American television. So we knew we had to get it right, or we were gonna get in trouble with all these audiences. So we spent six months in 12 different countries, about 4,500 people were auditioned, about a thousand went on tape. It was a very expensive and complicated search to find exactly the right guy.

"We actually met Malachi Kirby on the fourth day of our six-month journey. We weren't ready to stop yet because we didn't trust ourselves that this was the right guy, because how could you believe you could meet the right guy in four days? So we searched for six months and then we came back around and realized he was the best guy and we ended up hiring him. We also have Forest Whitaker, Laurence Fishburne, Anna Paquin."

Paquin plays the fiancé of a Confederate officer who has her own agenda when it comes to the handling of slaves.

Meanwhile, Whitaker is cast as Fiddler, a slave musician who becomes a staunch friend and mentor of Kunta.
ADVERTISEMENT - CONTINUE READING BELOW

FAMILY HERITAGE. Mark admits that having his father's name attached to the original series could illicit strong emotions from him.

He tells PEP, "I told my boy that it was a very frightening and intimidating, scary proposition to take on in the shadow of my father, also to take on one of the most successful television shows of all time in American history. And to take it on at a time when there is so much racial problem in America."
 
If his father were alive—David Wolper passed away in 2010—Mark says he could use his old man's advice, "It would have been nice to have his input." He adds, "I'm more concerned about what my children would think of what I've done.  Will it speak to them?  Will they relate to it? Will they want to choose to see it on their own without me forcing them to watch it? I think that's what's important."

He says that one of the goals is to tell the truth about living life in modern America:
"There is a responsibility to the power of the original Roots. There's a responsibility to the political situation in America. There's a responsibility to telling the story of the family because there are members of the family that are still alive today, that are part of the generation. These responsibilities make it physically and emotionally difficult to approach the making of Roots."

In keeping up with the modern times, Mark gives a heartwarming reason why the modern Roots can still touch lives: "When my 14-year old daughter came running to me and said,  'Daddy, there's a preview of Roots on Snapchat, and it looks really good,' I realized exactly what I have set out to do years earlier."

The very essence of the series, Mark reiterates, is still family. He says, "The identity of the family, keeping the family together [are the most important]—understanding the importance of our grandparents and children, continuing to tell the story of who we are and where we come from as a people, wherever our people are."

HISTORY® premiered Roots on May 31, with episodes airing over four consecutive nights at 9 p.m. in the Philippines.
ADVERTISEMENT - CONTINUE READING BELOW
HISTORY™ is available on SKYCable Ch 67; Cable Link Ch. 43; Dream Satellite Ch 30; Destiny Cable Ch 57; and Cignal Ch 125.