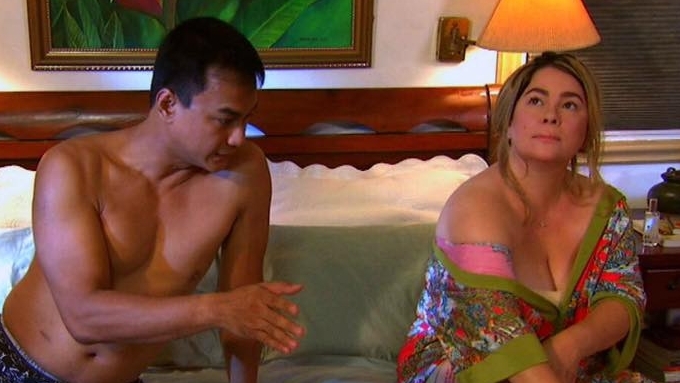 ---

Cannes Film Fest 2016 Best Actress Jaclyn Jose leads the cast of GMA-7's new sexy-comedy series titled A1 Ko Sa 'Yo.

She is joined in this series by Kapuso stars Solenn Heussaff, Gardo Versoza, Sef Cadayona, Benjamin Alves, Roi Vinzon, Ervic Vijandre, Denise Barbacena, Gee Canlas, and Mara Alberto.

The new late-night primetime show helmed by comedian-turned-director Randy Santiago aired its pilot episode on Thursday, June 2. 



A1 Ko Sa 'Yo revolves around Jaclyn Jose's character named Digna Molina. Digna is a straightforward and former beauty pageant aspirant who now manages the A1 Talent Agency.

The opening scene of this Kapuso comedy series shows the banter between Digna and her husband Rolly Molina (played by Gardo Versoza) who works as a marriage counselor.

Digna has been longing for her husband's affection which the latter always fails to deliver.
The next morning, Kaycee (played by Denise Barbacena) tried to convince her mom Digna to allow her to pursue her dream of becoming a beauty queen.

Digna, however, discouraged her daughter and told her to pursue culinary arts, instead. 

Other characters were introduced after this scene. These includes Miley (played by Solenn Heussaff), Digna's second-best model in her agency; Kath (played by Mara Alberto), the receptionist of the agency; Tintin (played by Gee Canlas), an ex-Japayuki talent; and Enzo (Sef Cadayona), the chickboy photographer. 
One of Digna's clients requested for an aspiring beauty queen named Sandra (played by Lovi Poe) to model for a car show. Sandra shows up the next day and told Digna that she's pregnant. Digna initially told her to leave and never come back but was forced to take her word back since she already booked Sandra for the car show.
ADVERTISEMENT - CONTINUE READING BELOW
As the episode progressed, a new gym opened near the talent agency called the Super Hard Gym. The fitness center is owned by Primo (played by Roi Vinzon).

Miley, Tin Tin, and Kath went to the new gym and met Jay (played by Benjamin Alves), a vain call center guy, and Erroll (played by Ervic Vijandre), a loser hunk. Primo dropped by the talent agency where he met Digna and her husband. 
Meanwhile, Sandra went back to the father of her unborn child, leaving Digna without a talent for the car show. Tintin came to the rescue and replaced Sandra as the model.

However, one of the Japanese clients of the car show recognized her accused her of not paying her debts. Towards the end of the episode, jealousy sparked between Rolly and Primo when Digna fell for the latter's charms.

Little did she know is that Primo is actually a closet gay!


MEGA MANILA. The Kapuso network's new show is off to a good start after scoring almost triple the ratings of its rival program.

According to AGB Nielsen, A1 Ko Sa'Yo's pilot episode garnered a rating of 15.7% in Mega Manila while its counterpart show on ABS-CBN, Jane the Virgin, registered 5.9%.


NATIONWIDE. A1 Ko Sa'Yo is also well-received nationwide based on data from Kantar/TNS Media.

The show opened with a nationwide rating of 10.5% against Jane The Virgin's 7.6%.