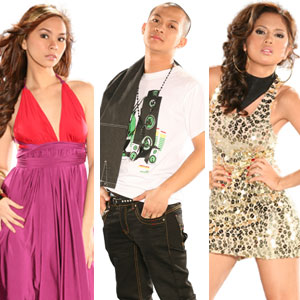 ---

Emotions ran high at the Pinoy Idol stage lastweekend when two of the five remaining hopefuls were taken out of the realitysinging competition. During the double eliminations held Sunday, August 10,resident balladeer Daryl Celis and R&B singer Kid Camaya were booted out ofthe competition.
It was indeed a tough night for the remaining Idol hopefulsas each was tasked to choose and render his or her own arrangement to a songworthy of the "Greatest Idol Performance." Unlike past gala nights whereinindustry professionals mentored the finalists, there was no vocal coach presentto tutor them. Instead, the Top 5 were left to interpret their song choices ontheir own and were later evaluated by judges Ogie Alcasid, Jolina Magdangal,and Wyngard Tracy.
But despite the budding pressure on the Idol stage, the Top5 still had reasons to smile and celebrate last week. As part of their GreatestIdol Performance, the five hopefuls were also given their Greatest IdolSurprise.
For 21-year old Daryl Celis, his Idol surprise involved anemotional phone conversation with his Macau-based dad and an equally touchingwebcam chat with his mom from Japan. During his Greatest Idol Performance,Daryl chose to interpret the classic ballad, "The Promise."
"Alam na alam mo kung paano mo dadalhin yung kanta na yan,"remarked Jolina, referring to Daryl's ability to add his inherent charm to thesong. "Yung sa boses, hindi ko pwedeng sabihin na [sobrang] galing. Hindi korin puwede sabihin na napakapangit. Pero kung totality ang titignan ko patiyung kung paano mo dalhin yung sarili mo, you have it," she pointed out."Puwede na siguro."
"It wasn't perfect," Ogie agreed. However, he observed animprovement in Daryl's performance. "You know what I was feeling when I waswatching you? I was extremely proud of you. We've seen you grow, and I thinkthere's so much more that you're gonna offer. I really like to see you tomorrowand be part of the final three," he added.
ADVERTISEMENT - CONTINUE READING BELOW
It was a unanimous decision for the judges, as Wyngard alsoshared the same opinion. "Sa akin Daryl, the past performances mo,pwedeng-puwede kang to qualify sa top three. Keep it up."
Twenty-year-old Gretchen Espina sang "I'm Here," a songpopularized by American Idol Season 3 winner Fantasia Barrino.Gretchen's surprise had been a mini-celebration with her cousins and fellowmembers from the UP Singing Ambassadors. She also had a surprise phoneconversation with her UPSA mentor.
As for her performance, Gretchen only did moderately—no bigpraises from the judges this time.
"I have to be honest," Ogie started. "In the beginning ofthe song, I could not really understand what you were singing. Medyo mahinayung boses mo. I felt that it was low for you," he explained. "Sayang yungprogress mo for the past few weeks. You were really, really doing well. Maybetoday, you were very emotional. But you have to control that emotion to be ableto perform well," advised Ogie.
In Wyngard's opinion, she made a wrong song choice. "I don'tthink the song was really meant for you. You should've chosen a simpler [one],"he added. "Kaya lang yung song na yan, talagang tumatatak si Fantasia. Youcouldn't help sometimes to compare. Hindi mo talaga na-perform well yung song.Next time, you be careful in choosing your song."
Jolina agreed with her fellow judges and added, "I thinkyou're very beautiful tonight."
Twenty-four-year-old Kid Camaya chose to interpret an '80sclassic, "Careless Whisper." His Idol surprise involved a celebration with hishalf-brothers and sisters as well as his relatives from Pampanga.
"Kid, that was okay," observed Wyngard. "Hindi lang masydongmalinis ang falsetto mo [but] that's very minor. And then the song, ang gustoko dun naramdman mo. Naramdaman ko na nararamdaman mo ang pag-perform ng songna yun. And you did it well. Sa tingin ko, sa ngayon, so far, kayo ni Daryl angmagkalaban."
ADVERTISEMENT - CONTINUE READING BELOW
"Actually, natakot ako sa choice of song mo, e," admittedOgie. "It didn't seem to be a song that was pang final. Pero, wow! You reallydid it tonight. Congratulations."
Jolina agreed and added, "Para sa akin, ang kulang nalanggawin mo pang mas sexy yung galaw mo. Kasi, napakaganda ng boses mo, e. Siguropag naging sexy pa yung galaw mo, yun na yun. Ikaw na 'to. Congratulations."
Twenty-one-year-old Jayann Bautista sang Fergie's "Finally,"a song she admitted to be her theme song. Jayann's Idol surprise was a meetingwith her high school best friend from Pampanga who shares the same first nameas her other best friend, ABS-CBN's ASAP '08 mainstay Rachel Ann Go.
After her emotional performance, Ogie pointed out thatJayann had been flat at the beginning but complimented her improvement as thesong went on. "Maybe it was nerves. Pero habang umaandar ka, parang diesel ka.Medyo umiinit, medyo nakukuha mo na yung tono. You know, it's interesting forme to hear you sing a song so plainly. And you know, that was good," heremarked.
"Jayann, narinig ko din yung mga flats, yung mga sharps,"criticized Jolina. "Pero nung nakikita ko at nararamdaman ko yung kagustuhan modun sa kanta, parang nadadala na rin ako. So, hindi ko na naisip na merongflats or sharp. Mahalaga din yan sa mga nanonood," she added. "Katulad ako,viewer din ako. Pag nakikita ko yung pinapanood ko, dala niya yung kanta,nadadala na rin ako, e. So, good job."
Wyngard confessed that he wasn't familiar with the song butliked the interpretation anyway. "Pero nakikita ko, nag e-enjoy ka.Nararamdaman mo yung song, you really like it. At nagawa mo naman ng tama,"said Wyngard, agreeing with Jolina.
The last to perform was 25-year-old Ram Chaves who sangFrancis Magalona's "Bahay Yugyugan." His Idol surprise involved a jam sessionwith his Cagayan de Oro-based bandmates from Sutil and a phone conversationwith his mom from the U.S.
ADVERTISEMENT - CONTINUE READING BELOW
For the judges, Ram's performance had been nothing out ofthe ordinary.
"Alam mo, no doubt, yung ganyang klaseng song, yung ganyangklaseng performance, you do it well," Wyngard pointed out. "Magaling ka diyan.Ang concern ko lang, parang wala akong makitang iba na pwede mong ipakita otherthan that. Nag e-expect ako ng mas iba naman."
"You have this uncanny ability to get people going with yourenergy," observed Ogie. "That was really a solid performance. That was reallygood. However, I think ang hinahanap ni Wyngard is because we know you can doso much more than that. It's too easy for you," he added. "We want to hearsomething soulful I suppose...from your heart. Something that you'll sing fromyour heart and really get us emotional and gooey all over when we hear you."
Jolina agreed with her fellow judges and pointed out thatmaybe they were anticipating a "slow song na rock." But still, "medyo expected'to," she said of Ram's performance.
Pinoy Idol host Raymond Gutierrez asked the judgesduring the eliminations the following night whom they would choose to be partof the final three. The three judges named Ram, Jayann, and Kid as thosedeserving to be in the Top 3.
However, when the nationwide votes were finally tallied, itturned out that Gretchen is still in the running while Kid Camaya and DarylCelis were both out of the competition.
Next week, the Final Three composed of Ram Chaves, GretchenEspina and Jayann Bautista will go head-to-head as they move on to compete forthe Pinoy Idol title.
Catch the Final performance night on Saturday and the Finalresults night on Sunday as bands like Itchyworms, Cueshe, South Border,Freestyle, Pupil, Callalily; RnB sensations Luke Mejares, Duncan Ramos, Jay-R;and music legends Jett Pangan, Vernie Varga, Haji Alejandro, Basil Valdez, andRegine Velasquez perform on the Idol stage.
Watch the Pinoy Idol Finals on Saturday after PinoyRecords and on Sunday after Kap's Amazing Stories only on GMA-7.
ADVERTISEMENT - CONTINUE READING BELOW