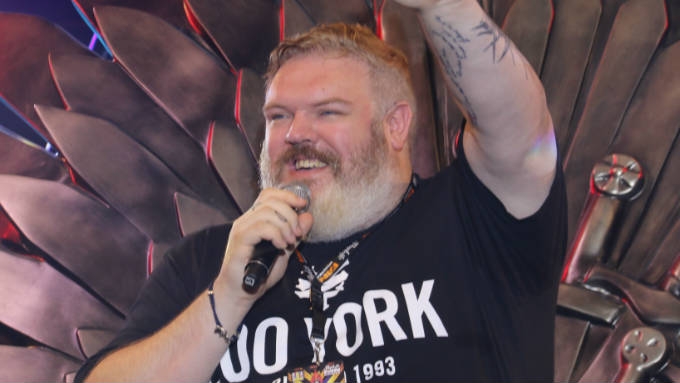 ---


NOTE: If you haven't watched Season 6 of Game of Thrones, please be warned that there are spoilers ahead.


Irish actor and DJ Kristian Nairn is currently in the Philippines for the annual Toycon PH ongoing at SMX Convention Center in Pasay City until June 12, 2016. Kristian is best known for his portrayal of Hodor, the gentle giant who is one of the beloved characters in Game of Thrones.

In a press conference held on Friday, June 10, Kristian already knew that the show would have such a big impact in today's generation given the amount of money and effort put into it by the producers, the crew and cast members of the show.
The 40-year-old actor said, "No one really knew what to expect before the show aired but when I saw how much money and effort were put in the sets...
"Winterfell is a real castle. It feels and it smells like a real castle. The animals that are hung up are really dead animals, they really smell."
He continued, "Everything is really real, and I thought this is gonna be a big show. They put a lot on effort into this so it's gonna be big."
What is it about Game of Thrones that makes it a pop culture phenomenon?

Kristian quipped, "Sex? I don't know. I'm just trying to be realistic, you know."
On a more serious note, the Hodor actor further explained, "I think it's because everyone likes a bit of a fantasy, a bit of skepticism, like to get away from your daily life.
ADVERTISEMENT - CONTINUE READING BELOW
"But I think, Game of Thrones is not too out there, it's not like the fairies and unicorns. I like fairies and unicorns but not on Game of Thrones.
"It's kinda relatable, there's like politics in it. I think it's kind of relatable in everyday life, slightly. Hopefully, not everyone's everyday life is as brutal as Game of Thrones.
"I think that's why, it's not too fantastic, just a little bit."



THE DEATH OF HODOR. The death of Kristian's character definitely "broke the internet" after the 6th episode of the series' 6th season. Memes and spoilers filled social media just moments after watching Hodor's heartbreaking exit from Game of Thrones.

Hodor, who tirelessly carried the paralyzed Bran Stark (played by Isaac Hempstead-Wright) throughout the series, showed his loyalty to his ward up until the end. For all the past seasons, his character could only say the word "Hodor" over and over again.  

When he accepted the role, Kristian said he did not know that his name is actually short for "Hold the door," which pertains to the way he died on the show.

(Read: Here's what Hodor actor had to say about heartbreaking Game of Thrones episode)


Kristian also said that he has known for over a year on how his character would end up on the show as well as the fate of Jon Snow (played by Kit Harrington).
The actor further said that it was very hard for him to keep the secret. The only person who knew about it outside of the show is his mother.
ADVERTISEMENT - CONTINUE READING BELOW
Kristian narrated, "I've known this for a whole year. I've known that I would die for an entire year and I have a really big mouth. I like to tell people things and it's really difficult for me not to tell.
"The only person I told [about it] was my mother. She was the only person."
He further said, "So, if you imagine for the whole year, every day people are asking me, 'What's gonna happen this season? Is Jon Snow alive?'
"I knew that as well, I knew two huge secrets and it was really hard not to tell people.
"Of course it's really sad, but I really liked the way he died. I think he died in a really nice way so I was happy, I was really happy."
Kristian said he didn't expect his death to make such a huge impact. He recalled, "I didn't expect it. I knew it was gonna be big because it was such a cruel scene.
"I think within about 3 hours, I had 67,000 direct tweets. At first, I was starting to reply and I was like, 'Okay I give up. Just Hodor, whatever.'"
When asked what's the first thing he did after shooting the big scene, Kristian recalled, "There's actually a video online, Isaac was the one who said 'cut' when we finished. So he gave me a really big hug. I thought it was really sad.
He also noted, "It was actually... I think it was my birthday around that day, as well.
ADVERTISEMENT - CONTINUE READING BELOW
"I died on my 40th birthday, but yeah, a big birthday. They made me a cake, Hodor on the Iron Throne, which obviously is never gonna happen.
"They made me a cake, cupcakes, cards and everyone was really nice, everyone was really sweet. I didn't cry, I didn't but it is pretty sad."
One thing he definitely wouldn't miss on the show is his costume. He explained, "When I'm taking off that horrible, smelly outfit for the last time, I was like I'm not gonna miss this at all."
Kristian further quipped, "I hope it's burnt. I've worn the same outfit for five or six years. It's never been worse. It smells like animals. It's smells like cows, chickens, horse...
"It does smell like manure, it's horrible. You can smell it for like a hundred meters away."


WHAT'S NEXT FOR HODOR? In the series, Jon Snow (played by Kit Harrington) was brought back to life by a witch named Melisandre (played by Carice van Houten). With the possibility of characters being brought back to life, the press corps took the chance to ask Kristian if his death is already definite.
Kristian answered, "I can honestly say that I know exactly as much as you. I know nothing like Jon Snow. So I think that he's dead. I imagine that he's not gonna come back from that but who knows? It's Game of Thrones and anything can happen."
In the series, victims of White Walkers also come back to life as a Wight. This has given rise to a fan theory of Hodor returning as a White Walker later in the series.
ADVERTISEMENT - CONTINUE READING BELOW
However, Kristian said he would for his character to end that way and never return but if the opportunity comes, he would still take the role.
He explained, "From an actor's point of view, 'Yeah, another year's work!' and also, I love being part of Game of Thrones so it's amazing.
"But from a character point of view, I kinda like what it is. I think it's a really good complete… it's a circle, the circle's complete.
"It would be weird to come back but you know, if they want me back, I'll come back. I'm not gonna fight with them."
The Philippine press also asked Kristian what his dream role would be and he quipped, "My dream role would have slightly more dialogues."
Still, Kristian considers his character Hodor as one of his dream roles which entirely changed his life. Aside from this, he would also love to play a character from Warcraft or Lord of the Rings.