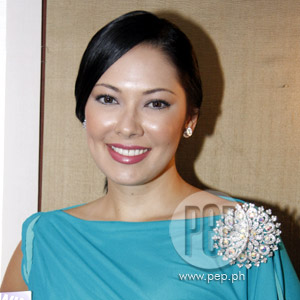 ---

Ruffa Gutierrez won't have to struggle much when she portrays hernewest role as Daniella for the ABS-CBN's upcoming show, Betty La Fea.Known for her eye-catching outfits and stunning jewelry, Ruffa is cast as the kontrabidawhose choices in clothing, accessories, and bags are sure to imitated byfashion-forward individuals.
Although Ruffa is already known as fashion icon, she is usedto playing roles that are usually funny and sont-so-serious. However, in theshow Betty La Fea, the TV host-actress will be challenged to present astronger side of her personality.
She tells the media during a previous interview, "I thinkyung dapat nilang abangan ay yung pagiging ibang Ruffa Gutierrez na makikitanila dito-yung talagang matapang. Kasi most of the roles that I play, kahit nafashionista ako, I'm still funny or I'm still maarte at lahat yun comedy. So,ito naman, if there's a situation na it's funny, hindi yun dahil sa pagigingmakwela, it's because of the situation mismo. So I just hope na yung mga fansat mga tao ay susuporta sa Betty La Fea ay hindi magagalit sa akin,mamahalin nila ako at gagayahin nila ako."
Knowing that Filipinos tend to hate the villains of thestory, Ruffa is not afraid of being typecast since she knows that Daniella isnot entirely bad in nature. She knows that viewers will be able to recognizethis inherent goodness when Betty La Fea begins to air on ABS-CBN.
"Ako kasi, when you think like kontrabida in my vocabulary,yun talagang inaapi-api yung bida, sinasampal, sinisipa...and maaawa ka sa bida,which is, ito naman si Betty, nakakaawa, pero cute pa din siya. Kasi yungpagiging Daniella ko dito, mamahalin in a sense na ambisyosa, scheming, ayokosa mga pangit na tao, because there's a reason."
SUPPORTING LOCAL DESIGNERS. The show will not onlyportray her different styles, but will also give our country's fashiondesigners the opportunity to have their works seen on TV. "Well, actually,we're catering to the Philippines' designers. We want them to showcase theirclothes, their collections in Betty La Fea. I'll also be wearing some ofmy clothes, but it's gonna be a show na sana maging successful, so sana magingmahaba pa yung role ko as Daniella. It's more work for me, but we want that theFilipino designers can showcase their designs," she says.
ADVERTISEMENT - CONTINUE READING BELOW
The works of fashion designers, Kate Toralba, Rajo Laurel,and Jun Escario as well as Mitch Dulce and her fashionista hats are just someof the designs to be worn by Daniella in the show. Aside from Avon fashion,Ruffa will be using a lot of fine jewelry. She points out, "Aside from my owncollection galing sa Turkey, meron din tayong sponsors in terms of jewelries.Iba-iba kasi yung kailangang gamitin ni Daniella so hindi dapat mag-ulit. Ayawko naman maubos lahat ng suweldo ko sa kakabili, siyempre may dalawa pa akonganak."
This is Ruffa's first time to work with most of thecharacters such as Bea Alonzo, Vhong Navarro, and the show's director, DirekEric Salud. To make the cast members feel comfortable about each other,everyone underwent a workshop that served as bonding time for them as well.
To prepare for her new role, Ruffa watched an episode ofAmerica's version Ugly Betty and bought a copy of the movie DevilWears Prada. However, she does not want to imitate anyone exactly. "I wantto portray Daniella in my own way. I'm so blessed na binibigyan ako ng mgawholesome roles, and this is also a challenge for me because I also want to berecognized as an actress," she explains.
Incidentally, Bea Alonzo, the lead character of
BettyLa Fea
, bade goodbye to
ASAP '08
yesterday, August 10. The femaleactress left the Sunday variety show to concentrate on the Philippine versionof the hit Colombian telenovela starring an ugly girl who transforms into aknockout beauty.