Encantadiks can now finally see Kylie Padilla, Gabbi Garcia, Sanya Lopez, and Glaiza de Castro wearing their Encantadia warrior costumes as Sang'gres.
LOOK: Encantadia 2016 Sang'gres in their warrior costumes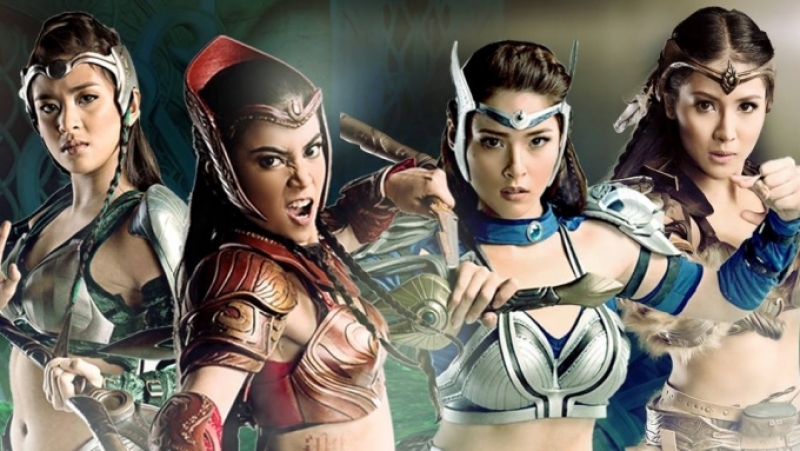 These costumes have similarities and differences with the original warrior outfits worn by Sang'gres Pirena, Amihan, Alena, and Danaya in the 2005 version of Encantadia.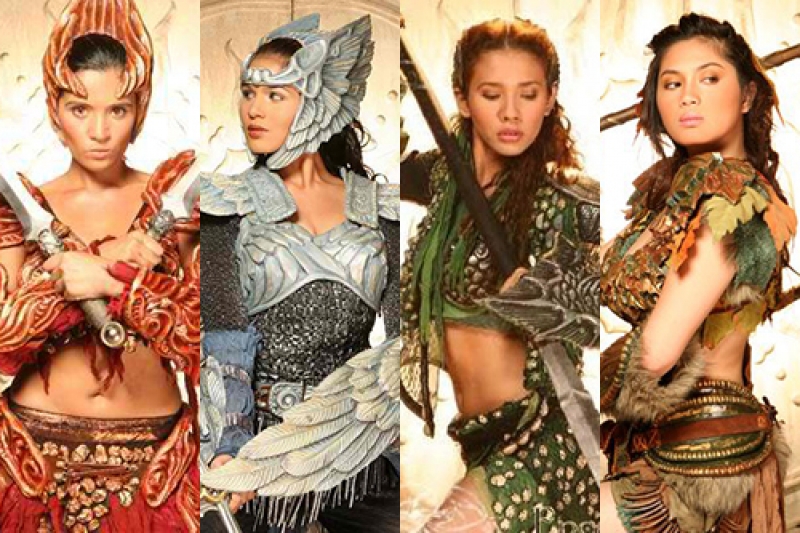 Check out the photos below to compare the original and new costumes of the Sang'gres:


Sunshine Dizon and Glaiza de Castro as Pirena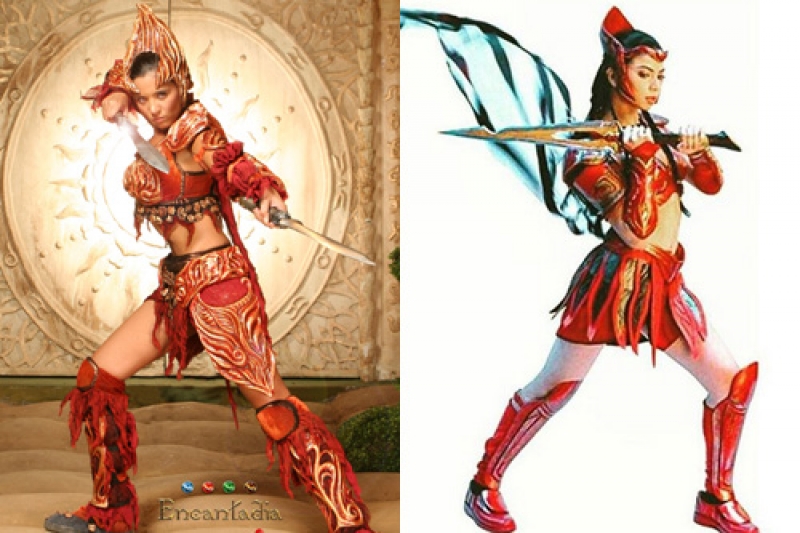 In the original telefantasya, the headdress of Sang'gre Pirena (played by Sunshine) had an open back, and had more curved lines to resembled fire, whereas in the requel, the headdress of Pirena (Glaiza) is closed in front and at the back.
Pirena's original costume also had more frills. However, the new Pirena warrior costume has a train attached to her back. Also, her boots seem to be made of hard material, unlike the original which is cloth-like.


Iza Calzado and Kylie Padilla as Amihan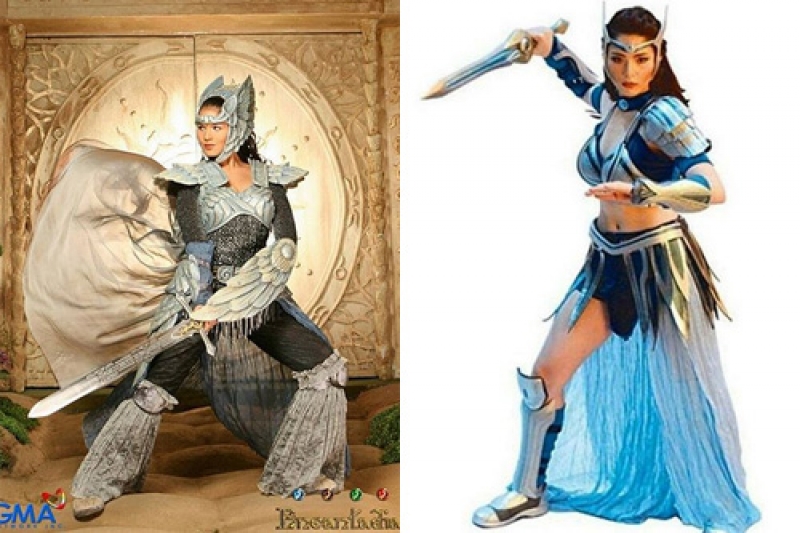 Amihan's original costume covered much of Iza due to its supporting inner cloth and legwear, unlike Kylie's which bares her legs and tummy.
Iza's headgear in the first book of the original Encantadia is decorated with feathers to represent the air gem.


Karylle and Gabbi Garcia as Alena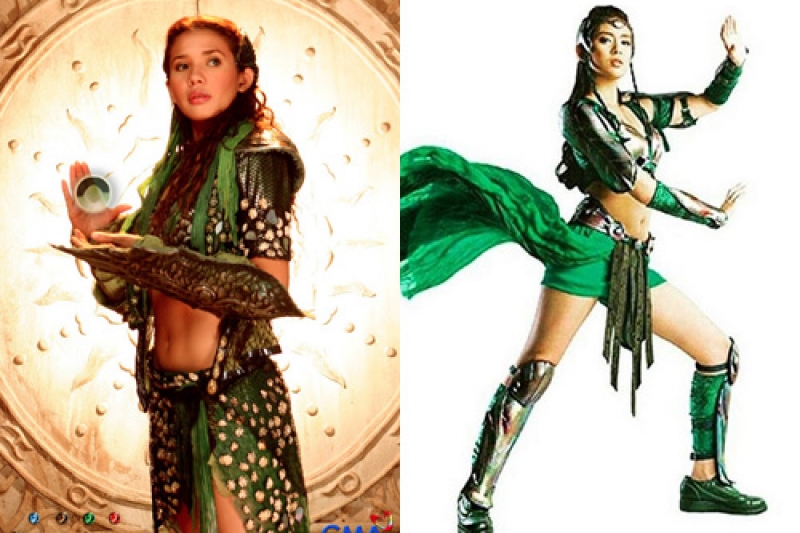 Alena's new costume uses a more vibrant hue of green compared to the original one, which is a mix of silver and glittering crystals.
Instead of two separate headgears like the one used by Karylle, Gabbi's headdress is now a single, closed one featuring a longitudinal ridge.


Diana Zubiri and Sanya Lopez as Danaya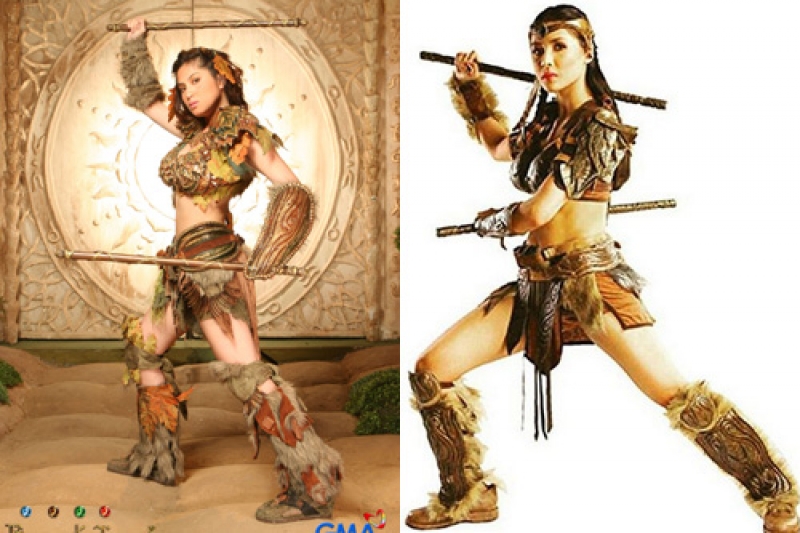 Sanya's costume as Danaya is the one that closely resembles the original warrior costume. In the past, leaves were used as hair ornaments for Danaya but the new version no longer uses them.
Diana Zubiri's costume in the original Encantadia is composed of different shades of brown, whereas Sanya's warrior outfit has only one shade.
Costume designer Noel Flores mentioned during NexCon 3 that the warrior outfits of the Sang'gres will have eight versions.
Fans can look forward to seeing the next seven iterations of the costumes as the show starts airing this July on GMA Telebabad.


PEPsters, which set of Sang'gre warrior costumes do you like more: the original or the new version?
Share your thoughts in the comments section below: