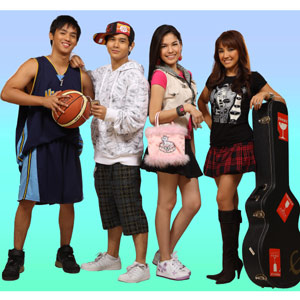 ---
On Saturday mornings, tune in to the newest teen tambayan ontelevision, Ka-Blog! and learn how to enjoy teen life.
Ka-Blog Andrea Torres and Mico Aytona tell of thewonderful tales of teenage courtship. What are the things a guy should do toget his DG (a.k.a. Dream Girl)? How can a girl-friend turn into a girlfriendmaterial?
Mico and Andrea give surefire tips to capture your crush'sattention.
Meanwhile, find out how to gain the stature of an instantcelebrity. In this age of YouTube, the Internet is a powerful medium. With theenormous reach of the net, anyone could enjoy up to fifteen minutes of famenow! Muymuy Palaboy, Happy Slip and Bryanboy are just some of the names thatare making waves in cyberspace today.
Ka-Blog Mico Aytona and Lucky Mark Mercado meet theseonline superstars and learn a thing or two on how to be famous the cyber-way.
Subcultures like goth, emo and punk are now the popular teenlifestyles, but they alienate the adults and are often misunderstood andmisjudged. So what better way to understand them? Join them!
Ka-Blog Andrea Torres enters the dark world of Gothsand gets a first-hand experience of their culture as she transforms herselffrom a kikay, pink-lovin' girl to a dark Goth princess!
Tune in to the informative teen-oriented show Ka-Blog!this Saturday, 10 a.m., on GMA-7.