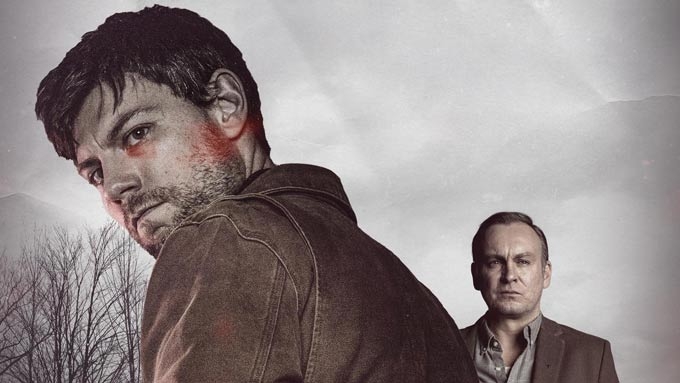 ---

From the mind of Walking Dead creator Robert Kirkman comes yet another riveting TV show, Outcast.

This new supernatural horror series on Fox pushes the boundaries of depicting demonic possession onscreen.

In anticipation of the show's debut, a series of murals were launched from May 28 to June 3 in 13 locations all over the world, including the Philippines.
Each mural depicts a panel, as from a comic book, based on illustrations from Paul Azuceta, which fans can access online at https://outcastart.tv/
Locally, renowned graphic design group Team Manila was tasked to add color and a Filipino flair to Outcast illustrator's Paul Azaceta's black and white sketches and portray the mural at Bonifacio Global City in Taguig.
Charo Espedido, Director and Head of Marketing at Fox Networks Group (FNG) Philippines shares, "FOX is excited to be featuring another show that pushes the envelope for the horror genre on TV and an original scripted drama by FNG at that.
"We're confident that Filipino fans who have loyally been tuning in to Kirkman's previous work on The Walking Dead will embrace Outcast as another fine example of edgy storytelling, relatable characters, and excellent production.
"Our collaboration with Team Manila for Outcast was also another great opportunity to showcase local artistic talent on an international platform."
Outcast is shown every Saturday at 8:55 pm exclusively on FOX.


THE STORY. Adapted from Kirkman's comic serial of the same title, Outcast tells the story of Kyle Barnes (Patrick Fugit), a recluse whose dark past involved unknowingly expelling a "demon" that possessed his mother.
Set in the fictional town of Rome in West Virginia, Outcast revolves around Kyle who reappears in his hometown two years after a mysterious incident compelled him to separate from his wife and daughter.
As his adoptive sister Megan nags him out of self-imposed isolation in the outskirts of town, Kyle learns about a boy who exhibits the same disturbing behavior as his mother used to.
ADVERTISEMENT - CONTINUE READING BELOW
The young Joshua Austin lives with his mother in front of the old Barnes' residence and is believed to be possessed by a demon.
Together with self-titled holy warrior, Reverend Anderson, Kyle attempts to exorcise the evil spirit within the boy, in search of answers of his own.
Kyle discovers that the events which have plagued him since childhood and ruined his family and marriage are all rooted from facets about his identity that are yet unknown to him.

The "demons" have haunted Kyle all his life—first, his doting mother, who turned abusive after the possession, and second, his wife, who tried to kill their daughter. These traumatic events in his life led Kyle to believe that he had to shut himself from the world to sort of contain the curse. But as he is slowly finding out, evil is slowly consuming the town whether he is in it or not.
The show's cast includes Patrick Fugit, Philip Glenister, Wrenn Schmidt, and Reg E. Cathey. Chris Black serves as the showrunner, with direction by Adam Wingard, and music by Atticus Ross.
The fourth episode "A Wrath Unseen" juxtaposes the possessed that do vile things versus people who are just plain evil.
Kyle is slowly discovering how to use his ability in exorcising the dark creature that takes over unsuspecting townsfolk. He detects a cunning demon who possessed a churchgoer, whom Reverend Anderson thought he has expelled two years prior. The duo also meets a mysterious old man, Sidney (Brent Spiner), who seems to be somehow more involved in what's happening than he is letting on.

Meanwhile, Kyle's adoptive sister, Megan Holter (Wrenn Schmidt)—who was initially shown as a homemaker and a self-appointed Kyle minder—is confronted with a demon of her own from her past, a foster kid who sexually abused her.



ADVERTISEMENT - CONTINUE READING BELOW
THE VERDICT. Outcast is a new take on an old horror theme: possession. Unlike its predecessors, like the cult classic The Exorcist, the series does away with the shock factor and the scary effects. The demons in this show do not flinch at Bible verses and crucifixes—which makes the viewer question several things: Are they really demons or are they supernatural beings? Aliens, perhaps? Why do they respond more to Kyle than the Reverend?
The show is also eerily quiet, much like the setting of the show, a rundown town from America's rust belt. Artistically shot, it shows a number of interesting things that depicts the town's decay like Kyle's bike—which he last used before his mother's possession, but has now become a part of the tree where he parked it last. This sort of symbolizes the decay of the town and its people, succumbing to the "darkness" as the Reverend referred it.
Unlike Walking Dead, where there is action at every turn, Outcast relies heavily on the stories and backstories of its characters. (The main lead Patrick Fugit, best known for his role in Almost Famous as a fan-turned-reporter, impresses in his performance as the tormented Kyle.)

The show seems to question the fundamental knowledge of good and evil.
Overall, Outcast requires focus and attention—or else you'll miss the carefully placed details, flashbacks, and character reactions.



Ed's Note: The 'PEP Review' section carries the views of individual reviewers, and does not necessarily reflect the views of the PEP editorial team.