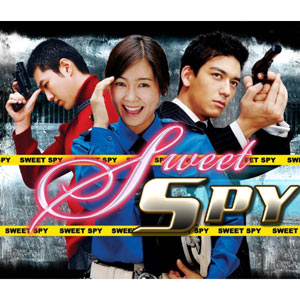 ---

This August, a wild chase of love and action awaits viewersin GMA-7's newest Koreanovela titled Sweet Spy.

Nam Sang Mi, who won the 2007 MBC Excellence in Acting Award, plays Angie, awoman who lost her policeman husband only a few months after theirmarriage. She later decides to join thepolice force, but is only assigned to handle minor cases.
Angie's almost dreary life, however, suddenly explodes withexcitement and danger as a speeding ticket causes her to meet Dennis, played bythe handsome Korean-American actor Dennis Oh.
A rich man with an obscure background, Dennis takes Angie ona fast-lane of political maneuvering and international espionage, andinevitably wakes the policewoman's heart from its slumber.
Adding to the crazy entanglement of love and loot is Luis,the smart, responsible cop played by Lee Joo Hyun.
Luis has recently been transferred to the CriminalInvestigation Department. Thoughquickly promoted due to his exceptional skills, Luis is a very cold and lonelyperson, whose hardened heart will only be melted by Angie.
The search for the truth behind an old case involvingAngie's past will bring the three to unravel the deepest of secrets, all thewhile trying to keep their own.
The troublemaker policewoman, the mysterious spy, and thehardcore cop jump from one action-packed mystery to the next. Will they be able to escape the web ofdeceit they have found themselves in? Moreover, will they be able to escape the intricate web of love?
All the answers can be found on Sweet Spy, everydayafter Hello! My Lady on GMA-7's Dramarama sa Hapon.