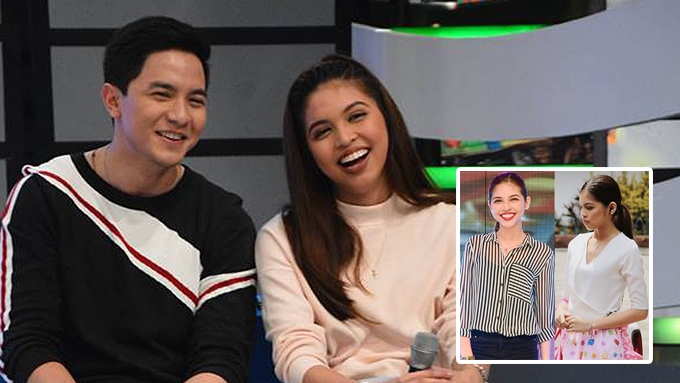 ---

Today is the Fourth of July and while everyone in the U.S. is busy celebrating Independence Day, Aldub fans are celebrating Maine Mendoza's first anniversary in showbiz.

In fact, the hashtag used for this July 4 Eat Bulaga episode is #Happy1stMAINEniversary.
Before AlDub took the country by storm, Maine was first introduced on the Eat Bulaga's "Problem Solving" segment along with Wally Bayola, Paolo Ballesteros, and Jose Manalo.

She was introduced as Divina Ursula Bukbukova Smash, popularly known as Yaya Dub, the nanny of Lola Nidora (played by Wally Bayola). The rest, as they say, is history.


HOW IT ALL STARTED. Last June 19, Maine recalled her audition on Eat Bulaga through an Instagram post.

The 21-year-old actress admitted she was feeling discouraged with her underwhelming performance compared to other auditionees who were well prepared.
The Kapuso star wrote on Instagram: "It was this time last year when I first set my foot on Broadway Centrum. June 19, 2015 was the day I auditioned for Eat Bulaga.
"I can still remember how nervous and timid I was as I stand in the middle of the stage, facing the camera. It's been a year but I still wonder how I was able to survive that audition unprepared."
"People who tried out their luck along with me that day were all psyched-up and had everything prepared; and then there I was, as Ma'am Jenny would describe it, 'Walang kalatuy-latoy.'
"Those who have seen my audition video could tell that there was nothing striking in me when I stood up on that stage–aside from my big red lips that took people's attention–there was clearly nothing more.
"I mustered an ounce of confidence to act like a crazy woman when I was asked to, thinking that would be the only way to get a chance to pass the audition. I was able to do it but I knew I did it horribly. I was discouraged and I already knew right there and then that I lost my chance.
ADVERTISEMENT - CONTINUE READING BELOW
"Still, I was holding onto this little possibility that they'd call me back, also thinking that even if they don't, I am glad and proud that I did not let this opportunity pass me by. I went home with a smile on my face, gave myself a pat on the back and told myself 'At least you tried.'"



As Maine celebrates her first anniversary on Eat Bulaga today, she posted another throwback photo of her first appearance on Eat Bulaga and narrated how it changed her life.

She also expressed her gratitude to everyone who believed in her and continued to support her since then.
Maine wrote on Instagram: "And they did; they did call me back. And then the rest is history. I became the person I wanted to be, and steering to be a better one. I have conquered a lot of my fears, confronted different challenges and achieved far beyond my expectations; and it wouldn't happen if not because of Eat Bulaga.
"Tila bang ako'y isang sanggol na bagong panganak, dito nagsimula at nabago ang lahat. And for that, I am beyond grateful. Maraming salamat sa Panginoon. Maraming salamat sa Eat Bulaga. Maraming salamat sa inyong lahat.
"Nagmamahal, 'batang walang kalatuy-latoy.'"



Watch Maine's first appearance as "Yaya Dub" on Eat Bulaga below: