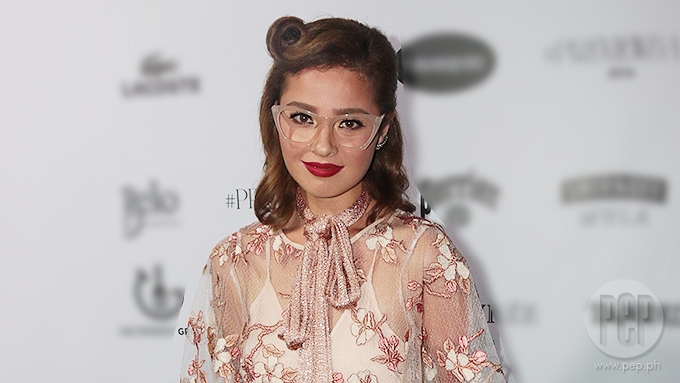 ---

After two years, Andi Eigenmann makes a teleserye comeback via ABS-CBN's new afternoon drama series The Greatest Love.

The Kapamilya actress will co-star with Sylvia Sanchez, Dimples Romana, Matt Evans, and Arron Villaflor in the upcoming series.
Andi told PEP.ph (Philippine Entertainment Portal) more about her new show during the 2016 Preview Ball held last July 1 at the Whitespace Events Place in Makati City. The date of the pilot episode is yet to be announced but according to Andi, their show will start airing on TV this July.
She told PEP, "It's coming out in July, [the title is] The Greatest Love." She added, "We're going to replace Tubig at Langis."
Andi expressed her excitement for the new show since this will mark her comeback in doing soaps. The 26-year-old actress said, "I'm really excited about it. I haven't done TV in two years and I'm so excited to be back."
For this series, Andi veers away from her typical evil, kontrabida roles to portray an oppressed lead character named Liezel.

The 26-year-old actress narrated, "I'm going to play basically, the role of Liezel. I'm the youngest daughter in the family and ako yung parang, you know, yung inaapi ganun... this time around."
How is she preparing for her role? Andi answered, "Right now I'm actually still preparing like I guess it's more of just understanding the character and studying your approach on it. The way I do it is I build my own person as in, I come up with people that don't really exist and I make them seem like they're real."
She added, "I've been used to being a kontrabida all the time pero now it's going to more of like ako yung sobrang nice girl talaga."
The former Agua Bendita actress said she is no longer used to making TV dramas so she still has to re-adjust to the TV production environment.

She explained, "I guess, somewhat, I'm not used to doing TV anymore. I've gotten so used to doing films but I'm really excited about it.
ADVERTISEMENT - CONTINUE READING BELOW
"TV is like... it's something that helps me make sure that I get better at my craft all the time. It's like the practice ground so I'm very excited."
Andi's last teleserye was the Kapamilya remake of Mars Ravelo's Dyesebel with Anne Curtis, Gerald Anderson, and Sam Milby.

Since then, Andi has released three movies including Tragic Theater (2015), Your Place Or Mine? (2015), and her most recent film Ma' Rosa (2016), which competed in the 69th Cannes Film Festival.

The Brillante Mendoza film earned the Cannes Best Actress award for Andi's mother, Jaclyn Jose. Ma' Rosa is currently being screened in cinemas nationwide.



SHARE THIS STORY The Greatest Love" data-url="https://www.pep.ph/guide/tv/23995/andi-eigenmann-excited-for-tv-drama-return-via-the-greatest-love" data-desc="Andi Eigenmann will star in the ABS-CBN afternoon drama The Greatest Love, which will replace Tubig at Langis." data-image="https://contents.pep.ph/images2/guide/2016-07-05_19:47:25_Andi-Eigenmann.jpg"> The Greatest Love" data-url="https://www.pep.ph/guide/tv/23995/andi-eigenmann-excited-for-tv-drama-return-via-the-greatest-love" data-desc="Andi Eigenmann will star in the ABS-CBN afternoon drama The Greatest Love, which will replace Tubig at Langis." data-image="https://contents.pep.ph/images2/guide/2016-07-05_19:47:25_Andi-Eigenmann.jpg"> The Greatest Love" data-url="https://www.pep.ph/guide/tv/23995/andi-eigenmann-excited-for-tv-drama-return-via-the-greatest-love" data-desc="Andi Eigenmann will star in the ABS-CBN afternoon drama The Greatest Love, which will replace Tubig at Langis." data-image="https://contents.pep.ph/images2/guide/2016-07-05_19:47:25_Andi-Eigenmann.jpg">
SHARE THIS STORY
The Greatest Love" data-url="https://www.pep.ph/guide/tv/23995/andi-eigenmann-excited-for-tv-drama-return-via-the-greatest-love" data-desc="Andi Eigenmann will star in the ABS-CBN afternoon drama The Greatest Love, which will replace Tubig at Langis." data-image="https://contents.pep.ph/images2/guide/2016-07-05_19:47:25_Andi-Eigenmann.jpg"> The Greatest Love" data-url="https://www.pep.ph/guide/tv/23995/andi-eigenmann-excited-for-tv-drama-return-via-the-greatest-love" data-desc="Andi Eigenmann will star in the ABS-CBN afternoon drama The Greatest Love, which will replace Tubig at Langis." data-image="https://contents.pep.ph/images2/guide/2016-07-05_19:47:25_Andi-Eigenmann.jpg"> The Greatest Love" data-url="https://www.pep.ph/guide/tv/23995/andi-eigenmann-excited-for-tv-drama-return-via-the-greatest-love" data-desc="Andi Eigenmann will star in the ABS-CBN afternoon drama The Greatest Love, which will replace Tubig at Langis." data-image="https://contents.pep.ph/images2/guide/2016-07-05_19:47:25_Andi-Eigenmann.jpg"> The Greatest Love" data-url="https://www.pep.ph/guide/tv/23995/andi-eigenmann-excited-for-tv-drama-return-via-the-greatest-love" data-desc="Andi Eigenmann will star in the ABS-CBN afternoon drama The Greatest Love, which will replace Tubig at Langis." data-image="https://contents.pep.ph/images2/guide/2016-07-05_19:47:25_Andi-Eigenmann.jpg">