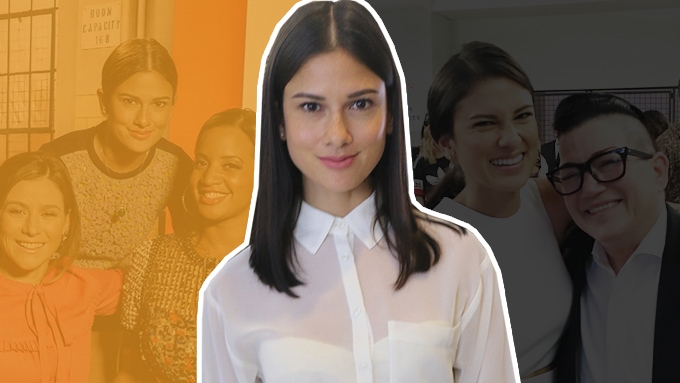 ---

When you're really passionate for what you're doing, everything will just fall right into its place at the right time. This is what happened to celebrity blogger Bianca King.
For some time now, Bianca has been keeping the public updated through her self-titled blog BiancaKing.com.

By sharing tips on maintaining a healthy lifestyle to showcasing her travel photos and #OOTDs, Bianca is able to connect to her fans through her eponymous online journal.

Contrary to popular belief, maintaining a blog is not that easy. You have to keep the passion and creativity flowing to continue engaging your readers or viewers. This, aside from Bianca's hectic schedule as a celebrity.
This passion project became her ticket to meet the cast members of the Emmy award-winning original series Orange Is The New Black (OITNB).

The 31-year-old actress/host recently went to Berlin, Germany for the show's press meet-and-greet and red carpet premiere for its 4th season,

Bianca was the only Pinoy chosen along with several other digital influencers from different countries.
The actress was able meet and interview Dominican-American actress Dascha Polanco who plays Dayanara Diaz on OITNB, Australian actress Yael Stone who portrays Lorna Morello, and American comedian-actress Lea Delaria who is cast as an inmate named Big Boo.

At the show's red carpet premiere, Bianca also met American singer-actress Uzo Aduba who portrayed Suzanne "Crazy Eyes" Warren.
According to Bianca, Netflix Asia handpicked her to represent the Philippines for an exclusive interview with the stars of OITNB.

She told PEP.ph (Philippine Entertainment Portal) in an e-mail exchange, "The agency handling Netflix Asia in Singapore messaged me through my blog. They said they had been following me on social media for a while."
"I was pretty surprised. But I guess that's the power of blogging! It was just a hobby so people could get to know the real me and now it's opening doors. I'm extremely happy about my effort paying off. Mahirap mag maintain ng blog. Effort talaga!," the former Kapuso actress added.
ADVERTISEMENT - CONTINUE READING BELOW
During her stay in Germany, Bianca had fun bonding with the cast members and other invited bloggers over brunch at the Soho House Berlin.

She recalled, "There were 3 others from Asia and about 15 more from all over Europe but very few got to interview the cast. Most were just there to attend the red carpet premiere. Netflix arranged for us to have brunch with the cast so we could all get to know each other.
Bianca added, "All the influencers Netflix picked have different social media styles. It was a fun mix of online content creators. I thought using social media over just traditional media was a great approach to marketing the show."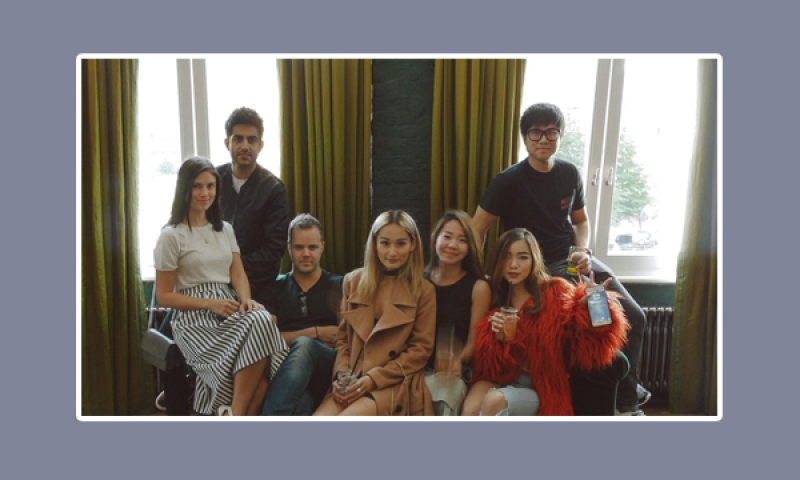 Bianca (leftmost) with Rajiv from Netfilx UK, Luke from Netflix Singapore, Isabelle, Jessica, Willa and Jin



THE INTERVIEW. Bianca is no stranger when it comes to hosting. In 2015, she hosted her own entertainment news and talk show titled Showbiz Konek Na Konek on TV5 with MJ Marfori and IC Mendoza. Though she came prepared, Bianca felt nervous upon meeting the Hollywood stars.

She narrated, "I was nervous but I came prepared. Siyempre gusto ko matuwa sila na ako yung napili nila na humarap sa cast para maulit. I enjoyed the pressure and the challenge!"
Being a fan of the show definitely helped her get through the interview. She managed to binge-watch previous seasons of the show to keep herself updated in time for the interview. "I was already a fan of season 1 but I watched season 2 and 3 to prepare for my interview," Bianca said. "I didn't sleep on the plane so I could catch up on the episodes! I also did research on the lives of the cast members and watched a lot of their past interviews."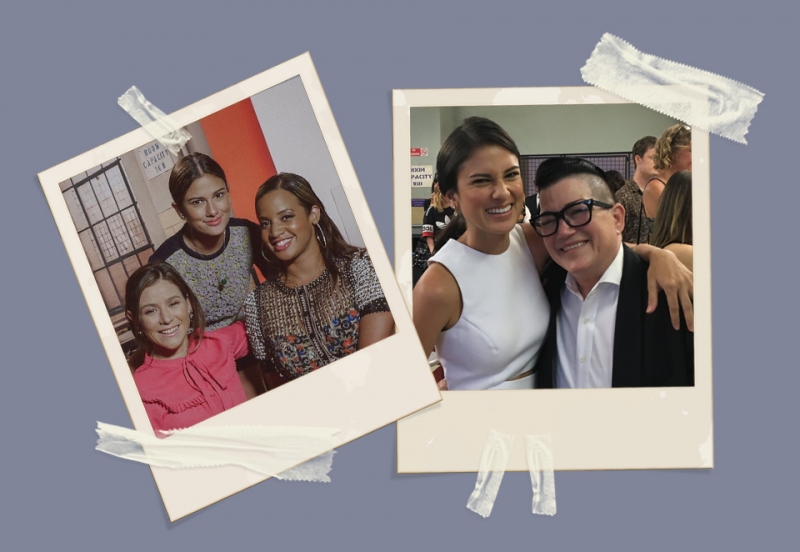 (Left frame: Bianca with Yael Stone and Dascha Polanco. Right frame: Bianca with Lea Delaria)
ADVERTISEMENT - CONTINUE READING BELOW

When asked about her favorite characters on the show, Bianca revealed, "I love Yael Stone. She's Australian but she pulls off the Brooklyn accent very well. Uzo Aduba was there also. She plays Crazy Eyes on the show and won an Emmy back to back."
PEP asked Bianca to name other international celebrities she would love to interview.

"I actually want to interview comedians like Jimmy Fallon and Tina Fey. That should be fun. But I'm looking forward to interviewing Sophia Amoruso when #Girlboss comes out on Netflix.
"She's one of America's richest self-made women at 32 years old and her book about her life is being made into a TV show. Every woman needs to read her book about how she went from digging through a dumpster to making millions in her mid twenties."
Bianca is also excited to announce that Netflix is planning to create original Asian video content.

She revealed, "Nakuwento ng mga taga-Netflix sa 'kin lahat ng mga padating na bagong shows. Pati na nag-umpisa na silang magproduce ng Asian content and they are eyeing the Philippines."



PASSION FOR HOSTING. This venture with the global video streaming service became an eye-opening experience for Bianca. Her takeaway from her latest achievement is "to continue to be passionate about my blog and it can take me places! Literally and figuratively."
This project fueled her passion not just for blogging but for hosting, as well.

The celebrity blogger added, "I want to do more of this kind of work. Mahal ko talaga yung hosting. Pinaka gusto kong gawin ngayon. I host a lot of live corporate and commercial events too. Nalungkot ako nung nawala sa ere yung Showbiz Konek na Konek kasi paboritong show ko yun."
With this, Bianca hopes more hosting opportunities will come her way in the future.

"That's the path I want to be on. I really enjoyed hosting Showbiz Konek Na Konek and thought that I could do it for the rest of my life. Now I have to set my dreams again and see how I can pursue hosting as a career.
ADVERTISEMENT - CONTINUE READING BELOW
"I'll always love acting and I'm ready to accept a good project any time. But my heart wants to be myself on camera and talk about the things I love: food, travel and entertainment. Madaldal talaga ako at mahilig magsulat. Gusto ko rin sana gamitin yung mga natutunan ko sa film school at sa showbiz para magsulat ng mga script at content for lifestyle shows."
Watch Bianca's interview with Dascha Polano and Yael Stone below:


Watch her interview with Lea Delaria below:
(Photos and videos courtesy of BiancaKing.com and @bianca_king on Instagram)