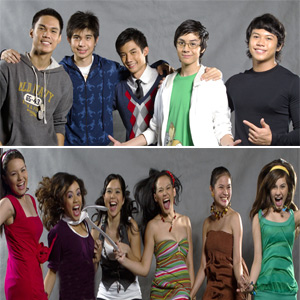 ---
It's been a while since the youth-oriented drama seriesdominated the Saturday afternoon slot of TV networks.
After the success of T.G.I.S. and Gimik, Saturday afternoonviewing has been dominated by showbiz talk shows and public affairsprogram. Now, armed with its aim tooffer an alternative, TV5 brings back the teen drama for the youth on weekends.
Starting August 16, the younger audience will have an optionto watch a program that they can relate to in Lipgloss. Unlike former teen shows, however, TV5 promises that Lipgloss is not the usual "boy-meets girl"theme. Instead it will portray the real issues of the youth today.
The show is about the "glossy" teen students of Linden High whogo through a lot of experiences in their relationships, misfortunes, andheartbreaks. Through an anonymousblogger, the viewer will be able to look at the secrets of these glamorous youngpeople. As the story of these privileged kids continues, after a good dose ofguilty pleasures, one realizes that a lot of hypocrisy and miseryis begotten by wealth.
Although the program tackles the lifestyles of thewealthy (or wannabe wealthy) teens, Mikee Lee, one of the young actors of Lipgloss,believes that they can still hit the "masa" by offering them somethingdifferent.
"I think 'yong show has a great promise despite na maykasabay 'yong slot, may show that will cater to the lower market," Mikeesays.
He adds, "If you're gonna target an audience, it's also goodto lure them into something that they have not seen, that they are not familiarwith. So, if you let them watchsomething about the elite maybe they can get intrigued about it kasi most ofthe time they watch TV shows about the middle class that usually cater toeveryone. Maybe it's about time to letthe people relate na parang, 'Paano kaya kung ako ang nandiyan?'"
To represent the youth, TV5 gathers some of the promisingyoung actors in television today. Lipglosswill have Sam Concepcion, Mikee Lee, Fred Payawan, Kevin Lapeña, Rodjun Cruz,Miki Hahn, Saab Magalona, Maxine Eigenmann, Mary Grace Perido, Cheska Ortega,and Charina Suzara.
ADVERTISEMENT - CONTINUE READING BELOW
Seasoned artists Lorenzo Mara,Rachel Lobangco, Lloyd Samartino, Ricardo Cepeda, and Emilio Garcia will guidethese fresh actors.
Lipgloss is directed by Chris Pablo and Aleah AliporoEugenio.
Don't miss the start of the sleek and glossy youth drama every Saturday starting August 16 at 5:00 p.m. on TV5.