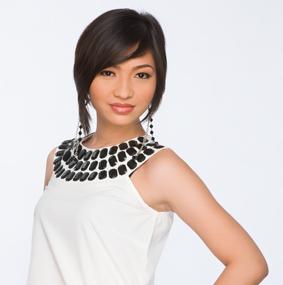 ---
Among the scholars who have been placed on probation, BunnyMalunda and Hansen "Sen" Nichols are probably the most equally-matched. Both Bunnyand Sen have never been up for the vote on a Gala Night, although they havebeen part of the bottom four group. Their best grades were from groupperformances.


And, perhaps most importantly, they are popular among viewers—butnot always because of their singing. Sen's performances rarely impress thejudges, but he is famous in online message boards and forums for his closenesswith fellow scholar Cris Pastor and, oddly enough, Van Pojas. On the otherhand, Bunny was always under the radar until she caught the ire of many viewerswhen the mentors saved her from probation during the 7th Gala Night.
So, Bunny and Sen's showdown during the 9th Gala Night of Pinoy Dream Academy Season 2 was notonly a battle of singing prowess; it will prove which mini-controversy haspropelled the viewing public to vote. It was also apt that the scholars had acounterpointing challenge last night, August 16, at the PDA Concert Hall in QuezonCity. For the counterpointing challenge, two scholarshad to sing their songs at the same time.
In the end, it was Sen who gained the sympathy of theviewers, receiving 60.35 percent of the total text votes. Before she left,Bunny received warm comments from this week's judges—composed of residentjurors Louie Ocampo, Gerard Salonga, and guest judge Lani Misalucha—for herrendition of Ogie Alcasid's "Wag Ka Lang Mawawala."
"Yung feeling ko sa'yomagaling ka singer kaso nagiging hadlang sa'yo... yung physical part.," Gerardsaid, referring to Bunny's cyst on her throat. According to the judges, Sen'scounterpointing on his song "Say That You Love Me" was good, but his solo partwas average. Gerard also noted how Sen excels during group performances butremains weak on solo numbers. "You need to make your singing your strongestsuit," he said.
ADVERTISEMENT - CONTINUE READING BELOW
This week's Gala Night also showcased some surprisingdevelopments in the competition. For one, this marks the second consecutiveweek Liezel Garcia failed to get into the top three. Counterpointing "Sometimesa Love Goes Wrong" with Miguel Mendoza's "Stay Awake" proved to be a challengefor the former consistent top scholar. Louie said Liezel's performance was safebut great, although he enjoyed Miguel's performance more. Gerard said the twodid not have enough interaction, while Lani said Liezel needs to letloose.
Honorary Scholar Poy Palma once again managed to outperformsome of the regular scholars with her rendition of Sarah Geronimo's "Forever'sNot Enough." She got one of the top three scores of night, although Louie andLani noticed she was not confident with her high notes. Nonetheless, the judgesagreed Poy "sounded really good."
Which begs the question: why was she notincluded as a regular scholar? Poy counterpointed with Van, who sang "Maybe."According to Louie, Van's performance was "okay" but "nothing really, reallyfantastic." Gerard was more specific with his critique. 'Right now kasi, anditoka sa point na artista na okay kumanta instead of singer na mukhang artista.You have to become the singer... The singing has to come first," he said.
Cris ("Dahil Mahal na Mahal Kita") and Iñaki Ting ("Kunin MoNa Lahat Sa Akin") had a lot to prove last night, after giving commendableperformances last week. Cris, in particular, got the third highest score lastweek, her personal best after a string of low-ranking performances. But the duofailed to follow-through.
"Last week, you were one of my favorites... but today,parang you should work harder when it comes to singing ballad. This proves thatif you want to last here, you have to cover all your bases," Louie said ofIñaki's performance. Although he said Inyaki was performing, Louie added heshould still work harder. Lani, on the other hand, said the two can still dobetter.
ADVERTISEMENT - CONTINUE READING BELOW
Saving the best for last, Bugoy Bogayan and Laarni Losala's"Back at One" and "On the Wings of Love," respectively, was probably thenight's most successful performance. Both of them are among this week's topthree scholars, with Laarni named as Star Scholar. Receiving a grade of 8.97,this makes Laarni only the third scholar to get the top distinction for anindividually-graded performance (Sen and Van, together with Bugoy, were namedStar Scholars for their trio performance during the 6th Gala Night). While notamong the top grades this season (Cris' third placer grade last week washigher), Laarni's 8.97 is among her highest solo performance grade.
Meanwhile, Sen (6.30), Miguel (7.50), and the duo of Cris(7.43) and Inyaki (7.27) received the lowest grades this week. This is Sen'ssecond consecutive bottom four appearance, while Miguel has never been out ofthe bottom four since the Headmaster's List of Ten was introduced. The mentorssaved Sen from probation despite getting the lowest grade this week. Curiously,this leaves two of the lowest-ranking scholars on the potential list ofprobationary scholars. While Miguel managed to give commendable performancesduring the 1st and 6th Gala Night, Iñaki has never been named as one of thetop three scholars for any given week and Cris has been in the bottom groupseveral times.
The remaining performances of the scholars will prove to betheir most important yet as the finale of PinoyDreamAcademy Season2 draws closer. Can Laarni keep up with the consistent Bugoy? Can Poy finallyclinch the top spot after being the bridesmaid for at least two consecutivetimes? Who among Cris, Inyaki, and Miguel will be named probationary scholarsthis week?
Stay tuned from Monday to Friday to Pinoy Dream Academy Season 2 Uberture, 5:30 PM, and PinoyDream Academy Season 2 Primetime, after MyGirl on ABS-CBN. Viewers can also watch the PDA scholars everyday on Studio23, 12:00-2:00 PM.