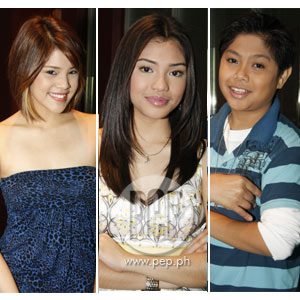 ---

One thing that Beatriz Muñoz, Christian Alvear, and Apple Abarquez—theexpelled scholars of Pinoy Dream Academy Season 2—have in common is thata lot of intrigues have been thrown at them while they were still inside theAcademy. Now that they are back in the real world, they are more than ready tocarry on with their dreams.
THE SWEET CHANTEUSE. Beatriz Muñoz easilygot the attention of PDA viewers because of her strong personality. Some thinkthat the Alabang girl is opinionated and pro-active while others think she'sbossy and snobbish. This wrong judgment might have been a product of hermisunderstandings with Laarni during their first few weeks inside the Academy.

What does she have to say about this? "I am misjudged to be unfriendly becauseof the way I look but I'm really friendly. I am used to dealing with peoplefrom all walks of life and I am not the type who judges people based on wherethey come from," was Bea's answer.
ADVERTISEMENT - CONTINUE READING BELOW

What about the misunderstanding she had with Laarni? "It was a matter ofadjusting. I must admit that it wasn't easy to get used to her but I canhonestly say that I like her for who she is. It just took a while for me toadjust but when I finally did, it was easier to reach out," Bea saidmatter-of-factly. She also added that from the very start, she has utmostrespect for Laarni and her talent.

What's the status of her relationship with Miguel?
"Miguel and I are in an open relationship, which means thatwe have each other for support. What we have is both romantic and platonicbecause we acknowledge the fact that we can't commit full time because we stillhave dreams to chase," she remarked.

SMALL BOY WONDER. Christian, on the other hand, left quite an impressionon the viewers because of the big talent residing in his small stature. Besidesproving himself, the 25-year old Hero Channel dubber also had to cope withseveral issues inside the Academy. One of these is the consecutive dropouts ofhis two closest friends, Ross and Jet.


ADVERTISEMENT - CONTINUE READING BELOW
How did he feel when Ross and Jet left?
"I was really scared at first because everybody had a groupinside the Academy. I instantly clicked with Ross and Jet because we're theoldest Scholars so when they decided to drop out, I found myself alone. I washesitant to hang out with the other Scholars because I was so afraid thatthey'd find it intrusive but they were the ones who welcomed me open arms. Iwas sad that my two closest friends left the Academy but the other Scholarsmade it easier for me," was his long answer.

Christian was also one of the Scholars who had a fight with Laarni. The two hada misunderstanding while preparing for an assignment for Direk Joey Reyes.

How did he settle the problem with Laarni?
"I'm never the type to keep grudges. After ourmisunderstanding, I reached out to Laarni and we actually got really close. Shebecame one of my best friends inside the Academy and while I was still there, Iconfided in her," he said.
ADVERTISEMENT - CONTINUE READING BELOW

THE DIFFERENT COUPLE'S DAUGHTER. Among the three, Apple is the one hasthe most intrigues thrown at her. The 19-year old Cebuana proved that she canbe friends with everybody but some questioned her intentions, especially forMiguel.

What does she have to say to the people who think she is trying to steal Miguelfrom Bea?
"Miguel and I are just friends and Bea is my Scholar best friend.The three of us have always been the tight and after Bea left, Miguel and Ijust carried on with the friendship that we have," she remarked.

Did she get the chance to talk things out with Bea?
"Actually, I was with Bea and her family the day after I wasexpelled. For us, there's nothing to talk about because we know the real score.Miguel and I are just friends and Bea knows that," she said.

How about the baby talk that some viewers find irritating?
ADVERTISEMENT - CONTINUE READING BELOW
"I baby talk because Mommy Bunny finds it funny. She missesDaddy Chivas and Jether so much and whenever I baby talk, she gets amused andtemporarily forgets about her longing for her family. I just wanted to helpMommy Bunny deal with being away from her family," she stated.

Bea, Christian, and Apple all have what it takes to make it big in the localmusic industry. Aside from the fact that they are very talented, they also havelessons from the Dream Mentors to boot. They know that intrigues are part ofworld they are trying to penetrate and they are prepared to face them as theycontinue soaring higher towards their dreams.


Watch the remaining scholars of
Pinoy DreamAcademy
Season 2 from Monday to Friday on
Pinoy Dream Academy
Season2
Uberture
, 5:30 PM, and
Pinoy Dream Academy
Season 2 Primetime,after
My Girl
on ABS-CBN. Viewers can also watch the PDA scholarseveryday on Studio 23, 12:00-2:00 PM.