The Voice Kids season 3 aired its Sunday night semi-finals live from Resorts World Manila on August 21, 2016.

Sharon Cuneta promised that she would show off her sexier, slimmer figure and she did so during the episode last weekend. The Megastar recently revealed that she needs to lose 10 more pounds before she begins shooting her movie.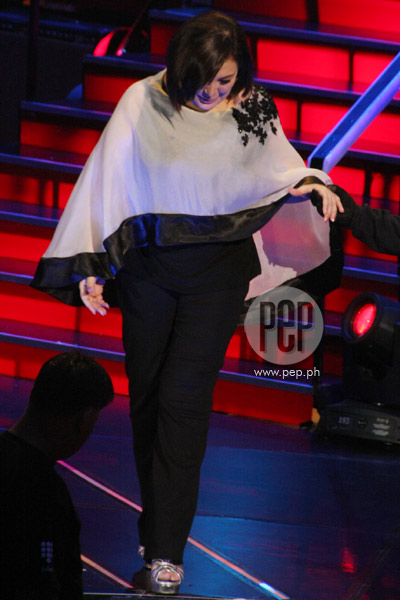 Powerful performances from previous The Voice winners Mitoy Yonting, Lyca Gairanod, Elha Nympha and Jason Dy as well as the three judges Bamboo, Sharon and Lea Salonga upped the already high-energy level of the evening.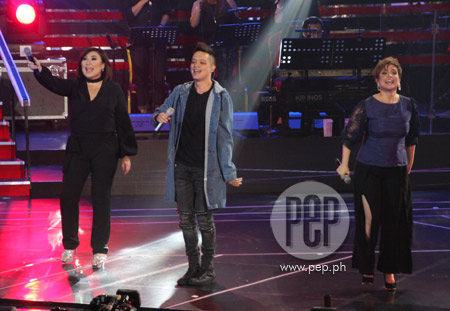 Coaches Sharon Cuneta, Bamboo and Lea Salonga



And what an evening it was. Here's our quick recap:

FamiLEA or Team Lea was the last team to sing in the semis leading up to the Grand Final next week.

The three remaining FamiLEA singers Joshua Oliveros, Angel Penaflor, and Yessha dela Calzada could feel the pressure of singing well and making sure they did enough to get the highest number of votes.

Eleven-year old Joshua from Antique was the first to sing for FamiLEA. Joshua, whose parents split 4 years ago, sang the very moving song "Mama," which Coach Lea selected for him. Joshua and his five siblings all live apart from one another and Joshua hopes that with his song, he can bring his family back together.

After his performance, Coach Bamboo remarked that "it was beautifully sung, nagustuhan ko eto, kasi chinallenge mo sarili mo sa pagkanta sa Ingles, and I like the song choice, konektadong-konektado sa story mo."

Coach Lea was very proud of her young charge telling him, "'Yan ang pinaka the best, this is the best you have sung this song. Beautiful, beautiful singing, I am so proud of you!"

Hailing from Laguna, 12-year old Angel initially had another song in mind, "And I Am Telling You." Coach Lea immediately pointed her in another direction saying the song was a bit too mature for the tween.

Angel, whose parents dream is for her to perform and sing on stage, has embraced their dream and made it her own. Coach Lea gave her "Only Hope," a powerful song that is about love without being romantic. She reminded Angel to "start simple, you don't have to be too kulot. Give them yourself, your arm can't be covering you, you have to be open."

After Angel's performance, Coach Lea stood up as Coach Sharon observed, "for a 12-year old, tagos sa puso, gusto ko yung umpisa, damang-dama tapos ang high notes mo, maganda."

Coach Lea then commented "your trademark all throughout is your beautiful singing pero hindi lang yun, heartfelt singing na nagbibigay goosebumps sa nakikinig. You are getting better every time!"

Last to sing was The Voice Kids youngest contestant Yessha. The 7-year old from Cebu used to join singing contests and with her prize money, buy medicine for her lolo who has stage 4 cancer. Her mom relates how ever since Yessha was in her womb, her Lolo Jose has been sick. Coach Lea selected A Moment Like This for Yessha telling her "I want you to feel happy from beginning until the very end."

Yessha, upon being told that her grandfather would be watching her from the audience, turned emotional. She promised that even if she is the youngest, she will shock everyone with her performance.

After, Coach Bamboo told her "that was so cool, so cute coming from a 7-year old. Napakafearless mo, todo bigay, so impressive."

Coach Lea exclaimed "you continue to impress me, minsan nakakalimutan ko na seven years old ka lang. You are very mature, very focused, very consistent and emotionally connected, wala na ako masabi kung hindi, ang galing galing mo lang."

Voting was then officially opened for all FamiLEA members, with one phone number being entitled to one vote. Only the team member with the highest number of votes would advance to the grand finals.

All three teams Kamp Kawayan, Team Sharon and FamiLEA then joined their coach-mentors in the closing number mash-up of "Kaleidoscope World" and "Sama-Sama."

The first team to get its verdict was Team Sharon with 13-year old Antonetthe Tismo from Paranaque advancing as a young artist to the Grand Finals on August 28, with 58.36% of the votes.

Her other teammates Alvin Dahan from Davao got 32.98% while 11-year old John Carlo "JC" Tan from Tondo, Manila got 8.65%.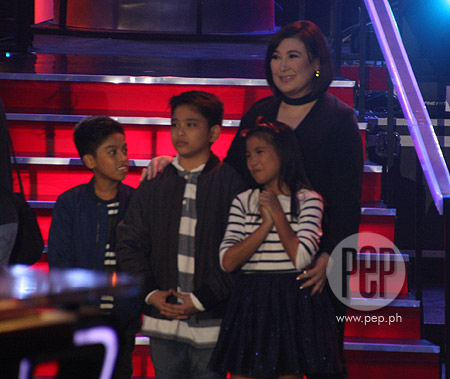 Kamp Kawayan, Bamboo's team, was the next team to get its results. Twelve-year-old Justin John Alva from Lucena bested his teammates with 47.08% of the votes.

Twelve-year-old Xylein Herrera from Boracay got 17.85% while Wyllian Heart Salvador, the 10-year-old from Muntinlupa got 35.12%.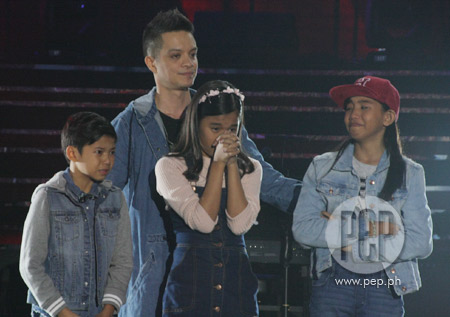 FamiLEA was visibly on-edge, with all the kids just holding their hands in prayer as their results were announced. Joshua Oliveros edged out Yessha and Angel with 56.15% of the votes while Yessha got 33.71% and Angel got 10.14%.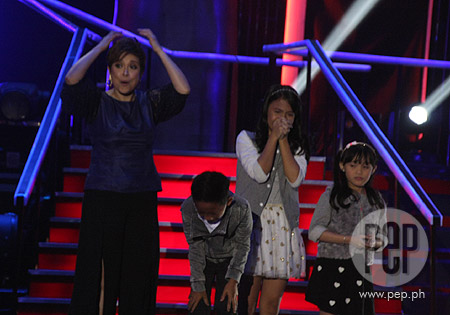 Hosted by Luis Manzano, Robi Domingo and Kim Chiu, the grand finals of The Voice Kids Season 3 will air next week.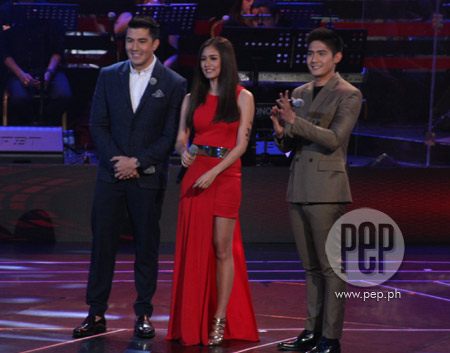 The Voice Kids hosts Luis Manzano, Kim Chiu and Robi Domingo