Aside from the entertaining love story of Happy (Heart Evangelista) and Juan (Dennis Trillo) in GMA-7's primetime series Juan Happy Love Story, it also featured several sexy scenes that definitely gave eye candy to viewers.
In fact, you might even want to blurt out, "Hot hot hot!" as you see Dennis's abs, or Kim Domingo and Heart's sexy, mestiza features.
Before the show airs its final episode tonight, September 2, let us take a look at some sexy and entertaining scenes from Juan Happy Love Story.


1. Juan becomes a hot chef as he teases his wife.
Juan (Dennis) would do everything just to cheer up his wife Happy (Heart), even though they have already parted ways.
This particular scene took place when Happy and Juan weren't granted adoption rights for Katkat, after the orphanage discovered that they are just pretending that they are still married.
Just to make his wife smile again, Juan gave her a cute bag and even cooked for her while wearing a white tank top and showing off his biceps.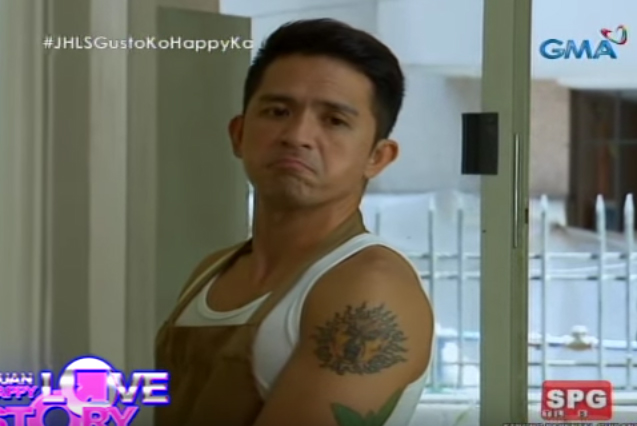 Later on, he teased Happy with his boxers with a smiley face printed on his butt area!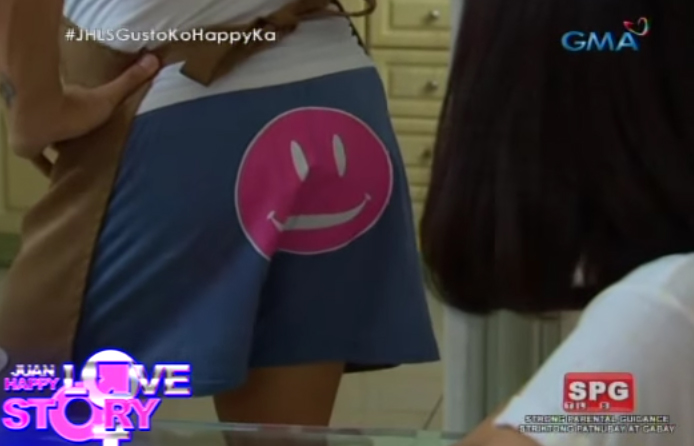 Unfortunately, these were not enough to make her smile again…

2. Agatha calls Juan "naughty"… as in "no tigas."
When Juan did not attend the birthday of his current girlfriend Agatha (Kim Domingo), she punished him with a twist.
She tied a half-naked Juan on her bed and then performed sexual acts.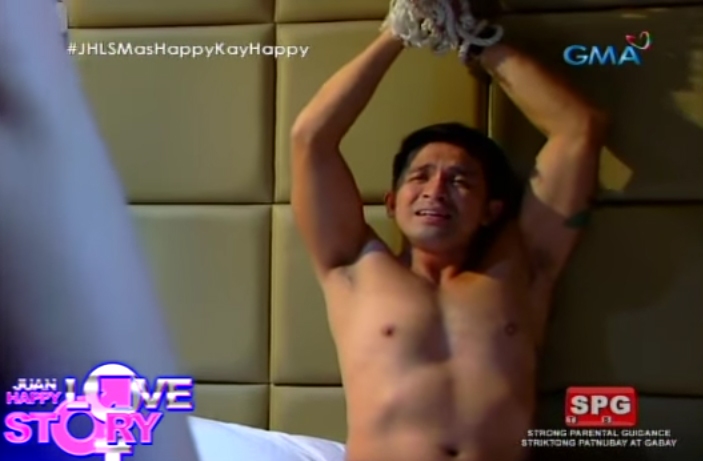 However, Agatha was disappointed after what happened!
She told Juan, "Kailan ka pa naging naughty?"
Juan clarified, "Naughty, as in pilyo, ganon?"
But Agatha exclaimed, "Hindi, naughty! As in, no tigas!"



3. Juan and Happy wake up together in one bed.
Months after their separation, Juan and Happy suddenly found themselves together again in bed: with Happy wearing a different shirt and Juan, half-naked.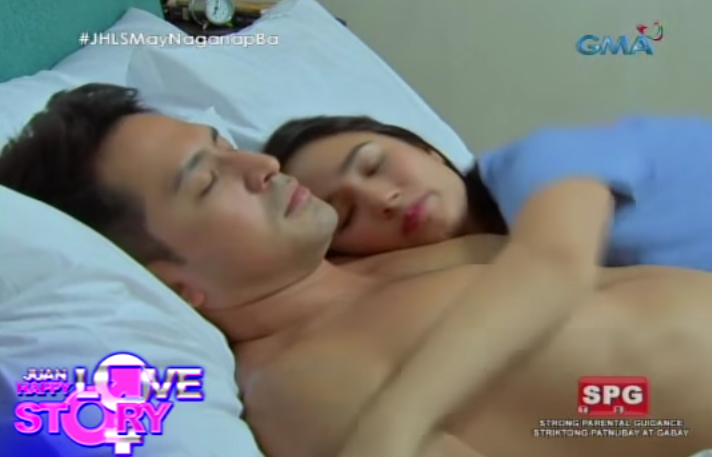 This made Happy furious and she got mad at Juan. Katkat then suddenly entered the room, wondering why they were shouting at each other.
Happy reasoned out, "Nakakita kami ng daga," describing it as very big.
Juan then naughtily asked her, "Talaga, ganyan kalaki?" probably referring to his manhood.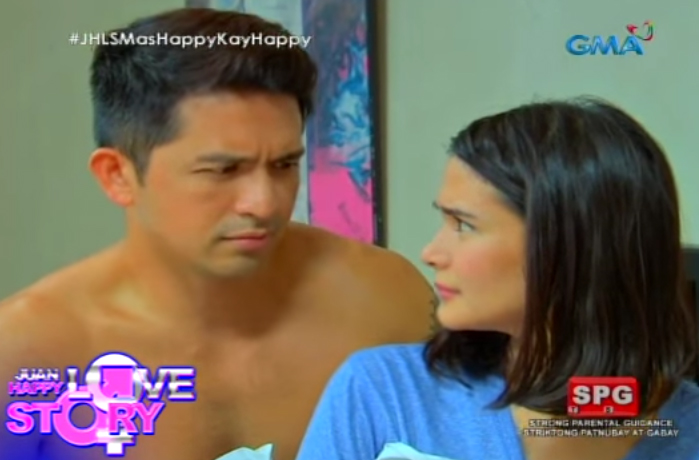 Happy was shocked by his insinuation.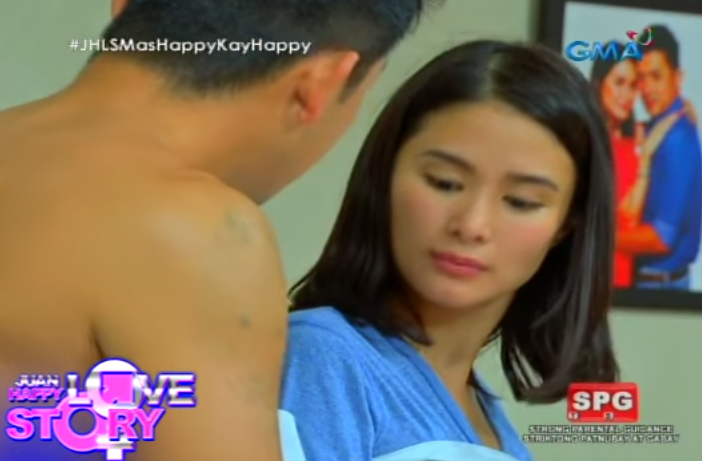 Katkat then asked them to kiss each other and they awkwardly gave in.



4. The truth on what really happened between Happy and Juan.
Happy, while having a conversation with her sister (Erika Padilla), was reminded by what really happened between her and Juan in bed.
Apparently, the two got so drunk after a night out. They naughtily surrendered to their desires in bed!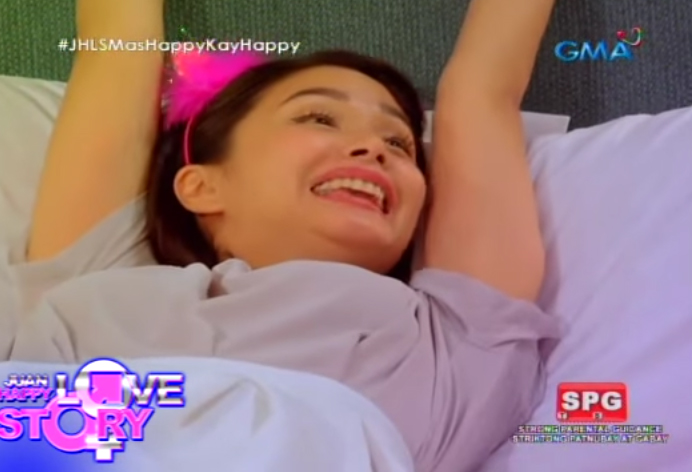 Juan told her, "Feeling ko para akong estudyante sa elementary, excited pumasok!"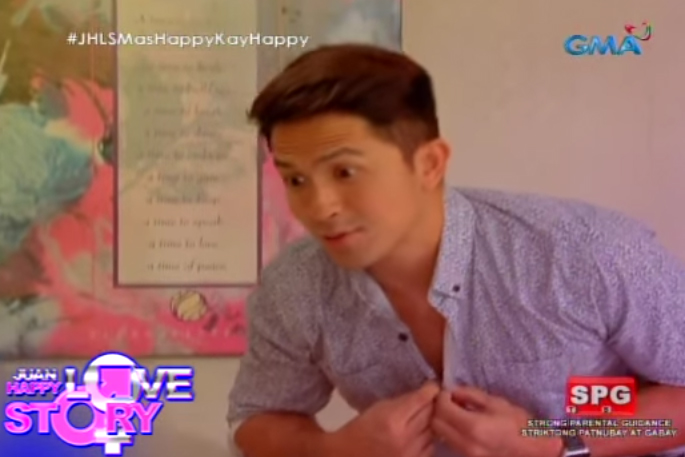 She then realized, "Diyos ko, ate, nilusob 'ata ang Bataan."
Her sister then answered, "Hindi nilusob. Sigurado ako na kusang sumuko!"



5. Agatha presents herself as a birthday gift.
Agatha made a very sensual presentation as she waited for Juan to arrive on her birthday.
She sprinkled everything with rose petals, played Kamasutra in her room, put on lotion, and even did several sexy poses while wearing her pink nighties!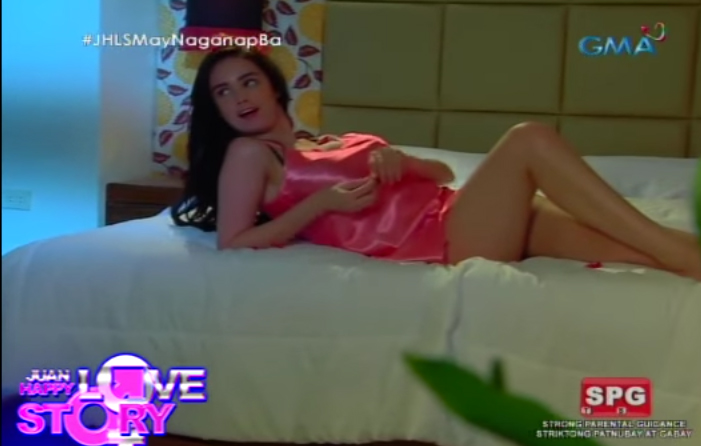 Unfortunately, no sign of Juan appeared on her doorstep.



6. Juan imagines his life living in with Agatha.
When Agatha asked Juan to live with her, the naughty guy imagined the (sexual) perks that he will enjoy with her!
See the satisfaction in Juan's face?


How about his excitement before taking a bath?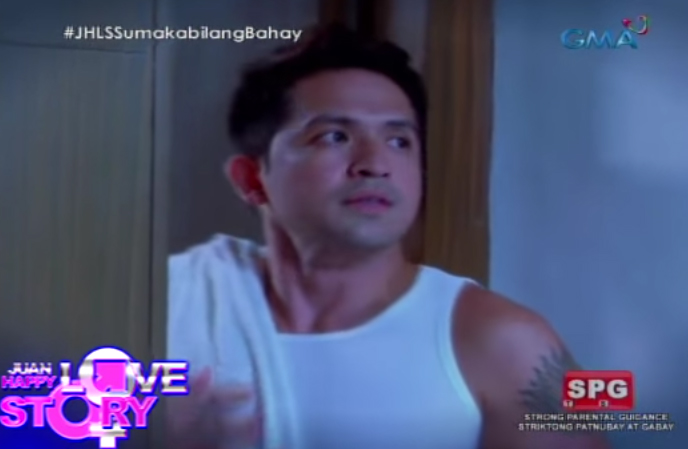 This video is more than enough to show these perks:



7. Happy suspects Juan's lunch meeting as… lunch mating.
If Juan has a wild imagination, Happy seems to have a much wilder one.
Her paranoia strikes when her friend tells her that Juan might not be in a lunch meeting… but could be doing a "lunch mating!"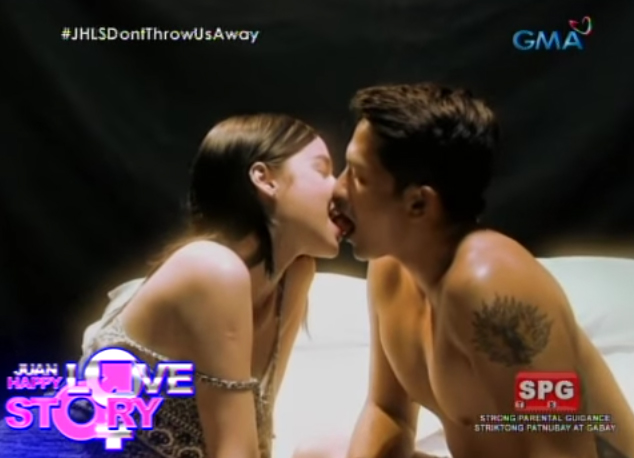 She then imagined Agatha and Juan making love while eating grapes!

8. Juan seduces Happy with his sweet, sexy presentation.
Because he is "kulang sa dilig," Juan also prepared thoroughly so he could seduce his wife to make love with him.
He practiced different positions, lit candles, spread rose petals on the bed, and showed off his abs.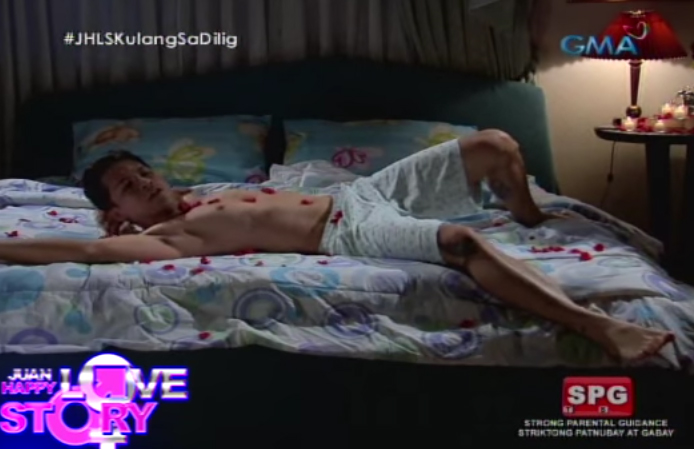 Unfortunately, when Happy arrived, she turned on the lights and asked him to read the adoption papers – which left Juan dumbfounded!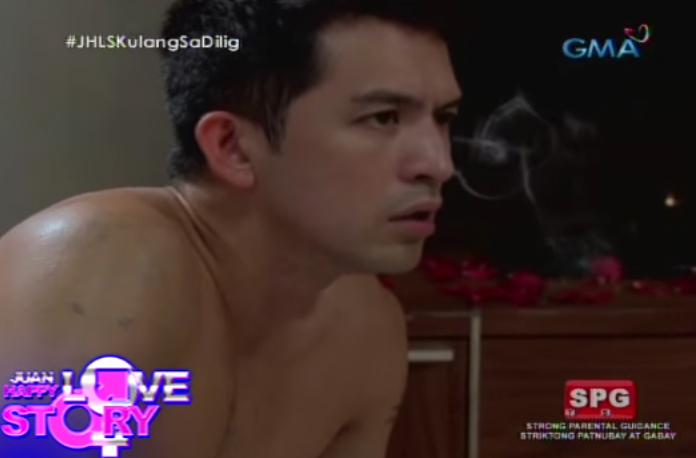 9. Juan and Happy make love after an argument.
When the two were able to settle their differences, the husband and wife were motivated to have their first child.
They teased each other sensually as Juan promised a night of "puro pleasure."
After exchanging sweet words for each other, the topless Juan took off Happy's bathrobe, and later on, took off his towel and showed his manhood to his wife.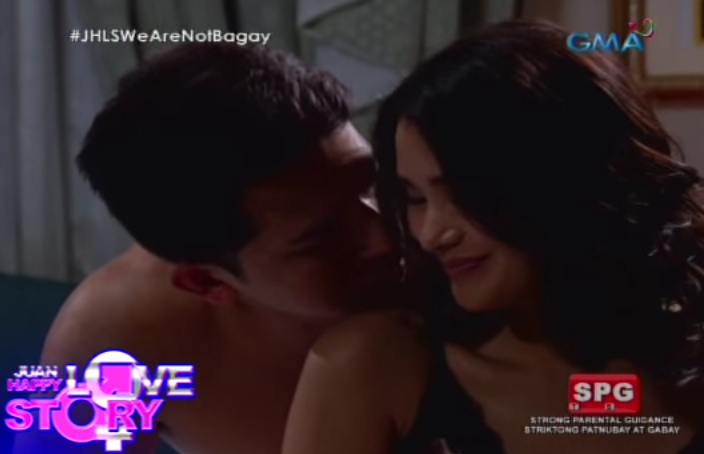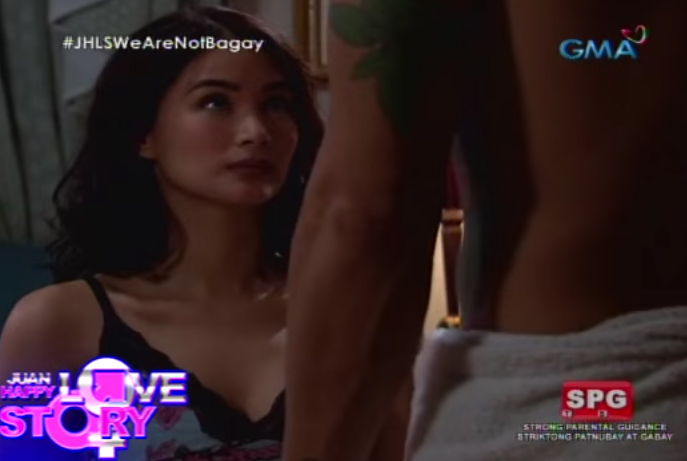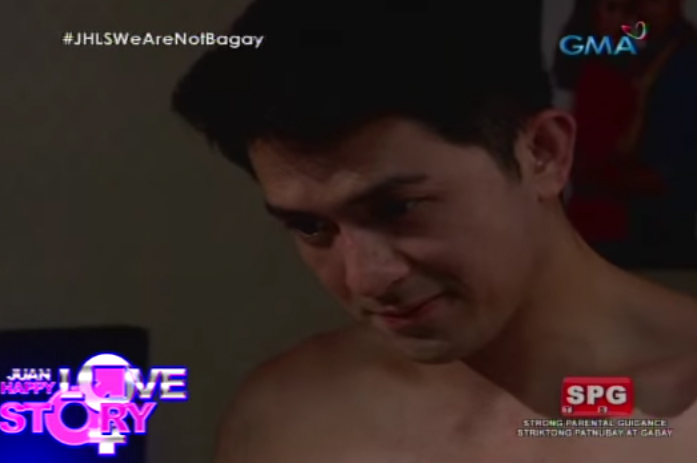 10. Juan and Happy's honeymoon turned into a disaster.
During their honeymoon, both Juan and Happy wanted to make it perfect.
As part of their preparation, Happy sprinkled flower petals, lit candles, and sprayed vanilla scent in the room.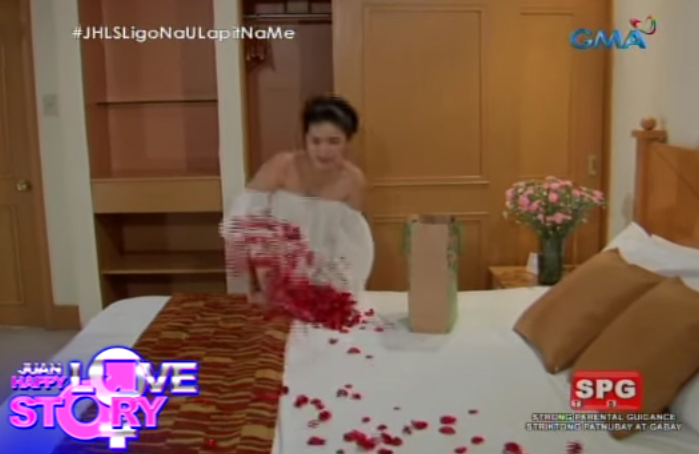 On the other hand, Juan did push-ups before removing his white sando and taking a bath.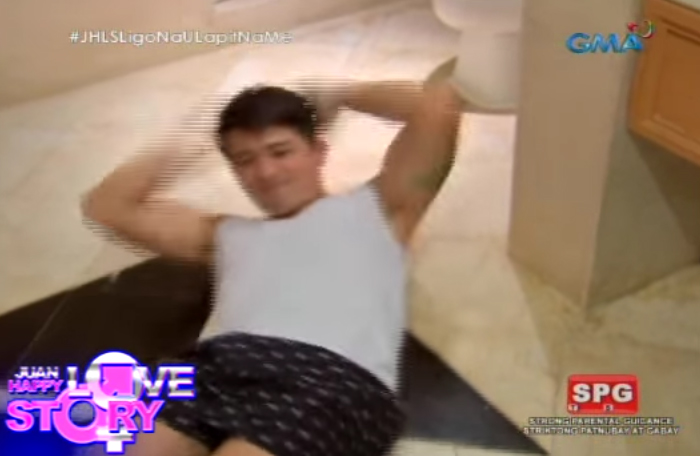 After taking a bath, the topless Juan was seduced upon seeing Happy's butt while doing her own preparations.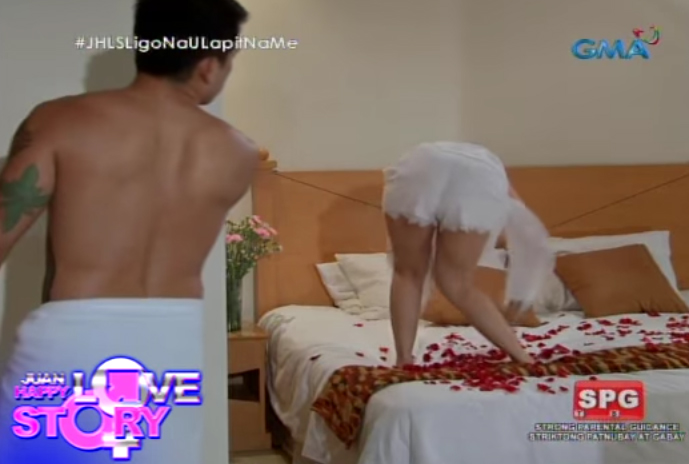 In no time, Juan came to Happy and started kissing her… until he sneezed and had allergic reactions because of the vanilla spray!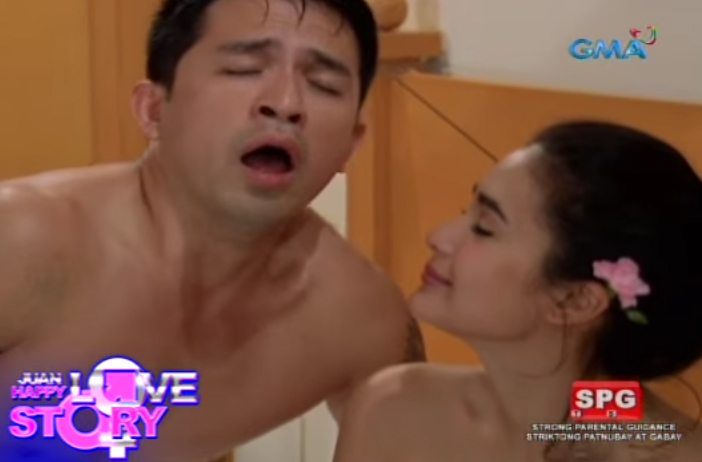 With the love story of Happy and Juan coming to an end, viewers will find out in tonight's episode if the two of them will have their own one happy ending.


PEPsters, what are your favorite scenes from Juan Happy Love Story?
Share your thoughts in the comments section below.


Recommended Videos