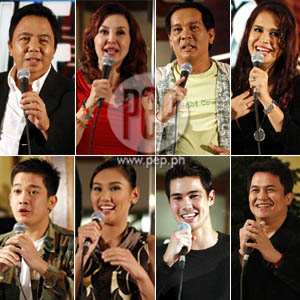 ---

Viewers can expect fun-filled nights once again on Saturdayevenings as the much-anticipated second season of Celebrity Duets airedits pilot episode last weekend. Last Saturday, August 23, celebrities fromdifferent fields graced the concert stage and delivered spectacular duets withsome of the country's esteemed music icons and singing superstars.
Celebrity Duets 2 has eight new contenders tojumpstart this electrifying season: Metro Manila and Development Authority(MMDA) chairman and secretary Bayani Fernando; actress and model MelanieMarquez; fashion designer JC Buendia; football player Phil Younghusband; beautyqueen Carlene Aguilar; celebrity chef JL Cang; beauty and wellness guru CoryQuirino; and host-comedian Joey Marquez.
A fresh set of judges has also been selected to complementthis new batch of contenders. Seated in the judges' panel this season aremusical director, composer and arranger Danny Tan; stage and TV directorFreddie Santos; and reigning Celebrity Duets champion TessaPrieto-Valdes. Singers Ogie Alcasid and Regine Velasquez also reprise theirroles as hosts.
For the opening performance, season-one contenders Tim Yap,Wyngard Tracy, and Manny Calayan as well as grand champion turned judge TessaPrieto-Valdes rocked the concert stage, singing VST & Company's "Awitin Mo"with season two's celebrity contestants.
ADVERTISEMENT - CONTINUE READING BELOW
After this exhilarating number, it was time for the eightcelebrity contenders to show the judges their vocal prowess.
Beauty title-holder Carlene Aguilar was the first to performwith a karaoke favorite, Gloria Gaynor's "I Will Survive." For her duet,Carlene was paired with singer-actress Agot Isidro.
"I was surprised," admitted judge Danny Tan, after Carlene'sperformance. "Hindi ko in-e-expect na gano'n ka kagaling," he told Carlene."Meron...may boses. Nag-duet kayo ni Agot, hindi ka nawala sa tono, and then yungfacial expression mo parang professional singer. Nasira lang nung in-introducemo si Agot," he laughed. "Pero otherwise, it was a good performance."
Tessa Prieto-Valdes seemed to have the same opinion. "Thisis the beginning, and you're like pa-buena mano," she observed. "I hope youlast longer than the other beauty contestants that we had in season one."
On Direk Freddie Santos' turn to speak, Ogie jokingly asked him to "be kind."
Freddie obliged and gave Carlene a good comment."You're very beautiful," he told the beauty queen. "Carlene, you can spell yourname with a K. May karapatan ka diyan."
ADVERTISEMENT - CONTINUE READING BELOW
Next to perform was actor-comedian Joey Marquez, whoconsiders singing one of his frustrations in life. For his celebrity duet,he chose Mike Francis' "Let Me In," singing with balladeer NonoyZuñiga.
"I love that song, and you guys sounded so macho," commentedTessa. "Very nice. I love it. Parang ikaw yung main singer. Back-up mo siNonoy," she jokingly told Joey.
As for Freddie Santos, "I'm speechless," he laughed. "I'msupposed kasi to comment on the presence, and the presence was present. 'Tsakaang lamig ng boses mo...ang lamig talaga," he added.
"Joey, hindi ko akalain na maganda pala yung boses mo," praised Danny Tan. "Mag-enjoy ka lang, more pa." He added, "Medyo parang tensedka. Pag ang notes mo [middleground] lang, okay. Pero nung tumaas ka, medyonasira. I was also pleasantly surprised na magaling ka pala, he told thecomedian."
Beauty and wellness guru Cory Quirino went next with Abba's"Dancing Queen." She chose this song, she said, because she believes she's moreof a dancer than a singer. For her duet, she was paired with the sultry diva,Vernie Varga.
ADVERTISEMENT - CONTINUE READING BELOW
"She has brought wellness to the show," laughed FreddieSantos. "Ang ganda ng chemistry niyo ni Vernie," added Danny Tan. "Kayang-kayamong lumaban sa kaseksihan ni Vernie. The performance was very fantastic. Angproblema lang, na-o-off mic lang minsan. Just be conscious with yourmicrophone," he advised.
"I love it," smiled Tessa. "Because may dancers sa likod andeverything," she exclaimed. She told Cory, "You just have to enjoy the show,and I can feel that you're enjoying."
Next to perform was half-British, half-Filipino footballplayer Phil Younghusband. Phil, who played for the Philippine national team inthe 2007 and 2008 South East Asian games, admitted that it's easier for him toplay football in front of thousands of people, than to actually sing in frontof ten. He was partnered with Aicelle Santos and chose the popular R&Bchart-topper, "Umbrella."
"You have a distinct quality," observed Danny Tan pointed."And it's good that you're singing current songs, which will really appeal tothe young audiences," he added. "Just be conscious, because you can carry atune definitely. And sustain."
ADVERTISEMENT - CONTINUE READING BELOW
"You're so cute!" exclaimed Tessa. "I can share my umbrellawith you! But you have to remember, this is a duet, so you kind of have tointeract with your partner a little bit. But you're just so cute. You can do nowrong," she teased.
Freddie Santos, however, went for hand movements to signifyhis comments. As he was citing his observations, he did some motions with histhumb, which slightly geared upward and downward as he gave one comment afteranother.
Finally, the formidable director remarked, "Not thumbs-up,not thumbs-down...thumbingi," he joked and pointed his thumb sideways. "But keepsmiling," he added.
Beauty queen and actress Melanie Marquez said she wants tomake people happy with her singing, and admitted her love for old songs. Forher pilot performance, she chose a Whitney Houston classic, "Greatest Love ofAll," and sang it with R&B prince Jay-R.
After her performance, Tessa shared, "I love the costume,"referring to Melanie's all-white ensemble. "Lend me your wig and the korona,ha? Share after," she joked.
ADVERTISEMENT - CONTINUE READING BELOW
"You do not need the dress, you do not need the burloloybecause you are so glowing entirely on your own," Freddie Santos told Melanie."Kung presence lang ang pag-uusapan, go with the naked truth."
Danny Tan: "Gustong-gusto ko yung confidence niMelanie onstage." But he advised, "Ang pagkanta kasi hindi kailangan lahatng word may hand movement, so dahan-dahan lang, konting bawas lang. [But] Ilove the stage presence and the confidence."
"At isang bagay pa," added Direk Freddie. "She's the firstcontestant na hindi naka-pako sa teleprompter."
Next was designer JC Buendia, who joined the competition to"unleash his inner geisha." Unknown to some, JC is the designer of Pres.Gloria Macapagal-Arroyo and is also a member of his church choir. JC choseRobert Palmer's "Simply Irresistible," which he sang with singer Randy Santiago.
"Ayon sa mahiwagang bolang kristal...," Direk Freddie paused,"may pupuntahan ka naman."
"Si JC, parang sinapian ngayong gabi," added Danny Tan,"kasi akala ko napaka-reserved ka na tao. Ngayon, I loved the energy. Ibangpersonality ka ngayon, so congratulations. Konting rapport pa with yourka-duet, medyo kulang. Mas interaction pa," he told the designer.
ADVERTISEMENT - CONTINUE READING BELOW
"Basta JC, may kasamang damit 'to, ha, after?" joked Tessa.But on a serious note, she said, "Alam mo, I know how hard it is to be there.First episode pa lang 'to. Next time, hasa ka na. Don't be nervous!" she toldthe designer. "Galing. We're all here having fun. That's the key."
Celebrity chef JL Cang went next with his duet of BrownmanRevival's "Ikaw Lang Ang Aking Mahal," with Freestyle's Jinky Vidal. Accordingto the chef, he joined Celebrity Duets 2 so that his friends can see himsing on television.
"Grabe ang confidence. Super grabe. Pinangatawanan talaga,"remarked Danny Tan of JL's performance. "Energy, okay. Performance, okay.Talagang hindi ka nahihiya, that's good. Tip lang, huwag ka masyadong tuminginsa floor. Madalas ka kasing tumigin sa floor, e," he observed.
"Parang I can feel myself," observed Tessa. "Sumayaw ka nalang, like me. Pero once in a while, mag-sing ka na rin."
Direk Freddie Santos opted to relate his comments tocooking. "Maybe a little undertime in the cooking. Another ten minutes at 350degrees would have done it better. But otherwise, you're like comfort food.Enjoyable," he pointed out.
ADVERTISEMENT - CONTINUE READING BELOW
Last to perform was MMDA chairman Bayani Fernando, whoconsiders singing an avenue to show his lighter side. He was pairedwith singer Renz Verano and chose Rico J. Puno's "Macho Guwapito."
After his performance, the MMDA chairman jokingly remindedthe judges, "They have to be a little kind to me. Otherwise, bakapaglabas nila, jaywalking kaagad sila." At this, everyone burst intolaughter.
"Excuse me, siya ang pinaka-maraming audience. Grabe,sobrang dami!" observed Tessa. "And you can sing," she told the chairman. "Goodjob. Galing."
"I enjoyed it very much-o," said Freddie Santos in a clearreference to Bayani's song "Macho Guwapito." Direk Freddie gave anuncharacteristically short comment, which prompted Danny Tan to ask thedirector why he seemed so hesitant to comment. At this, the audience laughed.
As for the Maestro's comment, he said, "Secretary, nag-enjoyako. Medyo may konting mali lang ng U-Turn minsan," he laughed. "Pero magandayung choreo niyo. May interaction kayo ni Renz. Maganda yung chemistry niyo.May gigil factor. Maganda." Then he interjected, "Huwag niyo na akong hulihin,"laughed the Maestro.
ADVERTISEMENT - CONTINUE READING BELOW
Catch another exhilarating episode of Celebrity Duets 2next week. The mechanics of voting shall be announced prior to the show. Likethe previous edition, this singing competition is 100 percent based ontext votes.
Celebrity Duets
2,directed by Louie Ignacio, airs every Saturday on GMA-7 after
Pinoy Records
.