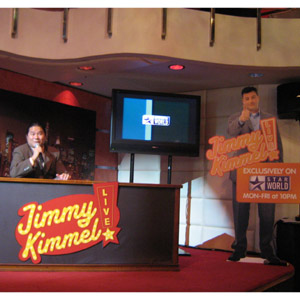 ---

Filipinos now have a chance to watch the crazy antics ofAmerican host Jimmy Kimmel as his late-night talk show debuts exclusively inAsia on Star World. The irreverent talk show Jimmy Kimmel Live! airsfrom Monday to Friday at 10 pm on Skycable Ch. 48 (Manila).
First aired in January 2003, Jimmy Kimmel's show used to airlive in the United States. However, when some guests used indecent language orbehaved badly-such as the time when Snoop Dogg flipped his middle finder on theshow-it was decided to have a one-hour delay between the taping and thetelecast. Jimmy Kimmel Live! is taped in El Capitan Theatre inHollywood, California.
During the Manila launch of the cable show, Gabe Mercadohosted the event and facilitated a game inspired by a segment on the showcalled "Guess What Animal's on Guillermo's Head." A blindfold is placed onGuillermo, who is actually the real-life parking lot security guard of the showJimmy Kimmel Live, and he is allowed to ask three questions regardingthe animal placed on his head.
In a similar fashion, a blindfold was placed over the eyesof a participant and he was allowed to ask three questions about the animalthat was placed on his arms. Among the animals that he was able to guesscorrectly was a crab, a hamster, and a rabbit.
During the press conference of the show held at SpicyFingers at Greenbelt 2 last week, Gabe Mercado asked Star World executives toexplain why they decided to bring Jimmy Kimmel Live! to the Philippines.
According to Star World's vice-president for marketing forSoutheast Asia Mimi Yusof, airing this late-night show in the country is ahistoric move. "We were brainstorming of ways to make our late-night viewershipeven better. We were brainstorming and we found out that Jimmy Kimmel is verypopular in the U.S. and Star World decided to bring this show to the country.We are actually the first broadcaster to bring Jimmy Kimmel outside of the UnitedStates."
ADVERTISEMENT - CONTINUE READING BELOW
Gabe Mercado asked the executives of Star World if theythought that this late-night show is too naughty for Filipino viewers? StarWorld's marketing manager Adel Chik pointed out: "Maybe not because I believeour Filipino viewers are very intelligent so I think we are ready for it."

The female executives also revealed that they have other big shows lined up forStar World. These include seasons of Desperate Housewives, Grey's Anatomy,Heroes, and American Idol.
Jimmy Kimmel Live! often features elaborate stunts,such as having Quentin Tarantino and Lost creator J.J Abramsguest-direct entire episodes. In 2006, Kimmel staged a stunt where it appearedhe had been bitten by a rattlesnake. Rushed to the hospital in an ambulance, he then inroduced his guests for the night--the cast of the medical drama Grey's Anatomy.
Aside from featuring A-list actors, Jimmy Kimmel Live!also focuses on athletes, musicians, politicians and comedians. Innovative andunpredictable, host Jimmy Kimmel also turns the spotlight on ordinary peoplewith unusual stories.
Jimmy Kimmel is famous for creating a faux fight between himand Hollywood actor Matt Damon. The TV host started closing his shows with thespiel, "Apologies to Matt Damon, we ran out of time," even thoughMatt was never scheduled to come on the show.


In September 2006, Matt Damon appeared as a guest, but after a lengthyintroduction by Jimmy, the actor sat down and Kimmel said they ran out oftime. This "infuriated" Matt and he went on to curse the TV host. His performance was so believable that many thought that he was truly upset. The two later confirmed that it was just an act.


On January 2008, Matt exacted his "revenge" by taking part ina music video with Sarah Silverman (Jimmy's then real-life girlfriend) wherein sheannounced that she had been "f*cking Matt Damon."
By February 24, Jimmy debuted his rebuttal videoannouncing that he's "f*cking Ben Affleck." The star-studded music videofeatured Harrison Ford, Brad Pitt, Cameron Diaz, Robin Williams, Loststar Dominic Monaghan, Joel and Benji Madden, Josh Groban, and ChristinaApplegate, among others. A gospel choir was also tapped to provide music forthe parody.
ADVERTISEMENT - CONTINUE READING BELOW