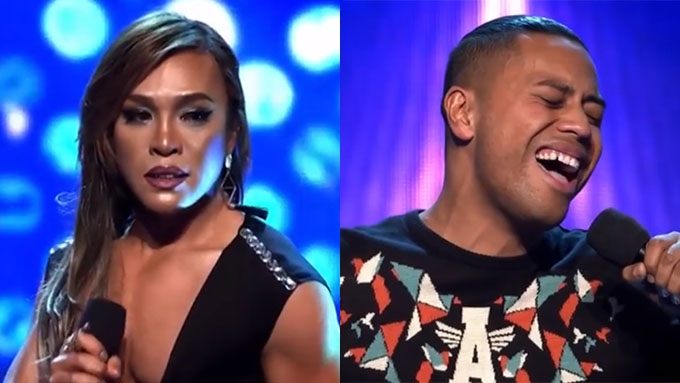 IMAGE Screengrab from The X Factor Australia Season 8
---

Filipino yoga instructor Miss Powers, whose real name is Andrew Mark Baris, advances to the next round of The X Factor Australia Season 8.
The 33-year-old drag performer gave an unforgettable audition and impressed the judges composed of singer Guy Sebastian, and new judges Iggy Azalea and Adam Lambert.

Miss Powers' audition aired on Monday, October 10, on Australia's Seven Network.
Before his performance, Miss Powers revealed that he has been staying in Sydney, Australia for over a year and a half. He has been teaching ballroom and Latin dances aside from yoga.

Miss Powers also described himself as "outside the box of a man and a woman."
Dressed up in a peplum top and tight-fitting pants, Miss Powers displayed his powerful vocals through James Brown's "It's A Man's Man's Man's World."

Their jaws dropped upon seeing Miss Powers perform a split during the first part of his performance.
Former American Idol contestant Adam told the aspiring singer, "Well, Miss Powers, I was surprised. I didn't know what to expect but that was a bit firework of an entry. You dropped-split on that first note and I was like, 'Damn!' I was really surprised and very entertained."
Iggy was also entertained and said, "We've seen a lot of performances and I think this is the most entertained I've been all day and I don't mean that in a gimmicky way at all. I think that you truly have a strong vocal and you are great."
Guy also commended Miss Powers for his performance. He said, When you opened the song with a split and not just the split, you like jumped in on those split and hit the note, that was hands down the best opening to any audition I've ever seen!"

He later added, "Thanks for making me realize how not flexible I am."
ADVERTISEMENT - CONTINUE READING BELOW
Ultimately, Miss Powers received three yeses from the judges. Watch the performance below:



Aside from Miss Powers, Australian singer Naisa Lasalosi also made it to the next round of the singing competition.

Before his performance, Naisa recalled his experience in the Philippines where he spent two years as a missionary for their church.
The 22-year-old Aussie admitted, "All I ever dreamed of is to be here on X Factor. Being on stage, singing, lights, camera, all that jazz."

He continued, "Being on a mission, I put my dream on hold for two years so getting through to the next round means a lot to me."
Naisa gave an emotional performance of Bonnie Raitt's "I Can't Make You Love Me" and received three yeses for his rendition.

Guy appreciated his performance and said, "I think you're amazing. I think it sounded current to me, and really heartfelt, and your falsetto is beautiful. Man, you're gonna do really well."
Iggy added, "It really seemed like you were connected with what you're singing and there's no need for the big showiness. We can all see that you're immensely talented and I thought you did a great job."
Before joining the competition, Naisa joined ABS-CBN's talent search I Heart OPM hosted by Anne Curtis this 2016.

Naisa made it to the Kapamilya show's Top 8 while South Korean singer Yohan Hwang emerged as the winner.


Watch his audition on X Factor Australia below:

Two Filipinos have already won The X Factor Australia.

In 2014, 16-year-old singer Marlisa Punzalan became the youngest champion of the competition after winning its 6th season.

The following year, 20-year-old crooner Cyrus Villanueva won the title.



ADVERTISEMENT - CONTINUE READING BELOW