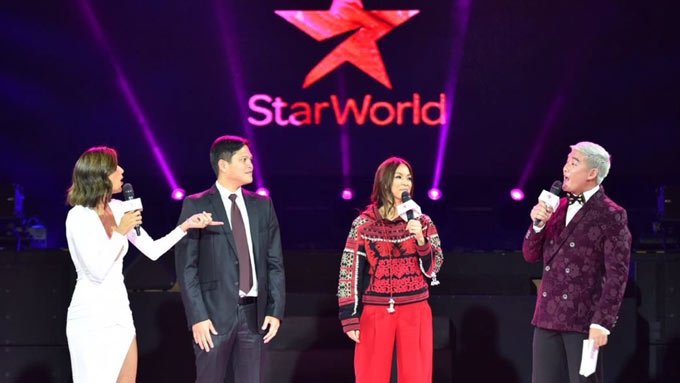 ---


Star World rolled out its lineup of new TV shows for 2016 to 2017 during the Star World Gala held at Valkyrie in BGC, Taguig last October 12, 2016.

The well-heeled and well-dressed in Philippine society came out to party, including Bianca King, Cristalle Belo-Pitt, Phoemela Baranda, Aubrey Miles and Troy Montero, Ehra Madrigal, and Tom Yeung.
Hosts Joey Mead-King and Tim Yap hosted the stylish affair.

According to Jude Turcuato, General Manager of Star World, viewers can look forward to more local content that will capture the diverse personalities of the Asian market, as well as favorite international shows including Scandal, Once Upon A Time, and Master Chef.

Leading its programming are premium dramas, comedies, and reality shows such as the following:
The Voice
Now on Season 11, America's The Voice has introduced a shake-up: two dazzling female singers who will serve as coaches in the persons of Miley Cyrus and Alicia Keys; they join Blake Shelton and Adam Levine find the most talented singers in the United States. Join the search and sing along to tunes in a variety of genres. Up-to-date episodes of The Voice Season 11 can be expected every week.
She Said Yes!
Filipinos go all out for weddings. And every bride finds fulfillment of her dream in the details: from the dress to the destination. This local series focuses on celebrity weddings as only they can be found in the Philippines. Witness the magical occasions in the lives of the silverscreen's celebrated and society's social set on "She Said Yes!"
ADVERTISEMENT - CONTINUE READING BELOW
Tasty Travels
International lifestyle blogger and media darling Cheryl Tiu takes us with her on her many epicurean-fueled trips on Tasty Travels. Through her, find yourself surrounded by the finest ingredients prepared to meet the most exacting of standards anywhere in the world. All without leaving your seat—or maybe motivating you to go out and explore!
Bag Hag Diaries
Ingrid Chua-Go is back for the second season of her hit Bag Hag Diaries. You loved her drool-worthy arm candy and jet-setting ways. The best part is pretending that you're right there, sharing her adventures! This season, gear up for more encounters in the posh and luxurious environs of haute couture.
The Fat Kid Inside
The gorgeous and skilled with a skillet Erwan Heussaff is once again back to breathe life to his ultra-successful blog spin-off The Fat Kid Inside. Get more insights on how to lead a healthy, well-rounded life—and how not to miss out on the delicious experiences either. Life peg? Absolutely!
Four Girls and A Bucket List
A travel show with a huge dose of adventure and fun, Four Girls and A Bucket List is a reality show that takes Asian celebrities Andrea Fonseka from Malaysia, Patricia Gunawan from Indonesia, Cara Grogan from Australia, and Aubrey Miles from the Philippines on various trips, depending on their bucket lists, all over the archipelago of Indonesia.
Girl on TV
This magazine show takes you to the heart and soul of everything pop culture now. Appealing to the tastes and trends of millennials, it tells the stories that are on everyone's mobile screens and minds.
ADVERTISEMENT - CONTINUE READING BELOW

Star World is available in 11 million homes, reaching 17 countries and territories across Asia and the Middle East.