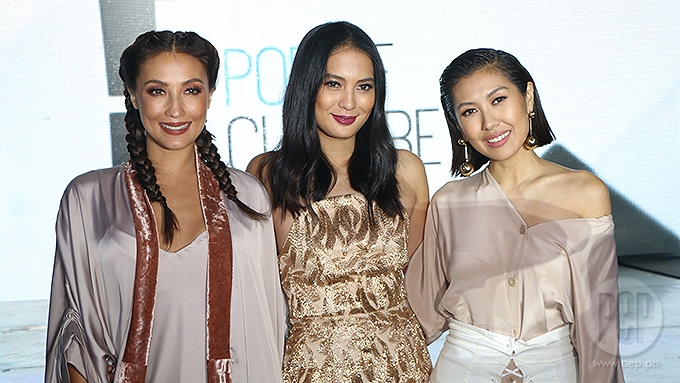 IMAGE Nikko Tuazon
---

For the first time, the country's top celebrity BFF squad—composed of Liz Uy, Solenn Heussaff, Georgina Wilson, and Isabelle Daza—will be opening up their lives for a reality show titled It Girls!

The reality show, directed by Raymond Gutierrez, will be aired on E! Asia starting this October 24.
PEP.ph (Philippine Entertainment Portal) and other members of the press got to know more about the reality show during its launch held on October 18 at House Manila in Pasay City. Unfortunately, Georgina was not present during the event.
The "It Girls" were excited to open up their world to fans through the reality show.

The ladies also pointed out what viewers can expect from the TV show.

Liz quipped, "You'll see all of my OOTDs!"

On a serious note, Belle said, "You'll have to watch! It's basically just following our lives."
Solenn continued, "Following us around, based on the really of things and may be for women or girls to get to know us on a more normal level like we're just like everyone else. We have our own problems but everyone will be able to relate to them, as well."
However, one of Philippine entertainment's favorite It Girl is missing from the show—ABS-CBN actress Anne Curtis.

When asked about the absence of the actress from the series, Belle explained, "Anne is tied right now with another [cable] network so she couldn't be on the show."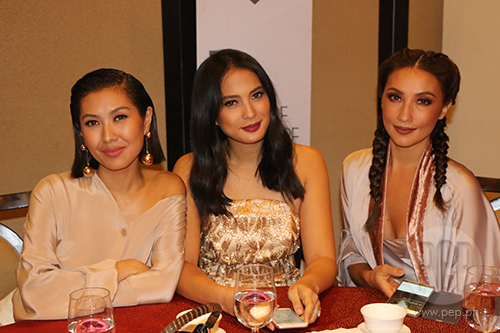 ADVERTISEMENT - CONTINUE READING BELOW

IT GIRLS. To those not familiar with the term, it was Georgina who was first hailed as an "It Girl" back in mid-2000s. At that time, she became close to Liz Uy who was her stylist. Solenn met the others through Georgina. Meanwhile, George and Belle grew up together since they're cousins. Later, their circle of friends were dubbed as "It Girls."
Solenn recalled, "Basically they started calling us the It Girls a while back I think it's because our barkada is formed with I think 8 girls, all in all, or 9 girls. And we're all kind of successful in our own way but we're all genuinely really close friends. We don't try to over step each other or anything."
Do they feel the pressure on being dubbed as an "It Girl"?

Solenn answered, "I don't think we're really pressure because that's why we're called It Girls because we just wake up and do our thing. Because the moment you try too hard then it's downfall from there."
Belle, for her part, explained, "I don't feel pressured because, again, we don't wake up and think like, 'Uh, what does an It Girl eat today?' You know what I mean? We just do our thing and people are interested and we're so grateful."

She added, "Basically, it's also like not taking yourself too seriously and not trying to be someone you're not."
Liz ended, "You have to be really genuine about what you like, what you do, what you wear."
ADVERTISEMENT - CONTINUE READING BELOW
What's the best thing on being an It Girl? Liz answered, "I think the best is when you inspire other people, when they aspire to be one."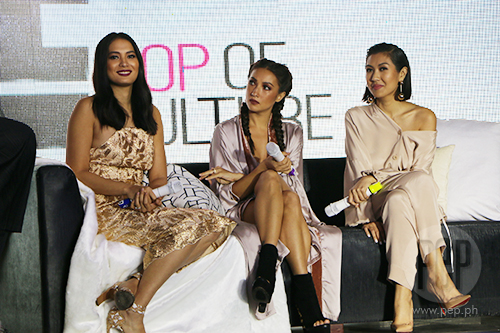 REEL TO REAL. One of their closest friends, Raymond Gutierrez (who is part of the reality show of his family), directed the 30-minute six-episode series.

With him working behind the camera, Belle and the rest of her squad became more comfortable being followed by cameras wherever they go.
The Tubig At Langis actress acknowledged, "It's very interesting, it's all of our personalities coming out. I think, just to add to that, a lot of us wouldn't have been comfortable if it wasn't Mond behind telling us, you know."
Liz added, "Especially for me, I'm behind the scenes and they're all actresses." The fashion stylist even recalled one instance when she broke down in tears while in Paris.

She narrated, "I was crying and then I heard Mond say, 'Roll!' [I'm like], 'I'm gonna kick this camera Mond.'"
ADVERTISEMENT - CONTINUE READING BELOW
Except for Liz, the other stars of the reality show are already married.

Solenn married her longtime partner Nico Bolzico last year in France. Meanwhile, George and her husband Arthur Burnand early this summer in the UK. Belle was the latest It Girl to tie the knot with busineman Adrien Semblat in Italy.
With this in mind, PEP asked Liz if her fans are going to see her going out on a date on the reality show. Liz revealed, "You know, they set me up on a blind date but that's all I'm gonna say."
When asked how Raymond is as a director, Liz said, "He's very easy, I feel like he knows each and every one of us."

Solenn observed, "Good traits, bad traits, so he knows what to highlight."
Belle added that directing might be Raymond's "calling." She explained, "I think this is his calling, seriously. He's everything and he's this creative genius like he looks at what we wear and he tells us, 'You know, you should wear something cuter for the shot.' He has an opinion about the whole thing!"
Solenn disclosed, "Actually, he always tells us to dress down!"