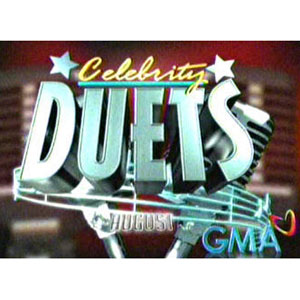 ---

The electrifying second season of the singing competition CelebrityDuets continued as the eight celebrity contenders performed another set ofsongs that shall be the basis for eliminations starting next week.
The eight celebrity contenders: Metro Manila and DevelopmentAuthority (MMDA) chairman and secretary Bayani Fernando; actress and modelMelanie Marquez; fashion designer JC Buendia; football player PhilYounghusband; beauty queen Carlene Aguilar; celebrity chef JL Cang; beauty andwellness guru Cory Quirino; and host-comedian Joey Marquez took the concertstage once again, this time singing with a different celebrity partner. The celebrity contenders did their best to impress the judges with their production numbers during the August 30 episode of Celebrity Duets 2.
The panel of judges—comprised of musical director, composerand arranger Danny Tan, stage and TV director Freddie Santos, and reigning CelebrityDuets champion Tessa Prieto-Valdes—gave a mix of positive and negativecomments after each celebrity performance.
First up was the ever-statuesque Melanie Marquez who sangthe jazz staple song "Fever" with the sultry diva Vernie Varga. For theirperformance, the femme duo came out looking particularly sexy in striking redgowns and carried most of their duet amid an equally fiery couch backdrop.
Melanie's production was received well by the judges. "Ithink dapat pinapanood ka ng mga amateur singers na sumasali sa contests,"remarked Danny Tan. "Kasi right from the start, in character ka. Hindi kanawawala sa character. That's very good for a performer. For that, bilib akosa'yo," he told Melanie.
Tessa Prieto-Valdes was her usual vivacious self and gave anequally cheerful comment. "Viva! Sizzling hot!" she exclaimed. "Buti na langnanalo na ko. Kasi kung last year sumali ka, naku...tight competiton. Keep itup!" she praised Melanie.
But despite the all-out production number, judge FreddieSantos wasn't really convinced. "Kung pwede lang talaga, sana may remotecontrol ako at na-mute ko," he criticized. "Kasi alam mo, ang ganda talaga nungsense of production pero feeling ko na-distract ka sa dami ng nangyayari," hetold the beauty queen. "Yung music na-backseat tuloy," he observed. "Wag mongpabayaan na yung production aspect mag-overwhelm sa singing mo."
ADVERTISEMENT - CONTINUE READING BELOW
Celebrity chef JL Cang went next and sang APO HikingSociety's "Yakap sa Dilim" with singer and actress Agot Isidro. Tessa found hisperformance okay. "Mas masarap yung luto mo ngayon compared to last week," shesaid. "Pero kulang pa rin. Parang kulang ng seasoning," she reasoned.
"Mukhang iba talaga yung panlasa ko," countered FreddieSantos. "Wardrobe, better...song choice, better...voice, better...performance, betterlast week. This week, not-so-better. You need more butter to make it better,"he told the chef.
The singing chef, who was praised for his energeticperformance the week before, unfortunately went through a lyric blip last week,which for the most part didn't go unnoticed by Danny Tan.
"Wag mong papahalata na nagkamali ka, kasi tumingin ka samusicians, so parang, 'uy mali'," he said. "But then what you lack inmusicality - which means na hindi naman masyadong masama, nasa tono naman -nababawi mo sa performance. At yun ang plus factor mo. Mayroon kang charm," hetold JL.
MMDA chairman Bayani Fernando, who was also praised lastweek, was paired this week with the singing doctor Nonoy Zuniga. Both donnedmatching coats and gave a jazzy performance of the '70s song, "You'll NeverFind Another Love Like Mine."
"Grabe yung mga fans niya!" cried Tessa, referring toBayani's large and lively audience. She jokingly told the chairman, "You haveto last until the end kasi kung hindi, wala ng tao dito sa audience."
"Nadala na rin, 'e," said Direk Freddie. "Kasi napansin koyumuyugyog na ngayon si BF. Last week, talagang nine-nerbyos pa, 'e. Aba,ngayon may kasama ng shakey-shakey," he reasoned. "Okay 'to ha. I think finallyyou're starting to really warm up to this, which means you can only get betterfrom this point."
"Ang problema lang is," Danny Tan counteed, "siguro dahil sakaba, nakakalimutan paminsan ang lyrics. Pero nakakabalik naman kaagad sakanyang linya...sa kalsada," he praised. "Maganda yung kanyang pagka U-turn ngayon.Definitely, you have one of the best vocals dito sa competition. Very stable."But he advised, "Maning-mani sa'yo yang kantang yan, so I expect something newand something challenging next time."
ADVERTISEMENT - CONTINUE READING BELOW
Next was half-British football player Phil Younghusband whoperformed with R&B Prince Jay-R. The two singing heartthrobs wore similarpreppy attires and sang Andrew Gold's "Never Let Her Slip Away."
Tessa was undeniably cheering and hooting after Phil'sperformance. "That song is so cute, and you're so cute! I hope you last alsountil the end, okay?" she told Phil.
With his more relaxed singing, it seemed that Phil'sperformance was enough to convince Direk Freddie. "You came on there, youenjoyed yourself, you gave yourself focus...This time around, the thumb is allthe way up for you," said the judge, who didn't approve of Phil's performancethe week before.
"You're more relaxed tonight, better than last week,"observed Danny Tan. "When you're relaxed, you tend to perform better." Headded, "I think all you have to do is stand there, and you get all the votes,"he joked. To this, Tessa laughed heartily.
Beauty queen Carlene Aguilar performed next with SOP'sAicelle Santos for the Colbie Caillat song "Bubbly." Not only did the girlsblended vocally, they also meshed well on-screen because of their matchingprinted orange halter-tops.
But still, Direk Freddie told Carlene, "Mag-ingat ka sapagpili nung kanta. Don't just pick a safe song. This song should've gonesomewhere," he told the Bb. Pilipinas-World title holder.
Danny Tan added, "Nung nag-duet sila, I couldn't tell kungsinong nag-second voice at kung sino nag-melody." He told Carlene, "which meansparang nag-harmonize yung boses niyo."
Tessa seemed to have the same positive opinion. "It was socute!" she happily exclaimed. "Aicelle has super voice. And you kind of blendedwith her, which is good. Give your all. Perform like it's your lastperformance," she advised.
Designer JC Buendia, however, opted for a different kind ofperformance. Besides designing a custom-made gown for his partner Jinky Vidalof Freestyle, he also sang a Broadway classic from West Side Story titled"Tonight."
ADVERTISEMENT - CONTINUE READING BELOW
But JC's Broadway effort didn't go all too well with thejudges. "I think you were pushing too much vocally," Danny Tan pointed out. "Soparang, nagsha-sharp, nagfa-flat...mostly sharp. Konting control. Wag masyadongmang-gigil," he told JC.
"Too early to sing naman broadway," Tessa remarked. "Anghirap! Stay away from ballads. I know how that feels. Siguro mag-ballad ka inthe middle, okay?"
As for Direk Freddie, "Very brave. Very courageous. Veryadmirable. Deserving of a national heroes' holiday," he joked. "[Pero] nakikitako sa mahiwagang bolang kristal," he jokingly massaged his clean-shaven head,"mukhang tatagal ka pa dito," he told JC.
Beauty and wellness guru Cory Quirino stepped up to the gameand sang "Bailamos" with Jukebox King Renz Verano. Cory and Renz pulled aLatino-inspired number—with Cory wearing red roses in her hair and Renz in ablack tuxedo holding a single-stemmed red rose. To complement their production,back-up dancers also filled the stage.
But for Freddie Santos, the grand production number didn'tcompensate for the lack of vocal power. "Pretty much the same thing na sinabiko kanina tungkol kay Melanie," he said. "Do not let the production overwhelmyour singing. Kasi first and foremost, musical contest pa rin ito. Pero magandayung chemistry niyo ni Renz," he told Cory. "Alam mo pag nag-swak ka dun saka-duet mo, usually that is enough, 'e."
"Performance-wise, wala akong problema kasi veryprofessional," remarked Danny Tan. "You're a pro, wala akong masabi. Just becareful with vocals. Kasi mas malinis last time. Ngayon mas maraming off. Perocarry pa rin kasi the totality of the performance was really engaging andmesmerizing," he reasoned.
But Tessa praised Cory anyway. "You look great! You'rewonderful, wonderful, wonderful," she told the wellness guru. "And please ha,the borloloy's important...very important. I like borloloy." On Cory's props, sheremarked, "I like the flowers. I like the drama. I like the ending. Keep itup!"
ADVERTISEMENT - CONTINUE READING BELOW
Last to perform was comedian and actor Joey Marquez. He gavean energy-laden performance of "Babaero" with the song's original singer-hispartner Randy Santiago.
Danny Tan noticed the improvement in Joey's performancelevel. "Mas nag-enjoy ka sa performance ngayon. Mas relaxed ka, so mas gumandaang performance mo. Mas loose, mas nakaka-affect sa amin na nag-e-enjoy dinkami panoorin ka."
"Next to Phil, I also like you," shared Tessa. "Ang galingmo! I love that song. It's so bagay. Talagang this is Celebrity Duets! Galingkayo mag-duet," she told Joey.
"I think isang bagay na makikita natin buong gabing 'to,yung kahalagahan ng pagpili ng kanta," Direk Freddie pointed out. "Kasi numberone, kung yung kantang pipiliin mo nakaka-relate ka katulad ng kantang 'to," hejoked, "napansin mo, ang kapal nung conviction of truth nilang dalawa. Nilangdalawa, hindi lang ng isa. Halatang-halata, may truth," laughed the director.
Next week, the first round of eliminations shall take placeon the concert stage as the voting lines have officially been opened. Don'tmiss another exhilarating episode of the musical competition Celebrity Duets2 next week after Pinoy Records on GMA-7.