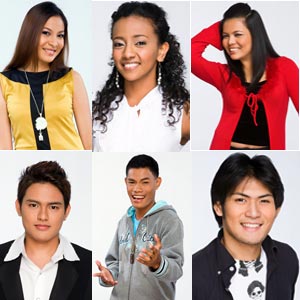 ---

Pinoy Dream Academy Season 1 launched the careers ofmulti-platinum artist Yeng Constantino and singer-turned-actor Jay-R Siaboc.Can the final six scholars of Pinoy Dream Academy Season 2 reach (oreven surpass) the achievements of their predecessors? PEP (PhilippineEntertainment Portal) gives the lowdown on the remaining contestants of theABS-CBN singing reality show.
Jay "Bugoy" Bogayan
Hometown: Camarines Sur
The Farmer's Son
Named Top Scholar for the week: five times
Forget the rumors about his sexuality or the unnecessarycomments about his less-than-appealing looks. Jay "Bugoy" Bogoyan is, without adoubt, is the competition's best male vocalist. What's even more exciting ishow Bugoy had no previous singing background. This 18-year-old collegeundergraduate is the only scholar who managed to break Liezel Garcia'sthree-time Star Scholar run. Bugoy also has the distinction of having thehighest score for a trio performance ("Yesterday," with Van Pojas and HansenNichols) and a duet ("Muli" with Vina Morales). While Bugoy is only second toLiezel in terms of score average, he is so far more consistent; having beenexcluded from the top three only twice.

At his best, Bugoy is an engaging performer with the most mesmerizing voice. Infact, his "I'll Make Love To You" and "Yesterday" are perhaps the season's mostmemorable and successful performances to date. At his worst, as in hisrendition of "Nakapagtataka," he still managed to impress the judges. Hisdiction and stage presence are his most obvious waterloo, but these neverhindered Bugoy from delivering a show stopping performance.
Liezel Garcia
Hometown: Dubai
Pride of Puerto Galera
Named Top Scholar for the week: five times
On paper, Liezel Garcia is already the clear-cut winner ofPDA Season 2. She has the distinction of being the first Star Scholar of thecompetition; in Season 1, it was Yeng Constantino who got the highest score,and everyone knows that she went on to become the most successful alumna of thefirst batch. Liezl has the highest score average and has been named StarScholar the most number of times. Yet, while Liezel is arguably one of the twobest female vocalists in the competition, she lacks the confidence as a singerand as a potential celebrity. Liezel also failed to sustain her winning streakat the latter part of the contest. But, despite these, the Pride of PuertoGalera is still one of the favorites to win this competition.

Although Liezel lacks stage presence, making her latter performancespredictable, her voice more than makes up for it, judging from her rousingrenditions of "Listen," "Count On Me," and "So Much Love." Even her lesssuccessful songs earned praises from the judges, proving that, even with herleast inspired performances, Liezel has the making of a true singer.
ADVERTISEMENT - CONTINUE READING BELOW
Laarni Losala
Hometown: Sultan Kudarat
The Independent Woman
9th Gala Night Star Scholar
On Probation: twice
Laarni Losala was more popular for her onscreen antics thanher singing. Earlier in the contest, Suldan Kudarat's "The Independent Woman"was under fire due to her numerous crying fits and arguments with a number ofher co-scholars (particularly Iñaki Ting and Bea Muñoz). But while she managedto land in the weekly top three prior to the announcement of the Headmaster'sList of Ten, Laarni made her mark during the 7th Gala Night, with her flawedbut nonetheless remarkable rendition of "Di Ko Kayang Tanggapin." It wassurprising that Laarni was able to make the April Boy Regino hit sound freshand exciting. However, it was more surprising that the mentors failed torecognize Laarni's efforts when she was nominated for probation for that samesong. Thanks to the face-off challenge, she was nominated for probation despitegetting the fourth highest grade for that week. But the mentors chose to saveBunny Malunda, that week's lowest ranking scholar, instead, earning the ire ofloyal viewers.
That Laarni got the highest percentage of text vote for thatnomination (an overwhelming 72.74 percent, a remarkable gap considering MiguelMendoza, who had previously managed to score an impressive text vote lead ofhis own, was also on probation that week) is a clear indication that the votersfelt she did not deserve to be on probation. An even more impressive feat:Laarni is the only scholar besides Jay Bogoyan and Liezel Garcia to get thetitle of Star Scholar for an individually-graded performance. Forget that herversion of "Bohemian Rhapsody" was forgettable. At her best, Laarni is clearlyone of the few scholars in the Academy who deserves to be called Grand StarDreamer.
Miguel Mendoza
Hometown: Muntinlupa
The Romantic Crooner
Part of the 1st Gala Night Top Three scholars
On Probation: three times
Viewers expected great things from Miguel Mendoza, thisseason's contestant with a previous reality singing show background(reminiscent of PDA Season 1's Ronnie Liang). After all, he managed to finishfourth in ABC-5's Philippine Idol. So it's frustrating that Miguel, oneof the contest's early frontrunners, struggled to reach the final six, as ifhis experience on stage didn't give him any advantage. Miguel's bestperformance so far was during the 1st Gala Night, when he sang Luther Vandross'"A House Is Not A Home." Afterwards, however, he failed to follow-through, ashe consistently gave safe, predictable, and bland performances of not sowell-known ballads.
ADVERTISEMENT - CONTINUE READING BELOW
Even the grade of 9.06 Miguel received for his trioperformances with Laarni Losala and Apple Abarquez was not impressive;performance master Joey Reyes felt the trio's diverse personalities wereevident onstage. He was also constantly outperformed by vocally-weak contestant(like Christian Alvear and Iñaki Ting). And even his "Sandra" during the 11thGala Night failed to excite, although he had already performed the song onPhilippine Idol two years ago. Instead, he was relegated as the primetimeshow's filler, thanks in part to co-scholar and real life partner Bea Muñoz.Instead of showing of his singing prowess, Miguel and Bea merely showcased to thepublic their problematic and unusual (they're in an "open relationship," a factBea paraded in talk shows after she was eliminated). As a result, among the sixremaining scholars, Miguel had been placed on probation the most number oftimes.

Like Ronnie Liang, Miguel's previous reality show stint may prove to be anadvantage. Miguel has managed to survive expulsion thrice due to hisoverwhelming text vote victories (75.97 percent against Iñaki's 24.03, and74.85 percent against Bea's 25.15). And while he is yet to show it, the mentorsand the jurors believe Miguel has to vocal capacity to tackle just about anysong. Miguel, no doubt, shows promise as a versatile artist. That—plus hishopefully loyal fan base—might propel as one of this season's big winners.
Cris Pastor
Hometown: Parañaque
The Singing Interior Designer
Part of the 8th Gala Night Top Three Scholars
Nominated for Probation: five times
Cris Pastor may be the only scholar in the competition whowould benefit if the contest lasted a few weeks longer. Parañaque's "TheSinging Interior Designer" reached her tipping point late in the competition,when he sang the Jordin Sparks hit "Tattoo." Previously, she had been trying topresent herself as a seductive songstress with her sexy rendition of The BeachBoys' "Papa Oom Mow Mow" and The Beatles' "Come Together." But while her BeachBoys cover impressed the judges, Cris' succeeding attempts failed.

In particular, her take on "Come Together" caught the displeasure of residentjuror Gerard Salonga. Her following performances were just as uninspiring; evenher trio performances with Bunny Malunda and consistent top scholar LiezelGarcia received a lackluster grade of 8.32. But with "Tattoo," Cris was able toprove that she deserves to be part of the final six. While she may be moreknown for her onscreen dalliance with Hansen Nichols and Iñaki Ting, Cris has acommanding stage presence and never looked awkward even when her vocalsfaltered. Her succeeding performances after "Tattoo" were surprising, provingthat Cris is more effective when she tackles pop songs.

Those doubtful of her skill would argue her most successful performances(besides "Papa Oom Mow Mow") were safe, but they were never boring. As if forpenance, Gerard said he was blown away by Cris during the 10th Gala Night, andguest judge Girlie Rodis remarked during the 11th Gala Night that she improvedimmensely. And while she may be the scholar with the most number of appearancein the bottom four (and the lowest average among the remaining scholars), Crismanaged to break the Liezel's streak when she managed to land in the topthree—an impressive feat, considering only seven scholars have managed to landin the top three for their solo performance. Cris is nowhere near Liezel Garciaand Laarni Losala in terms of singing ability, but she has proven that she morethan vocal prowess on her side.
ADVERTISEMENT - CONTINUE READING BELOW
Van Pojas
Hometown: Cebu
The Heartthrob
6th Gala Night Star Scholar (with jay Bogayan and HansenNichols)
On Probation: once
Van Pojas has already been named as this season's version ofJay-R Siaboc. But to dismiss Van's singing is an underestimation of his talent.He is one of the few scholars who became part of weekly top three, and it helpsthat he was part of the trio that sang "Yesterday," this season's mostsuccessful performance to date. And while Van is not as consistent as JayBogayan, he proved early on that he has what it takes to last long in thecompetition. His rendition of "I Can't Fight This Feeling Anymore" is one ofthe few that stood out during that 1st Gala Night, and is consistently named byviewers and Internet denizens as one of the more memorable PDA performances todate.

Van's cover of the rock ditty "Tatsulok" may not be as flawless as Bugoy's"I'll Make Love to You" or as risky as Laarni Losala's "Di Ko KayangTanggapin," but it nonetheless showed that the show's resident Heartthrob cansing a wide range of songs. While Van was awkward and conscious during his duetwith Kitchie Nadal, Cebu's pride might just have what it takes to break thepredicted Liezel-Bugoy-Laarni finale.